Posted 12th January 2015 | No Comments
Tilted phone mast halted main line trains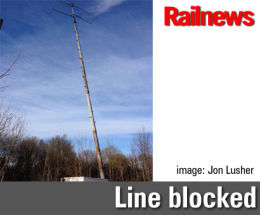 TRAINS on the Midland Main Line were disrupted on Saturday after a communications mast near Harpenden was reported to be tilting.
It is thought that high winds could have dislodged the mast, which was leaning towards the railway.
Trains through the area were stopped as a precaution, and passengers were diverted to the West Coast and East Coast routes until the evening.
Network Rail said: "At lunchtime today we were made aware that a mast near Harpenden on the main line out of St Pancras was leaning towards the railway. As a safety precaution we stopped trains passing through this area and sent engineers to site to inspect the mast. The mast has now been removed and the line was reopened at 20.11 with a revised timetable operating until the end of service."
There were also problems on the West Coast Main Line connected with overhead lines, which were again probably affected by the rough weather. Further disruption was reported on Monday morning, when National Rail said safety checks were being made between Hemel Hempstead and Watford Junction. This meant trains had to run at reduced speeds between Milton Keynes Central and London Euston or Clapham Junction.
A signalling problem near Milton Keynes Central was expected to cause further delays until lunchtime.