Posted 13th February 2013 | 19 Comments
Northern's Pacers cheered up as 30th birthday nears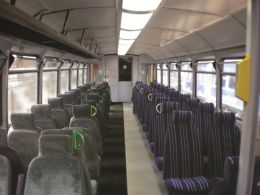 Before and after on board a Northern Pacer
NORTHERN has started to refresh some of its fleet of more than 150 veteran diesel Pacer vehicles, giving them new upholstery and improved lighting.
The Class 142s and their relations are among the older examples of rolling stock in service, dating from the mid-1980s, and they are also getting new flooring as well as repainted interiors and vestibule ends.
The company said 58 vehicles are included in this upgrade programme, and that the refreshed units will be seen on routes serving Morpeth, the Durham Coast, Saltburn and Whitby, as well as on the cross country line between Carlisle, Hexham and Newcastle.
Engineering director Stuart Draper said: "We are known to have some of the oldest trains on the network and this refurbishment project is testament to our passengers that we are committed to improving their journeys with us.
"Customers have told us they'd like to see an improvement in the on-board environment and we're passionate about acting on these requests. These refurbishments to our fleet in the North East add to the carriages we have already improved and we hope passengers will notice the developments as we plan more for 2013."
Reader Comments:
Views expressed in submitted comments are that of the author, and not necessarily shared by Railnews.
Whilst people would be right to point out that Pacers don't run in London and the South East, there'd be no point in running them as most of our lines are electric!

And we've had our fair share of naff trains. The last crappy ancient unsafe slam door commuter trains in Britain weren't run in the North. They were run in London, every day up until 2005. There's a reason why much of the South East's rail fleet is relatively new - it's because the old ones were desperately in need of replacing.

Funnily enough, just like the Pacers!

[Likewise I'm of the north, living in London]

Maximum 30 minutes!!!! I travelled from Leeds to Heysham Port recently, a two and a half hour journey on jointed track, packed solid from Lancaster with no room for luggage on a boat train. They need to be sent on a long journey to CHINA.!!!

I enjoy my journeys on Pacers! They may not be ideal but they get the job done!

Just to correct an earlier point, 150's dont share body shells with 450's. they are however similar to the 317 and 455 fleets and based on the mark 3 coach. The 450's diesel cousins are in fact the TPE 185 fleet, which themselves are suffering from overcrowding.

What we need is a wholesale expansion of the train fleet and like it or not is going to have to include a fleet of diesels. It is doubtful the pacer fleet will remain in service after 2020 as they are going to be very difficult to re-engineer them for prm-tsi compliance but any new fleet still has a lead in time of at least 2 years. To spend a bit of money to refresh these tired looking units will still be welcomed, but it is high time these venerable units were replaced with more modern and larger stock.

Pacer were only ever intended as a cheap stopgap and surprise surprise are still in service 30 years later in the 'provinces'. These 'buses on rails' are well past their prime - if they ever had one. An extra lick of paint will convince no one. Of most interest is how much we passengers are paying to rent these miserable trains from the ROSCOs relative to their original cost. I suspect another piece of privatisation extortion.


@Lee, Manchester
My location can be deceptive: Although I am based in Greater London, I am from the North West and have made journeys in and between the Merseyside & Greater Manchester areas. I hope I still retain the now unfashionable sense of northern practicality.

The Pacers may not be endearing, nor may they be ideal, but you should be grateful for what you've got. These low cost vehicles were designed for and operate on services that will most likely not see break even in our lifetimes. They are a means of maintaining a social service be it commuter or rural.

By contrast, I commute into London Waterloo on a daily basis. The service in the London and South East is close to break-even with a gap of about £600M at the last count. That is achieved by cramming people in like cattle. I do not get a seat from my station, and have not done so for about a decade. In that time the number of commuters on the line has doubled, but there has been no increase in the number of vehicles allocated to the commuter services. By the time the train reaches Clapham Junction, the cramming is in excess of 6 people per meter squared.

The point I would make is that it is ridiculous to be allocating resources to the provincial operations for either frivolous purposes or political interference while matters stand as they are on the most congested routes into Greater London. There has been too much of that in the past and it is partially the reason the infrastructure in the South East is still largely unsuitable for the level of usage.


Theese nodding donkey,s need putting out to pasture!

Pacers were introduced in 1982 when rail usage was at the lowest nadir since World War 2 and Serpell wanted to close the network down which even the then anti rail PM ( remember the great car economy? ) backed away from . There was a real danger that Marylebone was going to be turned into a bus station and The Chiltern line turned into Coach lanes!!!! Whilst not a brilliant train compared to the 150's or 165's this cheap train was the salvation of many rural lines that could have closed down in the 1980's instead BR prospered with OFQ and manged to convince the politicians to keep it going ( until Major and the idiot McGregor privatised it with the resultant huge increase in running costs due to the complex contracts that were set up that bedevil the network to the current day )
I for one pay the sky high southern commuting costs and rue the day that the Plastic Pigs ( the 165's ) took over from a 47 plus Mark 1/11 coaches on the NSE London - Oxford trains.
Appreciate all the comments about the lousy build of the Pacers but in history they will be looked upon as unsung heroes that have kept many rural lines going due to their cheap build and running costs - No doubt you will see one in the NRM soon ( and quite rightly so !)

The pacer are a disgrace, they unfortunately are used on some Liverpool to manchester services and they are always crammed with passengers, the seats are uncomfortable, no room for baggage etc. I was on one going to Manchester Airport last week, some of the passengers must have thought they were in a 3rd world country rather than on a train in one of the most prosperous regions in the world. Its time these went to the scrap yard (but if people in oxford like them they we can do a swap!)

Those unconvinced by the poor standards offered by the Pacers can make a direct comparison with Tyne&Wear Metro stock between Sunderland and Heworth, where both traverse the same track. The Metro stock, albeit several years older, is superior in ride, noise levels, internal space and accessibility.

Noam Bleicher, I don't want to appear as having a chip on my shoulder, but having to commute on these things on a daily basis and all that entails doesn't endear these things all. The equally aged Class 150's are a comparative luxury and, if I'm not mistaken, share the same bodyshell as the 450's.

It is interesting, and not unsurprising to see three correspondents from the south of England writing in a positive way about Pacers. It is no coincidence that Pacers don't routinely operate in Oxford or at all in London and Essex, denying commuters from these areas the joys of Pacer travel!

The problem with these trains is that they were designed for rural branchline use but have instead been pressed into urban commuter service instead. Even coupled in a four car combination, I regulalry see these things packed to bursting. Cyclists are regulalry left on the platform because they can't get bikes onboard, passengers with prams are only just able to push there way on and off and routinely have to stand in doorways, blocking everyones else from getting on and off. Wheelchair -bound passengers have to use a ramp to get on and off, which has to be placed between the platform and the top step of the entrance floor, yes, these things have an internal step to get in, unlike any other passenger train in the UK.

Lutz, its a nice idea to confine pacers to 30-minute journeys, but how many of these services are operated in the UK? Coupling into 4-6 car formations is also a reasonable idea, but pacers only have an internal corridor connection. Therefore, in order to collect/issue tickets, 1-2a travelling ticket inspectors, with ticket machines would be required on these trains for revenue protection. I'm no expert but the cost of doing this might outweigh the revenue collected.



Lutz is right. In refurbed form, with 2+2 seating, these vehicles are fine for 20-30 min commutes. If properly maintained they are clean, warm and bright, and ride very well on welded track. Fares up north are dirt cheap as well.

Overcrowding will not be solved by fleet replacement unless they replace two-for-one.

Things are not all that rosy down south, despite what the chip-on-shoulder brigade might say. People on a 165 from Pad to Worcester, or a 450 from Waterloo to Portsmouth, might be surprised to learn that they have quality vehicles. Both of these types are in squadron long-distance service, for astronomical fares, with 2+3 seats and no tables.

THe way forward for Pacers is to confine them to 30-min journeys where possible, and running them in 4-6-car formations when DMU cascades from elsewhere allow.

The London Underground was running vehicles past their 50th birthday before they were replaced, and although these pacers are not electric, they still have plenty of life left in them.

What is it that vehicles into their twenties are now only fit for the bone yard? There is plenty of life left in the pacers, and they are fit for the service they provide and the level of patronage. We should not be frivolous with money on services that have no chance of achieving break-even in the foreseeable future.

The opening of another extension of Manchester Metrolink raises the question as to how many services provided by pacers could be replaced by Tram or Light Rail with the benefits of services being extended to where city centres are today and not a century ago!

Trams also use electricity and thus overcome the problem of DMUs being uneconomic to manufacture.

These were desperate stopgaps at a time of restricted investment to replace Modernisation Plan dmus themselves 30+ years old. Contrast the investment in new rolling stock and infrastructure in London and the Home Counties. Yet again we in 'the provinces' have to make do with cast-offs.

If ever there was an example of PR overkill, this is it! There will be quite a few passengers being "passionate" about Pacers, but not quite like Northern might want. Yes, scrap the damn things.

These trains are the absolute worst rail commuting has to offer. Although Northerns efforts to facelift the interiors is welcome, it wont do much to address how cronically overcrowded these things are at peak times. I have sat on these things on a rainy day and watched rainwater trickling between the roof panels to form either a convenient puddle on the floor or a soaked seat. Add to that the ventiltaion issues on hot days when the trains are only ventilated when they are moving, total lack of luggage space and inevitable delays during the peak periods as people atempt to squeeze onto these things. I know it isn't Northerns fault these wretched things are still in service, roll on the cascading of Class 319's to the Manchester area, eventually.

These rolling stock need scrapping never mind refreshing!! Long past there use by date. I know its not northerns decision to keep the rolling stock but they are desperate for new trains.