Posted 24th October 2014 | 7 Comments
Up, up and still upwards: passenger figures rise again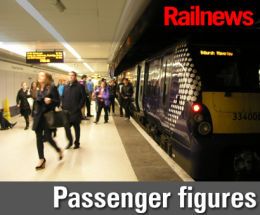 GROWTH in rail travel has outpaced the strengthening economy and rising employment levels over the last six months, according to new figures from the industry-wide Rail Delivery Group. But speculation continues that Network Rail's budget for Control Period 5 will not be sufficient, and that some electrification schemes may lag.
The trend, however, appears to be consistently upward. In the six months to September, industry systems recorded 713 million passenger journeys, a 3.67 per cent increase on the same period last year – or over 140,000 more journeys a day. There is an element of inflation in these totals because each leg of complicated journeys is counted separately, but the underlying increase is undeniable.
Meanwhile, figures from the Office of National Statistics show that the economy is currently growing at 3.2 per cent annually as measured by GDP, while employment is increasing by 2 per cent.
The growth in rail travel between April and September follows a total of almost 1.6 billion journeys in 2013/14, and the latest totals are now reaching levels not recorded in peacetime since the 1920s, when the rail network itself was almost twice its modern size.
Journeys being taken in the commuter areas of London and South East area rose by 3.72 per cent, boosted by the growth in employment in the region, while increased business travel, an indicator of the strengthening economy, has contributed to a 3.03 per cent rise in long distance journeys. Regional journeys on local and interurban lines outside London have also risen by 3.75 per cent.
The RDG said discounted fares are also encouraging train travel. Journeys made on Advance tickets showed the strongest growth of all ticket types, with a year on year rise of 9.34 per cent, with 28 million such journeys made in the six months to September. Research by KPMG has concluded that discounted fares of all types now account for almost half of passenger revenue, up from 36 per cent 10 years ago.
The Government has agreed to underpin one of the largest investment programmes in the history of the railway. Between now and 2019, Network Rail is set to spend an average of £27 million a day on improving infrastructure, although there has been speculation within the industry that some of the electrification budgets may prove inadequate as they stand and that some projects may take longer to complete than was first promised. There has been no official statement as yet about any possible shortfall.
The passenger fleet is also growing, with new trains for intercity and commuter services now being built. The most recent development in this area was the announcement earlier this month by Transport Scotland that Hitachi is to supply 234 vehicles, built in County Durham, for the newly-electrified route between Edinburgh and Glasgow Queen Street.
Other fleets are also on order, including the Thameslink and Crossrail trains which will jointly amount to more than 1,700 vehicles, as well as two batches of Intercity Express trains for the East Coast and Great Western Main Lines.
The RDG pointed out that other European Union countries have invested heavily in their railways but none is experiencing the kind of growth seen in Britain. Passenger numbers grew 62 per cent on National Rail between 1997-98 and 2010-11, compared to 33 per cent in France, 16 per cent in Germany and 6 per cent in the Netherlands.
RDG director general Michael Roberts said: "Phenomenal growth in rail journeys is helping operators to pay £2 billion a year back to government, which in turn is enabling investment by Network Rail in further improving Europe's safest and fastest growing railway.
"By aiming to run more and better services safely, make the railway simpler to use and get more for every pound invested, the industry will not rest in our goal to make Europe's best railway even better."
Reader Comments:
Views expressed in submitted comments are that of the author, and not necessarily shared by Railnews.
John Gilbert, whilst I completely agree with you that the DfT adds extra's to electrificaton projects (e.g. Thames Valley branches) without the required additional funding, I take issue on your point about the re-wiring. On the Midland and Gt Western the wires weren't erected for 125mph elecric running (only 100mph), hence need major enhancement to sustain that speed. I also understand they Gt Western wires will be capable of 140mph, which is a desired aspiration,

The Governmment sanctions new electrification schemes - at last, thank goodness. It then, later, decides to add on what it calls "enhancements." Fine. But these 'enhancements' will obviously cost more. Therefore the original budget will be exceeded. Yet this same Government, these same politicians, then have the brass-necked effrontery to complain because the very same budget has been exceeded. Yet it is THEY who have caused the budget to be exceeded. Britain of course suffers as always because of these politicians' incompetence and sheer duplicity. Enhancements should never be charged to the original scheme. If possible they should be postponed until later, for example the totally unnecessary, (at this time,) reconstruction of the overhead catenary between Paddington and Airport Junction, and between Saint Pancras and Bedford.

I bet the poor old Midland mainline will suffer from Electrification being put back as always.

These electrification and improvement schemes must be delivered on time. As this article shows, passenger numbers are rising still and may continue to rise. We need the railways to keep up.

With these latest figures, operations in London & South East must now be close to break-even.


This seems to indicate both that the UK economy is really growing but also that there are more people in the Country who are using the Trains, especially in the South-East. Railways are now seen as 'Safe' which was not the case during Railtracks time - probably becuase of the introduction of TPWS everywhere. I am also sure that better marketing by the Franchise Holders has helped increase the numbers as well. But as the Railways now seem to be working very well, why should anyone want to re-nationalise the Franchises and go back to the 'old' inefficient British Rail model.