Posted 3rd June 2014 | No Comments
GB Railfreight is first to use new Doncaster line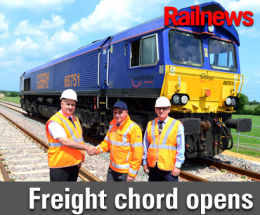 left to right: GBRf train manager Mark Rowley, GBRf regional risk manager Stuart Comer and Network Rail signalling shift manager Ian Hewitt
GB Railfreight has revealed that it was the first operator to officially use the newly-constructed £45 million North Doncaster Chord, which was recently completed by Network Rail.
The 3.2km double track chord links the Skellow and Askern lines and allows freight trains to travel over the East Coast Main Line, instead of crossing it on the level and reducing capacity.
It also improves the speed and frequency of freight trains travelling between Humber ports and the Aire Valley power stations. They can now avoid having to run on the ECML for up to 22km, removing the restrictions posed by other operators and infrastructure constraints.
The first train ran at 11.30 on 1 June. The company also ran the first test train on the Ipswich Chord in March, which allows freight heading for the Midlands from the Felixstowe line to run north and then west across Suffolk, rather than through the congested London area.
GB Railfreight managing director John Smith said: "We are delighted to be the first rail freight operator to run on this important new North Doncaster Chord. It's a great example of a new Government infrastructure project that brings benefits to both the freight and passenger industries, improving capacity on the East Coast Mine Line as well as Trans Pennine links between ports and power stations in the region. It also signifies GB Railfreight's intentions to support the Government's policies around sustainability and more carbon-friendly rail transport."