Posted 3rd April 2014 | 12 Comments
Japanese operator agrees HS2 contract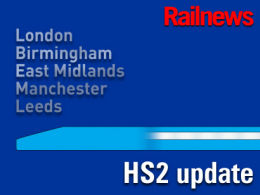 ONLY two weeks after Hitachi said it was moving its global rail headquarter to London, high speed rail operator East Japan Railway (JR-East) announced today it is to open offices in the City– initially with what it described as a 'landmark contract' with HS2 Ltd, but with the clear aim of doing business long-term with Britain's booming rail industry, as well as with other European suppliers.
Masaki Ogata, vice-chairman of JR-East, disclosing the initial four-month contract with HS2 Ltd at the Institution of Mechanical Engineers, made clear that his company's expansion to London would be permanent. It will open its offices near Liverpool Street station on 15 April.
Welcoming the move, HS2 Ltd's Technical Director, Professor Andrew McNaughton, said: "JR-East is respected across the world, having been part of a high speed rail transport system connecting Japan's biggest cities. Its services have been run to the highest degrees of comfort, reliability and safety for 50 years. We are very pleased to be working with one of the world's great experts."
Prof McNaughton said of particular importance was JR-East's experience of running trains off its high speed network onto the 'classic' system, which would help HS2 and Network Rail in planning how best to serve towns and cities not directly on the planned 'Y' network.
The initial contract will see JR-East advising HS2 on a range of technical issues – including aerodynamics in tunnels, reducing noise from pantographs and helping decide whether to use slab or ballasted tracks – to long-term planning for reliability and station management, especially how best to look after passengers on a busy system.
JR-East's Masak Ogata explained: "We look forward to helping HS2 and to contributing to the success of high speed rail in the UK. JR-East has the experience, expertise and enthusiasm to contribute greatly to the smooth and successful implementation of the HS2 project."
Neither JR-East nor HS2 would disclose the value of the contract, but Prof. McNaughton said he hoped it would be the start of a potential longer relationship. He added that JR-East is also the largest operator of suburban trains in Japan and its expertise would be available to a much wider audience than HS2 alone.
Reader Comments:
Views expressed in submitted comments are that of the author, and not necessarily shared by Railnews.
@David Faircloth: What the article refers to is JR-East's experience in upgrading narrow gauge lines to standard rail to enable Shinkansen services to transit from the established Shinkansen network to local lines.

The Akita Shinkansen is a perfect example of this so called "mini-shinkansen" system.

The rolling stock used by JR-East are designed to handle the rougher ride of the lower standard local lines. I travelled between Fukuoka and Nagasaki on a local narrow gauge line (on a 885 series train no less which forms the technological bedrock for the UK Class 395 high speed trains) and the ride comfort was superb although a lot of that was down to a well maintained and modern train than the actual line.

"as I suspect the Japanese government only allow their rail companies to purchase equipment from domestic suppliers."

Apart from a few early models, the trains being built at Newton Aycliffe are going to be built almost entirely from British-produced components.

How long before the Daily Mail website posts an inflammatory headline about this?

Spain may not be a shining example of public administration, but at least they can plan and build a High Speed rail line in three years.

We need to get on with HS2: its well overdue.

I should very much welcome the views of Maska Ogata on this question: If the conurbations of Merseyside, Greater Manchester, West Yorkshire, South Yorkshire, Humberside and Tyneside were situated in Japan, would he expect them to be already connected to each other in 2014 by high-speed rail? If not, why not?

Why London. The heart of the HS2 network will be Birmingham. Why not base themselves in the West Midlands.

How many similar European companies have offices in Tokyo or any other Japanese city? The answer is undoubtedly none, as I suspect the Japanese government only allow their rail companies to purchase equipment from domestic suppliers.

Would it be a good idea now for the new Japanese operator East Japan Railway to developed a new Javelin operation & HS2 Ltd trains & also fit for a European operation now with network rail?

I'm surprised about the comment regarding running trains from high speed to classic ones.

Isn't the Japanese high speed network standard gauge and the classic one 3ft 6ins? Are there any variable gauge high speed trains in Japan?

Regarding Prof McNaughton's comment about comfort, does that mean we are going to have trains comparable with the Shinkansen car in the NRM? Comfort isn't a word I would associate with 5-a-breast seating!

So does that mean that Hitachi has already been given the contract behind closed doors for HS2 trains ?

A carefully crafted plot intended to further inflame UKIP passions in the Chilterns and where we can now expect mass screenings of Bridge on the River Kwai ?