Posted 24th March 2014 | 6 Comments
HS2 reports urge early start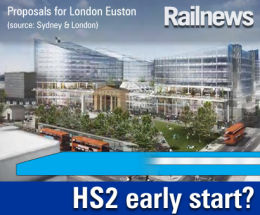 AN EARLY start to HS2 is looking more likely, as the railway and engineering industries consider the implications of the new keynote reports from David Higgins and Lord Deighton.
The hybrid Bill for the first phase of HS2 has not yet had its second reading in the House of Commons, and it could take until 2016 before the Bill completes its passage through Parliament, but it is now clear that much needs to be done this year and next.
The most pressing requirement appears to be preparatory work at Old Oak Common, where the Interchange with Crossrail is planned and where HS2 Ltd chairman David Higgins says there is a 'critical' need to relocate the existing depots, including those used by First Great Western and Heathrow Express, and then clear the site so that construction can begin in 2017 after Royal Assent has been obtained.
The schedule for phase one, set out by David Higgins, shows the lengthiest parts of the project will be construction of the Euston and Old Oak Common tunnels, and all four stations – at Euston, Old Oak Common, Birmingham Interchange and in Birmingham city centre, taking around seven years each.
Planning for tunnelling is another key challenge. There are 75 single track kilometres of tunnels required under the Chilterns and beneath the London approaches, but "there is no easy access for tunneling machines," according to David Higgins.
The Chiltern tunnels and the Colne Valley Viaduct are expected to take from 2019 until 2024 to complete.
Early decisions on how to redevelop Euston station – and selection of a private sector partner, which will save up to £1.5 billion on the budget – are also essential, along with major utilities diversions, if it is to be completed by 2026, says David Higgins, who also made clear that Euston station would need to undergo redevelopment even if HS2 were not built, to cope with future demands and put it on a par with other major station improvements, such as Kings Cross and London Bridge.
He said Euston should become "a world-class transport hub, with potential for considerable over-site commercial development," and be designed to accommodate Crossrail 2 (the core of which will be on the Chelsea-Hackney alignment), adding that 'certain existing rail services' will require relocation from Euston during reconstruction.
This is likely to involve the Caledonian Sleeper services being diverted to Waterloo and also a rerouting of some suburban services from Milton Keynes Central and Tring, which might be diverted to Kensington Olympia or via a new link from Willesden on to Crossrail at Old Oak Common.
But early decisions are also needed about how to best to achieve the 'transformational impact' of the other phase one stations. "Time is of the essence," according to the Growth Task Force chairman, Lord Deighton, who is also Commercial Secretary to the Treasury.
"Local authorities need to get started now, scoping out the physical and social infrastructure required to kick start regeneration and development around HS2 stations. They should identify how these investments will be delivered. In order to justify investment, they should also explain the potential for economic growth around these sites. We think this work should be brought together into locally owned 'HS2 Growth Strategies'. These strategies should be published by the end of 2014."
The Task Force says Old Oak Common is the largest strategic development and transport investment opportunity in West London – for which Mayor Boris Johnson has announced setting up a Mayoral Development Corporation to coordinate and lead the planned regeneration of the area. This could provide up to 22,000 new homes and employment for 55,000 people.
But the Task Force report says action should also begin now on determining how towns and cities in the North can best benefit from the second phase of HS2, either directly or with improved links over the conventional network. This is in line with David Higgins' proposal to align HS2's second phase with Network Rail's next Strategic Business Plan and Control Period 6 (2019-24) – to achieve "a more ambitious plan to link Leeds and Manchester" and "further electrification and line speed improvements across the North, integrated with HS2, from Liverpool to Hull."
Both the Task Force and David Higgins are clear that phase two of HS2 is principally about optimising connectivity between Northern towns and cities as well as along the north-south axes, whereas HS2 phase one is principally about improving capacity in the south, initially at the southern end of the West Coast Main Line and, later, on the Midland and East Coast Main Lines.
Ambitious
To assist this planning, the Task Force says the Government should set out – by the end of this year – its plan and timescales for defining how the post-HS2 network will work: "We think that both the Government and Network Rail should be far more ambitious in their thinking about how HS2 will transform our rail network, rail franchises, passenger freight services, and open up new commercial opportunities.
"We recommend that before the end of 2014 the Government publicly communicates its plans to exploit these opportunities and begins work as soon as possible. Doing so will enable HS2 to act as a catalyst for a better rail network across the whole country."
The Task Force also supports David Higgins' recommendation to develop Crewe as a regional hub – which could be completed by 2027, six years earlier than originally planned, he believes.
The Task Force report explains: "Crewe is ideally placed to act as a hub station and connect HS2 into the surrounding regions. Its strategic importance was recognised by the old London and North Western Railway, which identified that it was the optimal place to build a major junction."
The Task Force adds: "Crewe is also a natural gateway to North Wales." And when he launched his report, David Higgins said he believed the train paths released by not proceeding in phase one with a link across North London between HS2 and HS1 could be better used to extend the benefits of HS2 to North Wales.
While the final route of the north west arm of HS2 beyond Handsacre, near Lichfield, has still to be decided by Transport Secretary Patrick McLoughlin, following last year's public consultation, the support by both David Higgins and the Growth Task Force for developing a hub at Crewe has not gone down well in Stoke-on-Trent.
The city council is now threatening a Judicial Review if Crewe is chosen over its late proposal for an HS2 station in the city, with trains then continuing on the existing route, upgraded for higher speeds, via Macclesfield and Stockport, instead of the proposed all-new 350-400km/h railway via Crewe and Manchester Airport, to Manchester Piccadilly.
Skills
Identifying early requirements for building HS2, the Growth Task Force highlights the rail industry's growing skills shortage – which means, even before the new railway is built, "around 10,000 additional people are needed to deliver what is planned on the rail network for the next five years alone."
The problem is "set to get even worse," says the Task Force, explaining that:
* Over 40 per cent of the workforce is 45 and over, rising to over 55 per cent for train building and maintenance.
* In some specialist disciplines the shortages are even more acute, with the need to grow the electrification and train building and maintenance workforce by 40 per cent.
* In total, around 30 per cent of the rail workforce (around 30,000 people) will need to learn new skills to deliver what is needed for future projects.
In its report written before – but published the day after – Hitachi announced it was to move its global rail HQ to Britain, the Task Force adds: "HS2 will bring a considerable rolling stock requirement. The current and planned UK workforce does not have capacity to manufacture the trains for HS2."
And it goes on: "The challenge is not just getting the skills base right for HS2. What we do now and in the coming years will help prepare the rail industry for the long term."
It says it is pleased the Government intends to establish an HS2 Skills College to help to address the skills gaps, but adds: "However, this cannot be a stand-alone institution – it must work as part of a skills network, bringing training opportunities to people across all areas of the country, for both new entrants and the existing rail and engineering workforce."
The Task Forces believes the Government, by the end of 2014, should:
* Explain what the new HS2 Skills College will offer and how it will extend its presence across the country, with the importance of transferable skills also being recognised.
* Set out how its industrial strategy can help to address skills shortages arising from HS2. This could include exploring the potential for a new strategic partnership focused on rail.
To help spread jobs throughout the economy, the Task Force says it had been told by HS2 Ltd that "they want to emulate the success of projects like Crossrail and make UK-based jobs and apprenticeships a key feature in their contracts.
"These principles are not new, but the scale of this project offers HS2 Ltd an opportunity to take this a step further. This could include setting quality standards for apprenticeships as well as quantities and ensuring key suppliers develop local capability and invest in their people."
HS2/HS1
Although David Higgins' proposed dropping from phase one the planned link across Camden between HS2 and HS1 – which would be a single line, limited to only three trains per hour, and would impact on track capacity on both the North London and West Coast lines – he did not recommend ending the concept entirely, as many recent media reports have suggested.
Instead, David Higgins recommended a new study – which, he said, could range from a pedestrian link between Euston and St Pancras International to twin GC-gauge tunnels all the way from Old Oak Common to HS1 at Rainham Marshes, in the Thames Estuary.
Transport secretary Patrick McLoughlin has responded that he will "commission a study into ways to improve connections to the continent that could be implemented once the initial stages of HS2 are complete".
Reader Comments:
Views expressed in submitted comments are that of the author, and not necessarily shared by Railnews.
Hansard 25.3.13 Mrs Cheryl Gillan (Chesham and Amersham) :

……"It does not matter how many studies or justifications he puts forward, he needs to understand that for many of my constituents, it is like putting lipstick on a pig. However glossy the lipstick, HS2 is still a pig."

to achieve "a more ambitious plan to link Leeds and Manchester" and "further electrification and line speed improvements across the North, integrated with HS2, from Liverpool to Hull."

So is it all North and South? Have the powers that be forgotten that in between the two is the small matter of the East Midlands, due to get it's own HS2 station?

Please don't forget that this is an area that desperately needs good links to HS2 as well as improvements to the existing, run down, local services.

An Interchange Station @OOC? is someone having a larf! have you ever been to the area,its a dump! this whole 'lets spend billions' to build HS2 is getting out of hand.We just cant afford it and who wants a railway tunnel all the way to Rainham anyway its depressing enough arriving@St Pancras on a Eurostar service as it is

Near me on the Western Main LInes we are having lots of bridges raised to accommodate the new electrification. I am struck how long each bridge takes and how long overall raising maybe 18 bridges in my area has taken. The interesting thing I noticed is thats its not the railway engineers who are causing the delays but a seeming lack of Gas, Telecoms, Sewage, Water and Electricity Engineers who have to move their companies cables and pipes. I wonder if its not going to be the railways Civil, Mechanical and Electrical Engineers who delay HS2 but maybe a lack (for example) of Telecom Engineers who are all busy laying high-speed Broadband, and unable to move any Telephone wires that cross HS2's path.

Instead, David Higgins recommended a new study – which, he said, could range from a pedestrian link between Euston and St Pancras International

NO, NO, & NO!!! - a pedestrian link is throwing good money after bad - only direct train services from UK provincial cities to/from continental mainland locations will suffice if there is to be significant long term modal shift away from short-haul intra-European air to high speed rail - why can no one at HS2Ltd/Dft get this incredibly simple concept to understand into their heads?!?

"twin GC-gauge tunnels all the way from Old Oak Common to HS1 at Rainham Marshes, in the Thames Estuary"

This is a potential solution but it will be relatively expensive

Why is the Euston Cross proposal not under consideration - the combined cost of a full rebuild for Euston + twin GC gauge deep bore tunnels as described above will be more than Euston Cross, which solves both problems simultaneously whilst massively reducing overall land take in the Camden area - surely this is a better way forward?

The suspicion here is that vested interest (property developers) lobbying (secretly) for the Euston rebuild are calling the tune at DfT /HS2 Ltd?