Posted 21st March 2014 | 1 Comment
HS2 report calls for 'joined-up thinking'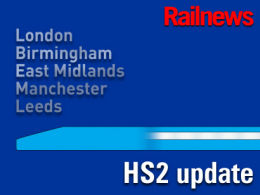 A NEW report from an HS2 taskforce published by the Government today says that provincial cities in the north and midlands could become global leaders thanks to the project.
The Growth Taskforce, which brings together figures from across the political spectrum and the private and public sectors - from Sir John Rose, ex-CEO of Rolls-Royce to Frances O'Grady, general secretary of the TUC – delivered its recommendations to the Government today.
The report, 'HS2: get ready', recommends various steps needed to ensure that the whole country shares in the job and business opportunities HS2 will provide.
It calls for for action now to make the most of the economic and social effects of HS2, by simplifying and joining up funding to allow construction to go ahead around HS2 station sites. It argues tthat by accelerating regeneration and development of brownfield land on the route, major benefits will be seen in just a few years, and that city regions need to work together to integrate their local transport networks.
It also warns that a 'business as usual' approach will not be enough, and calls for the same levels of ambition and collaboration that were so important when the 2012 Olympic Games were being planned.
The taskforce's recommendations include:
•new local bodies to create tailored growth plans for cities along the HS2 route
•local leaders and business use HS2 to supercharge their city regions by creating world-leading transport links and kick-starting urban regeneration
•work to begin now to ensure young people understand and capitalise on the career opportunities HS2 will open up
•help given to British firms to bid for HS2 contracts
•ensuring HS2 contracts lead to local job creation, skills development and apprenticeships

Taskforce chair Lord Deighton said: "Like the Olympics, HS2 has the potential to be a great British success story, bringing jobs and growth to the whole country. Our report sets out the common sense steps that we need to take now to achieve this."

Sir Howard Bernstein, CEO Manchester City Council and deputy chair of the Taskforce, added: "HS2 is not just a railway. It is the opportunity to re-balance Britain and kick-start regeneration in my city and others across the Midlands and the north of England. It is imperative that we work together to do all we possibly can to get the country ready."
The report has received a broad welcome. Nicola Walker, CBI director for business environment, said: "HS2 offers an opportunity to regenerate local economies, provide jobs and boost growth across communities in the UK. Government, local authorities and businesses must work together to ensure the potential of this project is realised."
However, an accelerated HS2 timetable should not be at the expense of economic development opportunities, warned the Institution of Engineering and Technology.
Jeremy Acklam from the IET said: "We've heard a lot about these opportunities for the major cities connected by the high speed line, but little or nothing about the potential wins for cities beyond the immediate confines of the HS2 network. There is great potential through the connections to the east and west coast main lines for cities other than Birmingham, Manchester and Leeds to benefit from HS2, but the challenges around realising these benefits need to be tackled now if these locations are not to fall behind.
"In addition, many of these smaller cities could be reached by HS2 trains moving to the classic railway network to complete their journey. But this will require new or significantly enhanced stations. We need an urgent dialogue between HS2, Network Rail, the Train Operating Companies and local authorities to fully understand the challenges that the arrival of high speed trains will bring to the classic railway network. My fear is that this dialogue could be left until the next Network Rail control period, which will be far too late."
Reader Comments:
Views expressed in submitted comments are that of the author, and not necessarily shared by Railnews.
Here's a suggestion for a bit of "joined up" thinking

JOIN UP HS2 TO HS1 !!!

Without a direct link, there will be ZERO modal shift from short haul air to high speed rail for the target population residing in England - there may be some very minor modal shift for Scotland > London, particularly after phase II opens

Without a direct link, the rest of the UK will be condemned, in perpetuity, to a second class, indirect service to the continental mainland - this outcome alone will confirm in the public mindset, the notion that HS2 is a London-centric project aimed a benefiting London & the South East (AGAIN!). This shift in public sentiment will undermine the political consensus vital to ensure this project comes to fruition

Therefore the first thing David Higgins should be doing is coming up with a credible alternative, not in three months time - but right NOW!!!!