Posted 9th December 2013 | 4 Comments
Midland Main Line celebrates at 125mph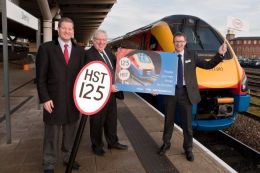 Phil Verster, Patrick McLoughlin and David Horne mark the moment at Derby this morning
FASTER trains on the Midland Main Line have been officially launched today by the transport secretary.
Patrick McLoughlin, whose constituency is in Derbyshire, was at Derby station to mark the occasion. He helped to dispatch the 09.01 service from Derby, one of 68 trains which will be accelerated to a maximum speed of 125mph over upgraded sections of the route.
The launch of the new faster trains is the result of a £70 million Network Rail programme, in partnership with East Midlands Trains.
The programme included the upgrade of almost 257km of track. Other work included the replacement of a number of level crossings with bridges, minor resignalling and track realignment work.
The transport secretary joined East Midlands Trains managing director David Horne and Phil Verster, who is Network Rail's route managing director.
Patrick McLoughlin said: "The improvements East Midlands Trains has made are excellent news for passengers. Quicker journeys, better signalling and increased reliability are precisely what we want to see across the whole of the rail network.
"Investment in our rail system is absolutely vital. That is why we are spending more than £38 billion on our railways between 2014 and 2019, including modernisation and expansion."
Reader Comments:
Views expressed in submitted comments are that of the author, and not necessarily shared by Railnews.
This comment was deleted by the moderator because it broke our house rules.

This comment was deleted by the moderator because it broke our house rules.

Haven't you heard? Businesses are relocating in droves from Derby to London. They've all decided that the faster journey time means they can commute their entire workforce to the capital. Every shop window from Luton to Sheffield is being boarded up as I speak, and already gangs of feral youths are taking over the streets.

Or at least, that's what StopHS2 told me.