Posted 7th May 2013 | 4 Comments
HS2 makes limited impact on council votes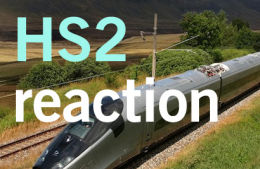 DESPITE predictions to the contrary, plans to build the HS2 High Speed line seem to have had only a limited impact on the results of this month's county council elections, or in the surge of support for UKIP that became clear as the results were declared.
UKIP did achieve a notable success in Buckinghamshire, where it gained six county council seats – five of them in the Aylesbury area – and opponents to the scheme are claiming a significant victory.
Martin Tett, the leader of Bucks county council and chairman of the 51M Group of local authorities opposing the HS2 route, said: "Most of the UKIP gains were along the line of HS2. Great Missenden, Wendover, these are all areas highly affected by HS2. Both main parties have lost heavily to the party that promises to cancel HS2 and for me there's something there for the government nationally to look at."
But in the other shire counties affected by the route of HS2 – Oxfordshire, Warwickshire and Staffordshire – UKIP made no breakthroughs. Indeed, in Staffordshire UKIP lost one of the three seats the party already held.
Under Conservative control, Oxfordshire and Warwickshire had both opposed HS2 and supported 51M for the past two years. And Staffordshire, also Tory controlled, decided to oppose HS2 just as the election campaign started last month.
But despite their opposition to the new railway, in both Oxfordshire and Warwickshire the Conservatives lost overall control of their county councils, while in Staffordshire the Tories clung on to control with a much reduced majority after Labour gained 21 seats.
In Warwickshire, where Labour gained in 12 wards, two Conservative seats were taken by the Green Party, which also opposes HS2 – but these seats are in parts of the county (Nuneaton and Leamington Spa) through which HS2 will not pass.
The Greens also retained two seats they already held in Oxfordshire, but UKIP failed to win in any Oxfordshire wards.
Writing from Buckinghamshire on the right-wing Spectator magazine's web site, Sebastian Payne comments: "The HS2 fixation reveals UKIP's biggest strength and weakness. They've no doubt picked up a significant amount of votes in Buckinghamshire for their opposition but their opposition could be classed as opportunism.
"UKIP's policy on High Speed Rail isn't as straightforward as the voters of Buckinghamshire would believe," says the writer, pointing that at the last general election "UKIP actually promised in their 2010 manifesto 'three new 200mph-plus high-speed rail lines".
He concluded: "UKIP appear to resonate in Bucks purely because of their anti-political credentials, not their actual policies."
Reader Comments:
Views expressed in submitted comments are that of the author, and not necessarily shared by Railnews.
UKIP seem to have double standards when it comes to high speed rail whereby the support it when no lines have been drawn on a map and oppose it once the lines have been drawn!

As for upgrading existing lines well it is now agreed that if we were planning the WCML upgrade today then more money would have gone into building sections of new line to get higher speeds than just replacing the existing track etc. which was done but gave no major speed upgrades by removing bends instead tilting trains were introduced instead.

Anyway, HS2 is about capacity and given the disruption the WCML caused building a new line makes more sense. Imagine what disruption and cost would arise if instead of being a new project Crossrail was a conversion of the Central Line to take main line sized trains!

The real question is given the way Eric Pickles has complained about councils who spend money on Council Newspapers, why he has said nothing about council funding pressure groups against HS2 and why is there no legal requirement to fund BOTH SIDES or NONE !

@Chris Neville-Smith: "UKIP's latest argument is that their 2010 manifesto meant upgrading the existing lines. I look forward to their proposal for how to get the ECML, WCML and GWML up to 200 mph running."

I'd seen this claimed too, only recently - in the interests of clarification, here is the relevant paragraph copied and pasted, verbatim, from UKIP's 2010 General Election Manifesto;

Invest in three new 200mph plus high-speed rail lines including a new line between London and Newcastle with a spur to Manchester, a London-Bristol-Exeter line and a linking route via Birmingham

Not sure about other readers here but I'd like to see Mr. Farage try to explain how his party would oversee the building of "three NEW 200mph plus" lines, particularly if they are located along existing rail arteries, for example the WCML and ECML, whilst avoiding disruption during the construction process?

I realise Farage and his party are hailed in some quarters as a breath of fresh air, performing the unheard of miracle of telling it like it is - perhaps UKIP will be able to pull of a unique engineering sleight of hand in this instance because that's what their transport policy appears based on - miracles bearing no resemblance to reality?

Much as I hate to make points in StopHS2's favour, these election results don't really tell us much either way. Given that UKIP and the Conservatives in their wards were trying to outdo each other on how much they hate the evil abomination that is high-speed rail, that might simply means that the local nimbys were happy to stick with their current nimby representatives.

By the way, UKIP's latest argument is that their 2010 manifesto meant upgrading the existing lines. I look forward to their proposal for how to get the ECML, WCML and GWML up to 200 mph running. Even 51m doesn't attempt to claim that's possible.