Posted 11th May 2013 | 6 Comments
DfT urged to consider national High Speed rail plan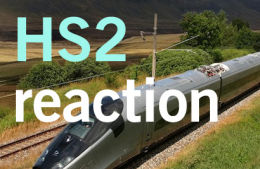 A LEADING High Speed rail campaigning group has called for a greater national network of High Speed lines to be considered by the Department for Transport, after the Government confirmed its intention to go ahead with HS2 in the Queen's Speech.
Jim Steer of Greengauge21 claimed there was a need for a 'genuinely national plan', which would add new HS routes – including some travelling broadly east-west – to the system currently being developed between London, Birmingham, the East Midlands, South Yorkshire, Leeds and Manchester.
He pointed out that the Preparation Bill announced in Parliament by the Queen not only provides for HS2 but also authorises 'preparatory work for future phases of a high speed rail network at the appropriate time'.
He explained: "It is essential that the country has the opportunity to think strategically. We need to ensure that all English regions as well as Scotland and Wales benefit from access to the HS network. Much can be done by extending HS2 but we need to have the whole picture."
The Greengauge21 plan, which has been sent to the charity the Independent Transport Commission, is a combination of new and upgraded lines. It envisages a second north-south High Speed corridor between London and Scotland serving the East Coast via Cambridge and Newcastle. There would also be new HS links to Heathrow, Stansted, the South Coast, Cardiff and Bristol, and potentially onwards into the far south west of England.
Greengauge21 said its vision 'was developed through a systematic comparison and appraisal of alternative network approaches. It has the great merit of inter-connecting all the major cities – and the main airports'.
Jim Steer added: "We'd like DfT to engage in the process of reviewing and updating our plan – along with wider stakeholders to ensure that we get the best possible connected outcome – using new lines and route upgrades to create a network of real relevance to the whole of Great Britain."
Reader Comments:
Views expressed in submitted comments are that of the author, and not necessarily shared by Railnews.
HS1, Done

HS2, Cornwall, plymouth, portsmouth, southamption, brighton, ashford, and onto the channel tunnel with spurs from Southampton and Brighton into London

HS3 - the airport interconnector, a loop, LHR, LGW, TEA int airport, stanstead, luton, and LHR
Spur's off with other HS's it crosses to go to Birmingham int, Manchester int and Bradford, leeds, Edinburgh and Glasgow

HS5 - Belfast, dublin, under sea cut/cover tunnel, swansea, cardiff, bristol, swindon, reading, LHR, and the new tunnel station under Euston/st panc/kingsX onward to HS1

HS6 - Dublin, liverpool, manchester, york the a Y on ECML

HS7 - Dublin, Belfast, Glasgow, Edinburgh/Aberdeen - Inverness

HS8, the stratford, (the tunnel statin Euston-st pan/kings cross station), LHR, Reading, Birmingham, Manchester, Leeds, Glasgow/Edinburgh

HS9, old ECML, WCML, MML in parallel -without curves.
HS10 - the new E-St Panc from west to east - stratford, standstead, cambridge, nottingham, manchester, blackpool, scotland

HS11 - plymouth, bristol, cheltenham, birmingham, liverpool, manchester, leeds/york, new castle, scotland to inverness

HS12 - the east / west under london that goes to LHR, Euson- st panc/kingsX, stratford, tea new airport, to be carried on to another set of chunnels with 6, 2 freight, 2 le shuttle, 2 Eurostar at 450kph

Tony, I'm not sure how you're linking French practice of high-speed rail with problems in SNCF. If you can prove that building high-speed rail is the cause of union militancy, I personally will change my name to Swampy and dig myself into a trench on the line of HS2.

I'm happy to listen to arguments for what France is doing wrong about the freqenucy of rural services, but as you yourself have pointed out that France is three times the area of Britain, I'd have thought the sparseness of the population would be the most likely cause.

It would be nice, but it isn't going to happen. The government only makes decisions about 5 years after they become unavavoidable. eg replacement of nuclear power stations. HS2 is only going ahead because the WCML is at capacity. The rest of the network isn't, so won't see any significant investment.

France is an awful example to ever quote for 'good railway' practise. I try to avoid French trains because of the frequency they are on strike and now only go to major Towns and Cities. The rural railway and freight traffic is now non-existant. France is also 3 times the area of the UK and has major Towns much further spread apart.

Melvyn - I have often thought this also as I live near the viaduct but would not object to doubling although the people who live right by it might not be so keen. It would also need to include another small viaduct further north and tunnelling to provide 4 tracks to Knebworth.

As the viaduct alone was costed at i believe £3 billion a few years ago it would be better to put that money towards a new line from Stratford to Peterborough via Stansted following existing motorways where possible. This could then follow the A14/M6 to Birmingham and the ECML / A1(M) / M1 to Leeds /York at some point in the future

If we then added an HSL via a Heathrow loop to Gatwick we could have the three major London airports linked via HSL. The only way to transfer any short haul domestic flights to HSR is with in-airport stations and appropriate taxation pokicies to deter short-haul. This HSL airport and long distance connector would also act as relief to the Cambridge main line as well as the Brighton mainline releasing capacity on both those lines. A strategic long-term plan in other words.

If we were France then we would be looking at extending HS1 from East London at Stratford north to a Junction with the ECML which would also eliminate the two track bottle neck at Welwyn while allowing firstly domestic High Speed Trains and then International Trains to run north to Leeds.

As for HS2 we need to adopt the policy of Lord Adonis of building the full Y as a single project even if legislation spans two parliaments!

A consideration of an upgrade to East-West Rail for higher speeds may also be needed .

France has show how benefits from HS Rail only grow bigger as a network effect takes effect and demonstrates how we need to get a HS1-HS2 link right first time !