Posted 29th April 2013 | 3 Comments
Bridge work postponed as landslip repairs go on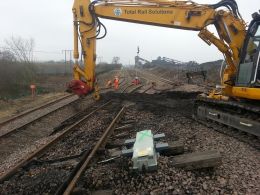 NETWORK RAIL has begun deferring engineering work planned in the south Yorkshire area this summer because of the continuing disruption caused by the colliery landslip at Hatfield, east of Doncaster.
Several hundred metres of four-track railway were destroyed by a major landslip from Hatfield Main colliery in February, and major diversions are continuing to affect both passenger and freight services, with up to 140 freight trains alone being diverted each day via Brigg or Lincoln.
Work is continuing to clear the site near Hatfield & Stainforth station and rebuild the railway, but Network Rail has admitted that 'the nature of the material involved continues to challenge engineers'.
The company had said that replacement of the swing bridge at Selby would be going ahead as scheduled between 28 July and 9 September, but with no end in sight to the closure at Hatfield, the company has now bowed to the inevitable and started to change its plans so that other routes remain open.
Network Rail route managing director Phil Verster said: "We seriously considered doing renewals work on the Selby swing bridge while also repairing the Hatfield landslip. This was only going to be feasible if we could still provide a reasonable train service to our communities on the east coast. I am today announcing that the scheduled work on Selby swing bridge will not go ahead until we have first restored rail services along the Hatfield route.
"We have carefully considered what timetable can be run should the works at Selby and Hatfield be done at the same time, and, while many services can run, it will put too much strain on the network without fully satisfying the needs of our train and freight operators. We are in the business of running trains and we listen to our customers. It remains true that the Selby bridge is showing its age. We will now focus on completing intensive maintenance work to keep the swing bridge safe and reliable until the renewals work can be rescheduled."
In addition to the work at Selby, renewals affecting three other bridges on the route to Hull will also be deferred, having been scheduled for the August bank holiday weekend.
Mr Verster added: "At this stage we cannot provide a date when the Selby and Hull bridge works will be rescheduled. Once we have greater clarity on the programme at Hatfield, we will put the bridges back in the plan. I assure passengers that they will be given at least 12 weeks notice of this re-scheduled work so that they can plan their journeys."
"I fully appreciate the importance of restoring a direct rail service to communities and businesses in Cleethorpes, Scunthorpe, Goole and other places affected by the Hatfield landslip. My team and I are committed to do so as quickly as is possible. We continue to aim for restoration of services in July but the risk remains that the railway may not be repaired until September this year."
Reader Comments:
Views expressed in submitted comments are that of the author, and not necessarily shared by Railnews.
Network Rail are being entirely sensible here. When the colliery tip started moving it was not known how severe the damage to the railway would be.
With greater knowledge of the problem, NR has done the right thing by deferring maintenance on other routes to ensure that access to the network is maintained.

First the line would be closed for a few weeks, then ready in June and now its September. Presumably their will be severe speed restrictions for several more months after that whilst everything 'beds-down'. And everyone who looked at the photos could tell this was a major engineering problem so why do we get these totally un-realistic estimates at the beginning ?