Posted 15th February 2013 | 13 Comments
Colliery landslip line faces indefinite closure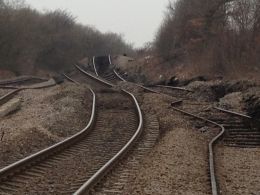 THE LINE affected by a colliery land slip near Doncaster may be closed indefinitely, Network Rail has warned.
A slipping spoil heap has wrecked the four track railway near Hatfield & Stainforth station. Some trains have been diverted and others replaced by buses. Network Rail said there was 'no firm date' for the restoration of the route, which connects the East Coast Main Line at Doncaster with Scunthorpe and Grimsby. It also forms part of the most direct route between Doncaster and Hull.
An emergency timetable is being worked out with Northern, First TransPennine Express and freight operators which will cover the next eight weeks. Rail replacement buses are running between Doncaster, Goole and Scunthorpe, while services from Sheffield to Scarborough and Bridlington are being diverted via Selby. Freight has been diverted via Brigg or Lincoln, but operators have also been hard at work rewriting rosters and train plans to cover the emergency.
The alarm was raised almost a week ago, when a train driver reported a 'rough ride'. After this first sign of trouble on Saturday, Network Rail track and earthworks engineers monitored events closely, and blocked two of the four lines passing the colliery on Monday evening. The other two were closed on Tuesday after more movement had occurred overnight.
Railway and mining engineers are at the site, next to Hatfield Main Colliery, but so far the damage is continuing as the spoil continues to move, and an exclusion zone has been ordered. Network Rail described the 'dilemma' it is facing, because there is no point in attempting to repair the several hundred metres of line affected until the underlying movement has stopped and the area has been restabilised.
A spokesman added: "There is no firm date for reopening, because we don't yet know when the area will be safe again."
Reader Comments:
Views expressed in submitted comments are that of the author, and not necessarily shared by Railnews.
Piles deep enough, do you know anything about geology or mines and how far mines go down, you are speaking complete and utter twaddle.
I totally agree with the editor go up there and impart your knowledge on the professionals and i will gladly watch them laugh at you or maybe just leave you there and let you deal with it in your special way

Using Google Earth and looking at the satellite imagery it is obvious that whilst diverting the lines is possible this would result in the station being missed completely. To drop South of the tip and other workings would mean running a new line through lots of prime agricultural land putting some tight curves in to enable the original line to be joined both ends. There is no option to go North.

Also who will fund such a scheme?

SORRY RAILNEWS... but if is a MOVING Land slip, drive PILES deep enough and elevate the lines and landslip is Not an issue..
TYPICAL Victorian Era Mentality/thinking when it comes to any Railway (or any other infrastructure issue).

(Perhaps you should volunteer to advise the mining and railway engineers, geologists and other experts who are at the scene? Editor.)

To create a new track around the spoil area would require the compulsory purchase of several fields in the area and I'm not sure it would even be possible looking at how close the station is to the colliery. A bus replacement service is probably the best option, it's not very far H&S to the next stations, maybe 10 minutes by road?

They might be able to build lines quickly in China, but when it's your garden they build a new line through without a proper planning/consultation framework, you might not be so happy.

The service from Cleethorpes and Grimsby could be diverted via the Mainline from Wrawby Junction via Brigg and Gainsborough Central then either straight to Sheffield via Retford or through to Doncaster ( though this would mean a reversal at Doncaster if the train was to continue to Manchester) via the GN and GE Joint line over the Isle of Axholme. Admittedly a lot of the line from Wrawby to Trent Jct. Gainsborough is Single track with passing loops but the line speed isn't much less than that on the line via Scunthorpe. But it would be possible to get from Cleethorpes to Sheffield in about 2 hours. I frequently use the16-10 Saturdays only service from Woodhouse to Cleethorpes via Gainsborough and I am usually in Grimsby in 1 hour 45 mins

Why does it take 'Indefinate' amount of time to get a bulldozer in - clear it - and relay the track. With PROPER Management, a 10 mile stretch could be completely lifted, dug 3 metres down, replaced, new track and tampering etc... 48 hours MAX!
WTF is wrong with National Rail if it take 27 years to build 100 miles of High Speed Rail - London to Midlands when the Chinese can build over 1500km on ONE Line (Beijing to Shanghai) in less than 5 years from Idea to Trains running!
So a simple land slip, cant be rectified in 48 hours in UK... We do not have a Railway we have a Train crash for a rail way.

(Sorry, Michael, but I think you've missed the point. Reports say the slip is still moving, and no bulldozer can stop that. A little unfair to blame Network Rail for the geology of the area!—Editor.)

I think a diversionary route may be needed but you just can't build another line overnight. You've got to take borings and note water courses have ever small. The land you're moving to may have even more problems than the original. Roads may need to be bridged and farmers don't want fields just cut in half. Sewers, electricity, telephone, gas and water pipelines all have to checked and their removal/alteration agreed. I have watched the replacement of our local bridge at Purley for electrification which took nearly a year. All because so many pipes were laid under the road surface over the bridge. You may get a quick response from land-owners but they will want a very high price. The actual building of the line is the easy bit.

Good job this didn't happen in the 60s or 70s - BR would have closed everything east of Stainforth.

Yes, George, planning for a 2-track diversion should begin immediately. Then, when the spoil eventually starts moving, work on the original formation can take place while the diversion takes the traffic. Then, reconnect and abandon the diversion - or keep the diversion and move the tracks permanently further away from the spoil heap.

With the huge amount of rain the UK had during last summer, and the snow and rain we've had during the winter, is there other landslip just waiting to happen around the country ? We were lucky with this one that it was being monitored, - but like Aberfan, these old slag tips can move very suddenly.

It isn't just a question of when it stops moving, either. Digging at the bottom could easily trigger more movement unless material is removed from the top too.

If the Selby swing bridge work starts before this million-ton mess is sorted, Hull be be almost cut off. Don't be surprised if that has to be postponed!


Network Rail should get on now with a diversionary route through the adjacent fields. I can see them waiting 3 months for it all to settle only to find that the land is so unstable that a full diversion is needed anyway.