Posted 25th March 2013 | 9 Comments
McLoughlin 'set to extend Virgin franchise'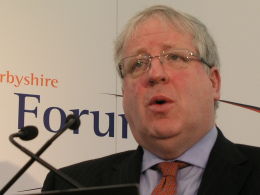 Transport secretary Patrick McLoughlin is expected to buy more time for the DfT by extending the Virgin franchise beyond next year
THE GOVERNMENT is set to extend the Virgin West Coast franchise beyond 2014 as part of a plan to kickstart the stalled franchising programme, it is being claimed today. There is speculation that East Coast will be given priority so that it can be returned to the private sector before the next election.
Ministers are expected to reveal details of the next stage of the franchising programme before Easter, following the collapse of the West Coast competition last October. The Department for Transport has been considering the recommendations of the Brown Review, which said that franchising was 'not broken' and should be restarted as soon as possible.
After the provisional award of West Coast to FirstGroup was cancelled in October, following the revelation of 'major flaws' in the way bids had been assessed, the transport secretary Patrick McLoughlin placed all outstanding franchise competitions on hold and negotiated an interim contract with the incumbent Intercity West Coast operator Virgin, to last up to 23 months.
In theory First Great Western, First Capital Connect, c2c and East Coast were all due to be replaced this year, but the Great Western competition has also now been cancelled, while talks are underway with all the operators on emergency extensions to these contracts to give the Department for Transport time to recover.
Ministers are now expected to concentrate on returning state-run East Coast to the private sector before the next general election in May 2015, having already said that the operation will be offered as a 'going concern' rather than expecting bidders to create new legal entities as potential operating companies. This procedure should simplify some aspects of the process, allowing some existing arrangements such as employment contracts to continue.
Apart from the possibility of a further extension to the emergency contract which Virgin currently has until November next year at the latest, the future Thameslink operation is expected to take the form of a management contract lasting seven or eight years, rather than a conventional franchise. The structure of the next Great Western contract is also set to be revised after the last competition was cancelled.
The four bidders for Great Western are in discussions with the DfT over an estimated £40 million which they spent jointly on bidding in the scrapped competition. The Department had refused to refund the money and legal action remains a possibility, but Whitehall observers are suggesting that a deal will be struck.
Reader Comments:
Views expressed in submitted comments are that of the author, and not necessarily shared by Railnews.
With all trains running with 125mph stock on EC, I do not see any one of the multiple operators wanting to offer a major variation in their fares and marketing strategy. They will all be greedy for a slice of the premium fare market. Would they really compromise use of their 125mph greyhounds in order to canter along the slow lines, stopping to attract cheap fare or short journey passengers? I don't think so!

On WCML, the 'fleet' scenario differentiates the market and pricing. Here semi-fast services are formed of EMU stock and therefore the product is much different. You have a 'no frills' London Midland EMU offering bargain fares (Stafford-London from £6), or Virgin's Pendo'/Voyager 125mph fleet for punters prepared to pay higher fares for a faster service.

Lastly, I worry about too many operators. The adage "Too many cooks spoil the Broth" comes to mind. Competition is good to a point but it creates antaganism within the railway industry and fragmentation. Train services on line of route whether 'fast' or 'slow' need connectivity which sadly seems overlooked in the bidding wars that take place for train paths on our rail network when annual timetables are tweaked.


So the Eurostar chairman Richard Browns Review said rail franchising was 'not broken',well he would say that wouldn't he being in charge of Eurostar.The reality though is different,seven franchises in revenue support,East Coast franchise failed twice so far,First group terminates the Great Western franchise 3 years early to avoid paying £800million in premium payments and the West Coast franchise farce caused in reality by First group trying another "back loaded" bid scam on the taxpayer and understandably Richard Branson crying foul.
Then there is the McNaulty report which highlighted that our own wonderful "pseudo" privatised rail system was some 30% less inefficient than some state owned main line railways in Europe which has not surprisingly been quietly buried.Rail privatisation has only really succeeded in privatising the profits and nationalizing the debt sadly.
Even the mafia could not have come up with such a vast money laundering operation of taxpayers money into private coffers that Rail privatisation has effectively become.The worst thing is that the more obvious rail privatisation's financial shortcomings have become over the years the more blind to the obvious and dare I say it,corrupt,the coalition government has become as it prepares to fit up the next generation of taxpayers with their failed political dogma on the railways.Inevitably then they are going to push through as much as they can before the next general election comes just like John Majors government did when it knew the game was politically up and this despite these austere times for taxpayers,as if they have not got enough on their plates already
"There's nought so blind as those who don't want to see".

It would be interesting to learn the economic arguments for this decision since East Coast has been coughing up premium payments. How does that compare to Virgin currently and for the duration of a further franchise extension?

Not sure about Tim's argument for even more operators on East Coast. It may actually narrow timetable options for many, as train operators do not generally allow inter-availabilty on 'affordable' tickets (i.e. more people may be forced to buy walk-on fares to travel at times of their choosing).

I agree with Tim of Devon. Make it open access it some form at least. We really did used to have a good choice from Reading to London when we could use SWT, Thames Trains or Great Western to get there. Amalgamating Thames with Great Western ruined the competition.

It seems that the Conservatives are scared that Labour may keep East Coast in the public sector, so scrapped everything to rush through an East Coast franchise before the election so Labour can't do this! At least the Conservatives are admitting they don't expect to get back into power!

Has everybody forgotten that FirstGroup were handing back the keys of Great Western to avoid paying the high premiums they had committed to, now they still get to run the franchise until the original date but now don't have to cough up! Great Western should be the priority!

The whole franchise system has always been a farce.

They should use EastCoast as a pilot scheme for open access. Split the current franchise into two operators, one with the HSTs, the other with the 225s. You already have First Hull and Grand Central providing competition. Let them all complete on an even basis. Some might operate fast services, some cheaper stopping services.
Cheap advance fares would be for a specific operator. Open fares would be fixed and paid to whoever carries the passenger.

Pity to see the ECML DOR team split up and dispersed.

It would make sense for the existing DOR team to take over the Great Western contract for a few years while Electrification, Crossrail, re-signalling and IEP trains are introduced; otherwise the DfT may be wiped over the floor by any new long term franchisee.

I do think there would have been advantages to leaving the present East Coast
as a state-run operation. It would have allowed a good comparison over a 5/6 year period as to how successful and profitable it could be when looked at alongside the other franchised operators. The present Government is frightened of such a comparison in case it delivers the 'wrong' message for their idealogical minds.