Posted 7th December 2012 | 1 Comment
ScotRail 'protected from West Coast fallout'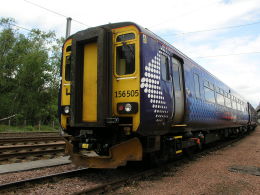 THE SCOTRAIL franchise has been extended by seven months, after the Scottish Government took advantage of a clause in its contract with FirstGroup to protect Scottish rail services from what it described as the 'fallout' following the collapse of the West Coast franchise competition.
But the Scottish transport minister has criticised the terms of the franchising review being carried out by Eurostar chairman Richard Brown, describing the terms of his inquiry as 'too restrictive'.
Transport Scotland said the current ScotRail franchise would now continue until 31 March 2015, 'to allow time to process the results of Westminster's Brown Review and Laidlaw Inquiry into the collapse of the West Coast franchise contest'.
The competition for the newly-separated Caledonian Sleeper franchise will be launched in the spring, with the main ScotRail contest following in the summer.
In Parliament, transport minister Keith Brown told MSPs: "The Laidlaw Inquiry has concluded and has made clear that there was an accumulation of errors caused by factors including inadequate planning and preparation, a complex organisational structure and a weak governance and quality assurance framework. I fully expect the DfT to be revising its internal structure and processes in the light of the report.
"We are clearly in a better place. I am comforted that the processes and planning adopted within Transport Scotland adequately address the issues raised. However, we are not complacent and we are reviewing the findings to glean where we can make improvements.
"While the Brown Review has a wider remit, it is still too restrictive. I would have preferred a remit that looked more fundamentally at the current privatised model and considered whether this was still fit for purpose. However, I await the conclusions of the Brown Review with interest and stand ready to respond appropriately to any conclusions relevant to our processes. And should its findings give me cause to change our procedures then changes will be made. It is imperative that we absorb lessons learned.
"The sleeper franchise is likely to be a contract in excess of £200 million. A sizeable sum. But that is dwarfed by a ten year ScotRail franchise, which may be in excess of £2.5 billion.
"These sums necessitate a cautious, prudent approach. We will not be rushed. We will not be hasty. And there will be no risky short cuts in terms of franchising in Scotland."
Mr Brown also revealed that increases in ScotRail peak fares will be capped to RPI for the next two years, which he said could be achieved without increasing rail subsidies.
ScotRail managing director Steve Montgomery added: "The franchise extension delivers welcome benefits for our customers. It will bring reduced fares in real terms for passengers, and more – and earlier – investment in extra services across the central belt and the north of Scotland.
"It will also create more jobs, including drivers and on-train staff, as we continue to go above and beyond franchise commitments."
Reader Comments:
Views expressed in submitted comments are that of the author, and not necessarily shared by Railnews.