Posted 2nd August 2012 | 31 Comments
Government 'warned' about high West Coast bid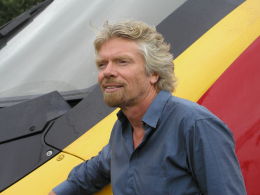 THE COMPETITION to win the next West Coast franchise has taken a new turn, following rumours that FirstGroup is the favourite to win the four-way contest.
It's reported that Richard Branson has tried to intervene in the process by writing to transport secretary Justine Greening as well as the Prime Minister. He is urging them to reconsider a bid from First which would allegedly mean cuts in on-board services and other economies in order to pay an extra £1 billion in premiums during the 14-year contract.
He has pointed out that other high-end bids have come to nothing in recent years, citing the failures of both GNER and National Express to stay the course on East Coast.
The Department for Transport has said that all bids are subject to a 'deliverability test', and that the highest is not necessarily the winner. As an example of this, it is widely believed that Arriva bid more than National Express for the last East Coast franchise, but failed to win the contract because the DfT did not believe its business plan was good enough.
After National Express surrendered its contract, East Coast was handed to a state-owned operator. Although it had originally been said that East Coast would return to the private sector in 2011, the government operator is now expected to stay in charge until at least the end of next year.
An unusual step like Sir Richard's would break the rules of franchise competitions, in which bidders are not supposed to make public comments until the franchise is awarded, but his subsidiary Virgin Trains, 49 per cent of which is owned by Stagecoach Group, is staying silent.
The Department for Transport is presently considering four bids for the Intercity West Coast contract. Apart from First and Virgin, the other shortlisted contenders are the Dutch operator Abellio and a French partnership of SNCF and Keolis.
An announcement about the winner is due this month, and the new franchise is scheduled to start in December.
Reader Comments:
Views expressed in submitted comments are that of the author, and not necessarily shared by Railnews.
8:30am and there still appears to be no announcement on the west coast. May I dare to hope that Virgin have been or will be awarded the franchise.

The government may say we want the best outcome for tax payers, but should First have over stretched there estimates payments, a bailout in a couple of years would be a disaster for the government.

Projected growth is just that 'projected' and we are now in a double-dip recession with no sign of improvement. Is the risk of worth it? No... in hard economic times the best options for the tax payer is financial security.

There is no magic wand to wave for cheap fares,seats for everyone and top class food and service,but Virgin have placed more value on the people travelling on expenses than on ordinary people who want to travel to London even at weekend the early morning trains run almost empty to London because of the high cost of Virgin fares,worse once you get North of Crewe because you do not have the option of London Midland services.They are responsable for the awful trains that now run on the West Coast and Cross Country with out doubt the most cramped and uncomfortable trains in the uk for the distance they run who ever designed them should be made to travel on them and they have the cheek to tell us they use green diesel on trains that run from Birmingham to Glasgow and Edinburgh when the old trains were electric.They have moved heavan and earth to stop competition on the West Coast route,they don't want to run to Blackpool but don't want any body else to run a Blackpool London service funny they even wanted to run a Wrexham to London service when W&S were running their London service.That said I don't think First group would be any better when they ran First Northwestern services they were quite happy to let a strike go on but there again they were running buses in the same area,who ever wins I don't think it will get any better for the user and the further you go from London the worse it seems to get.

what is the cost of a walk on fare from preston to london under branston then compare it with pre branson

If First get this contract, you will see a steady decline in the quality of the vehichles used. At the moment they are maintained regardless of cost to provide the best possible product to the customer hence reliability is now best on the rails. However First will not spend on vehichles providing a poorer and poorer service in order to keep costs down.

I think its peculiar the the cheif executive (chris gibb) in the final round of talk and descisions goes on a "secondment" to network rail
that speaks volumes to me and all the other staff on board. its a giant pr stunt and i hope it blows up in virgins face.
travelling with them lately shows how bad the service is how filthy the trains are and the food i wouldnt feed to live stock
Bring on First it needs to change!

The best thing that can happen to the West Coast (and other intercity routes) is an opening up to true competition. By allowing airlines and coaches to compete properly there is a specialisation (some will want lowcost such as meagbus/ ryanair, while other want high service and are willing to pay for it) in the services provided and the traveller will be the winner. The last hing the industry needs is a return to full nationalisation, people are looking back with very rose tinted spectacles to those days)
The key is to manage capacity and use open access payments to subsidise important rural feeder services.
Franchises are appropriate in urban areas but should follow the London Overground model and focus on service delivery rather than rebranding the services

having been an ex employee of first group and off british rail and also a railway enthusiast /not a spotter i hasten to add/ i believe that virgin is a far superior operator to that of first , you just have to look at the attitude of virgin staff compared to that of first . all first are interested in is their shareholders and no more , in edinurgh first just axed a whole number of bus routes costing 200 plus drivers their jobs so hardly surprising where the attitude comes from, virgin on the other hand tend to have a bit more relaxed attitude on the trains along with more personal announcements from the guard which is far better than the computerised announcements on scotrail services which we have to endure at evrey station, i agree there has to be health and safety to a sensible level but just look at the current alcohol ban implemented on scotrail services after 2030 hours and the threat off some passengers being left stranded who have been out for a night out because they dont meet firstgroups standards the whole reason in having public transport for those on a night out is to keep drink drivers off the road and now encourages it with passengers now thinking twice before using the train home , not every person causes problems and laws already exist to deal with those who are unfit , also interestingly first have created an atmosphere at stations with these horrid ticket barriers and as has proven in the past staff wont always allow people through to assist and meet others from trains ,ticket checks belong on the trains , i do hope that virgin does win the franchise as i believe it offers far more than first ever will with its self esteemed over zealous approach to health and safety and treating every customer as a fare dodger

I can understand some of the negative comments towards Virgin's business credentials, but its probably another case of having to take the best of the worst. Surely we doont want the french & germans to run even more of our rail services, equallyu we shouldn't have First in such a position of dominance. Virgin are not perfect, and i agree there are serious questions to be asked of Branson and his bullying tactics, but the service is a lot better than it was under BR, the customer service is probably the best in the country and the delays/ time improvements are 90% of the time due to NR. Virgin have had to hold the franchise through the tough 15 years or so while NR have brought the network into touch with modern day needs, because lets face not much changed between electrification in the 60/70's and privitisation !


I firmly believe that both operators should continue to operate their respective franchises as both companies have done exceptionally well to turn around their services and help materialise it into the quality service that we see today. Virgin excel well in providing a high-speed, high-frequency Intercity service, and although it may be questionable as to whether its service represent value for money, it does a good job on the whole. First group also do well to operate services suited to the needs of customers in its' Intercity and regional markets. Allowing the WCML franchise to change hands could incur a range of additional costs to the new franchise holder, from new paint schemes on all the pendolinos and voyagers to station rebrandings and promotional material, only adding to the large cost of the franchise in the first place. Customers are familiar with Virgin West Coast and the service it offers and why should this change? Admittedly, Branson's intereference in the process wouldn't eaxctly put Virgin in the best shoes from the DfT's point of view although we can only hope that Virgin's long-standing reputation as a consistent long-distance operator will help it to awarded the new WCML franchise.

Virgin have done well to create a reliable high speed tilting service on the west coast route its now up to them to reduce costs (Walk up fares are sky high) invest more in stations (places like Preston and Crewe are pretty run down) and invest in new ideas (like running the Pendilinos at 140 mph where possible) if they just sit on their past achievements hoping the cash will flow in ,they dont deserve another franchise.

Firstgroup is the worst TOC ever, the trains are dirty and customer service is so down the pan, i absoultely hate Firstgroup, Virgin Trains West Coast Franchise they should keep, the best ever train operator ever

'Money grabbing' Tory government ?????

This government have recently announced/confirmed the most heavy rail investment programme in decades.

This government may be many things I could list, but they certainly haven't scrimped on rail investment.






I for one am tired of listening to Branson.

First are a floated company with millions of shareholders who benefit from their good performance. Branson privately owns his company and gets 51% of all the profits for him to count on his Caribbean island.

The current anti-competetive west coact deal allows him to charge £260+ for a London-Manchester train ticket and this has to stop. LM's london-Stoke-Crewe services ought to run to Manchester, as should a new EMT service to St.Pancras via Derby. More competition lowers prices.

The French should not be permitted to bid for franchised ops until such time as they open up their home markets to companies from other EU nations.






First Group have had the opportunity to show what they can do on Great Western and have consistently come up short. Wheras Virgin have transformed the West Coast corridor.

Cross Country, now an Arriva franchise is very much a success story, a victim of its own success in fact, though I agree going for twice as many trains with reduced seats wasn't the best decision but the passenger numbers don't lie.

I'm no Branson lover but if Virgin have been fleecing the country what have First Group been doing? exactly the same! how can they be allowed to hand back the GW franchise to save millions then be able to re bid to get it again(which they will)The whole privatization has been a disaster.If the old BR had been given a third of what we pay for today's railway they would have done a much better job+we'd still have a viable train making industry instead of keeping Siemans and Hitachi in profit.Let Virgin keep the WCML franchise,better the devil you know,only the Pendolinos are beyond redemption!

First WILL do away with complimentary food and drink in first class and on board crews, Sad day .Just hope Virgin win East Coast when re-let

All I can say as an employee of first, if the wcml goes to first, expect massive cuts in jobs and customer service.

Perhaps all this underlines the basic flawedness of ihe franchising concepi - what a railay pundit described as "pretend capitalism".

Should we, instead let all those services where effective competition is feasible be run on an open - access basis ? This doesn't preclude subsidies, which could be offered on a performance - related, incentivising basis instead of by fixed contract

Another point which has occurred to me is that, if First do win the franchise, every Pendolino will have to be taken out service for both exterior and interior re-branding. This may undoubtedly result in a temporary reduction in frequencies on some routes. Who would pay for this work - First Group or the taxpayer/passenger?

What all this demonstrates is that the current franchising process is deeply flawed along with the DfT that have overseen this shambles at the tax payers expense. The recent experiences of train operators apparently being able to walk away from premium payments either by default or get out clauses must surely be a key factor in deciding who will win the WCML and future franchises awards.

As in any contract bidding process the client always has the option not to award the WCML to any of the bidders but I doubt if the DfT have the nerve to do such a thing as it would throw the whole franchising programme into chaos.

So we will probably end up with a fudge at the tax payers expense.

Was it not Virgin who bought in the pathetic Voyagers, Far too small for passengers to bring anything other than a suitcase and paper if they were going on holiday. These trains have ruined the XC service ! When XC was all 7 coach HST/ Loco Hauled everbody had a seat, plenty of room for luggage and far more comforable with seats that lined up with the windows with plenty of tables to boot ! What do we have with Voyager !! small cramped, noisy, smelly, uncomfortable trains that cost the earth to maintain and run, they polute the enviroment far more, this is the reason Chiltern are going back to loco hauled trains because no company makes an engine that is compliant with the latest emmisions laws and their management know that DMU's of any discription do not make for a good travelling enviroment on long haul services.

As for saying Arriva have ruined the XC service is a joke, just what were they supposed to do, they inhertited the Voyagers and had to make do with what they had, due to many many instances of people having to stand they indeed had a change around within the coaches in so removing the shop and placing it in one end with a trolley area, the area where the shop once was has a large luggage area fitted and within the saloons more seats were fitted, yes its not perfect by any means but its better than how Virgin laid the trains out.

As for West Coast staff being frightened of a First takeover then i think you will find the same will come with Virgin. Staff will have to be cut on the trains, make no bones about it things are going to change like it or not, either Branson is going to have to take less profit or his staff are having to take the can, its coming beleive me !

Personally i'd like to see all future franchises re-nationalised but that just aint gona happen so whoever gets the West coast franchise is quids in just don't let it be Branson and his cronies !



MikeB - Virgin have been pretty good on the WCML. If they have taken tax payers money this is in accordance with the franchise terms. But are you sure about First being successful everywhere? All their services end up being nicknamed "Worst Great Western".

That said, past performance is no indicator of how it'll work on the West coast. The Government needs to pay close attention to the quality aspects of the submission and put in place a rewards mechanism that penalises poor service and rewards good service.

It may be foolish of Mr Branson to have gone public with these comments; if the DfT awards the franchise to Virgin after this it could be thought to have caved in to pressure, so his efforts may be counter-productive.

No sympathy whatsoever.

Fifteen years of lavish spending and a shocking champagne culture behind the scenes..... a walk into Virgin's training centre in Crewe explains where this money went, possibly about £90,000 worth of furniture and fittings.

The main consideration for the DfT should be:
- FirstGroups bid is another 'GNER' or 'NXEC' with figures done by someone who has previously been pulled up by the media (BBC Website, Cancelled Trains, 2005) for being a bit economical with the truth. Vernon Barker, head or their rail division is an accountant and has overseen the West Coast bid, but I reckon a couple of years down the line the money won't come in and they'll end up asking for a cut in payments.

So, DfT - yes.... award it to FirstGroup, only on the basis of the fact that they'll give it back in 12 months when they realise their guy with the calculator still can't add up; this will be the justification for bringing this moneymaking franchise in house just like East Coast.

I agree that Virgin have indeed turned around the West Coast services from a complete shambles into a success and this should go in their favour to retain the franchise. However, I also believe that First have been successful in all franchises that they have held and hopefully, they will win the Great Western franchise. Therefore, I would rather see these two British companies achieving further success than have the whole UK rail network run by Abellio, SNCF and DB.

For the last 14 years Beardie rail has been ripping of the taxpayers of this country, getting money for the failure of PUG 1 and PUG 2, handing back the business to the DfT for a couple of years until they (virgin) could scheme other ways of fleecing the DfT, Itaking all the money and re-investing nothing into the business, this latest whinge sounds like desperation to me, especially when the outcome is only really subject to speculation. Who does Branson think he is - trying to manipulate the decision makers. He demonstrates a naive lack of understanding with his comments as there are a number of ways to reduce costs without impacting on the front end delivery; with First's experience in fleet management for example, huge sums can be saved without affecting the quality.
Beardie may have fooled Brother Blair and Brown with is "I am a man of people" act, but others would question why would you give any money to these off shore parasites, start paying your dues to the UK treasury before asking for more handouts, at least Dick Turpin wore a mask




I agree with mr. Wattison. Virgin has fleeced the railway for years. When he took over he fired all the restaurant car staff as they were paid more than Virgin air attendants and re employed them at a lower rate. Get fid of Beardie!!

Sorry Mr Wattison but you've got it all wrong.
Virgin did not ruin the cross country service, they created it. It was ajoke service in BR days and Arriva have since ruined it.
The big money spent on teh West Coast line you refer to was in teh infrastructure - Network Rails responsibility not Virgins. The small saving you claim on train times is becasue Network Rail failed to deliver teh siganlling system that the Pendolinos require to run at their max speed.
As for First just look at the complaints from those in the rest of the country who have to rely on their services. If they win with a big bid they will turn it in later on when it comes tiem to pay, just as they did with the Great Western franchise.
Finally, ask the staff at Virgin. Those who were transferred to Arriva will tell you they are treated far worse now and those on West Coast are fearful of a First takeover. I'm not a railway worker but I know examples of both.
As a user of West Coast I am hoping the DfT see sense and do not fall for Firsts trick. You say they abided by the rules. As I understand it they entered one bid and then went back with another. Why?

So Mr Beard is whinging yet again.

I believe First should be allowed to show the Country what they can do, Branson and His cronies have been allowed to fleece the public into believing he's a peoples champion when in reality he has been milking West Coast and the taxpayer for millions. He invests all this money outside of this Country which has to stop. He simply ruined the Cross Country franchise by choosing to buy trains that were far from ideal being only 4 coaches long and they have been basicxally left a kipper for the next 30 years !! Its about time Branson was shown the door in the railway indusrty, This Country has poured millions of pounds into the West coast System all for nothing, where is the mega gain on the Euston - Wolverhapton route, oh 8 minutes faster !! If this Government is taken in by his calls then they themselves are as guilty of cheating with this Bid, First Group have said nothing and abidded by the rules yet Branson is trying every trick in the book to save face and keep his bank account flush with the people of this Country's money.

Bye Bye Richard your time is up and you have at last been found out !!

Why don't we just change the name of the country to FirstUK!
They run enough of our bus and train services all over the country and practally have a monopoly in Scotland with WorstScotRail and major bus presence in 4 of our biggest and major cities. Not counting the countless towns n cities in England.
You can garuntee that if First win the bid then job losses, reductions in services and the great standards of customer care either onboard and in stations will dramatically decrease.
Virgin may not be the best on this route but they have turned round what was a shambles of a line with new rolling stock, increased job opportunities from Glasgow to London and all major station it serves down the route and for that they should be applauded.
As per it's the Tory money grabbing government doing what it does best!