Posted 19th June 2012 | 7 Comments
Ticket office closures list revealed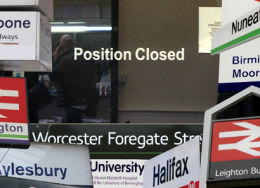 A LIST of 116 stations which are set to lose their ticket offices or have their hours reduced has now been made public by the Department for Transport, following months of controversy. One London terminus is included on the DfT's list.
Following a Parliamentary answer by transport minister Theresa Villiers, it has been confirmed that London Midland has asked for permission to close the ticket offices at nine stations, most of which are in the West Midlands, and reduce the opening hours at 73 others.
But London Midland is not alone: another six operators have also made requests to reduce ticket office hours at a total of 34 of their stations. Among the requests is one from Chiltern to reduce the hours at 19 stations, which range from London Marylebone to Seer Green & Jordans. Birmingham Moor Street, Aylesbury and Banbury are also on Chiltern's list. The other operators who want to make reductions – in some cases at only one or two of their stations – are East Coast, East Midlands Trains, Northern Rail, Southeastern and South West Trains
The list has been disclosed in response to a question from Labour's shadow transport secretary Maria Eagle. Ms Villiers' response also revealed that some of the requests may date back as far as May 2010.
The existence of the lists was confirmed when e-mails were leaked from the DfT in early April this year. They said that Ms Villiers had already given her consent to the London Midland proposals, and that only financial negotiations were outstanding. One of the e-mails, sent to a press officer, also told him that 'your way of slipping in there that the initiative comes from TOCs not us is very neat'.
The grant of ministerial consent was later denied by transport minister Norman Baker, who said the source had been a 'relatively junior' civil servant who had 'jumped the gun'.
But more light was thrown on the process when another leaked document, this time from London Midland, was published by the RMT union this spring. Internal calculations revealed that London Midland expects, by the end of its franchise, to have increased its post-tax profit by some £1.4 million as a result of the closures and reductions, although this is only after an increase in fraudulent travel costing more than £400,000 is taken into account.
Reductions in ticket office hours have prompted criticism from passenger watchdog Passenger Focus. Its chief executive Anthony Smith said: "Ticket vending machines are important, but as they don't at present offer all ticket types or provide advice to ensure passengers get the cheapest fares, we see a strong ongoing need for visible station staff."
Maria Eagle added: "Ministers must for once stand up to the train companies on behalf of passengers and block these plans which will inconvenience passengers and make it harder to secure the cheapest ticket."
Both ATOC and the Department for Transport have defended the proposals. ATOC maintains that the way passengers buy tickets is changing, and that the industry needs to cut its costs, particularly following the McNulty 'value for money' report. The DfT said requests to reduce ticket offices are considered on a 'case by case' basis, and a spokesman told Railnews that no decisions have yet been made.
Reader Comments:
Views expressed in submitted comments are that of the author, and not necessarily shared by Railnews.
I have lost count of the number of times I have turned up at my local station to find the ticket machines out of order or not accepting credit cards. It is ridiculous to think the rail companies can offer a decent level of service to the public without ticket offices. I have also found ticket office staff to be able to find cheaper routes/tickets than booking online where sites can be less than helpful or at best not comprehensive enough.

It is a mad as the Post Office closing Counters. A business that closes it method of access to the customer is seemingly disinterested in it's customers. As to buying tickets especially Staff Travel it makes it all the more harder as there is no apparent move to add Staff Travel Cards to the types of Cards that can be selected in Ticket Machines.

This is a scandal that the government are encouraging Train Operating Companies ( many of whom are state run in Germany ,France and Holland)
to make more money that will be syphoned out of the Booming rail industry in order to fatten the books.this will have a massive negative impact on Rail Users . How are disabled , Old people and lone females for example going to feel whwn they turn up at a train station with a gang of drunken youths on the dark unlit station?On top of this who are you going to speak to for advise when the station is unmanned?

I use Sittingbourne station a lot and its always very busy whenever I go through there. I dont know how they are determining which stations are scheduled for closure, it looks like they are just tossing coins to decide !!
Come on we are trying to promote rail travel so why close any station or cut down the opening hours !!

Rail companies seem oblivious to the vast numbers of people who travel without paying and the closure of ticket offices will only result in more lost revenue and, ultimately, high prices for everyone else to recoup that loss.

If London Midland dispensed with guards on the commuter lines they could redeploy those staff to collect revenue and keep stations open. It used to be the case that the guards would check tickets between stations but now they don't. You can count on one hand the number of times that ticket checks are made on the Walsall or Coventry lines, and soon you will be able to count on one hand the number of passengers foolish enough to pay when there is nobody obliging them to do so.

I can appreciate that there may be certain offices where the operating costs exceed the revenue collected, however it would be interesting to see what the criteria are for deciding whether a station should loose its ticket office or not. I may be mistaken, but generally, one feels a lot safer, particulalry at night, when waiting for a train at a manned station than an un-manned one. The closure of ticket offices would surely serve to discourage rail travel for this reason, particulalry in areas with 'rough' neighbourhoods. Ticket vending machines are all well and good, but these appear to be vulnerable to vandalism, can be unreliable, wont allow coin payment at busier locations at times due to them not being emptied and don't offer the same range of tickets that a ticket office can. Furthermore, ticket vending machines in my experience, wont allow you to book advance tickets and certainly don't allow you to renew railcards or monthly season tickets. They don't clean waiting areas, provide timetable or booking information and certainly wont provide emergency assistance if and when required. There is a pay phone at my local ststion for this purpose however it has been vandalised several times, ripped off the wall at least once, attemepted to be set on fire and even smothered in excrement on one occaision, not to mention the waiting area used as a drug den and drinking pit (judging by the amount of stella and Heineken cans that are there every monday morning, all of which I have not seen at the rest of the stations on my line which are manned!

Don't the DfT and Toc's not realise issues such as this are contributory towards peoples opinions regarding public transport? If people perceive it to be expensive, dirty and intimidating, they wont be inclined to use the train instead of the car. I know there are more issues that affect mode choice, but the perception, wheter correct or incorrect of Public Transport is the starting point for many people. If they have a negative perception, they will not be inclined to see if they are correct or not, consequently the TOC's loose potential customers and associated revenue.

Looking at the list of stations where London Midland wish to reduce the opening hours I see two, Marston Green and Tile Hill, both on the Birmingham-Coventry line, and amongst the busiest in the West Midlands away from the major stations.
Yes there are time late at night etc., when they may take less in fares than it costs to operate but that happens in many areas of business. What ought to matter is providing a public service using the costs over a full operating day from the profitable times to back up the loss making times.
Also, when this first arose London Midland promised that no passengers will be left without covered waiting accomodation. With the booking hall closed there is no covered area on the Coventry bound side.
When London Midland took over this franchise I was hopeful of a good service. I know I am not alone amongst my fellow travellers in feeling let down.