Posted 19th April 2012 | 10 Comments
Union fury at ticket office closure revelations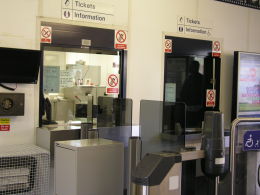 Elstree & Borehamwood is one of the 675 Category 'E' stations which could lose their ticket offices
RAIL UNIONS have expressed their anger following the revelation that the process of closing ticket offices at smaller stations is progressing further behind the scenes than the government seems prepared to admit.
One union leader has dubbed the proposals 'vandalism', and another has accused the DfT of planning 'closure by stealth'.
Leaked emails from the Department for Transport suggest that transport minister Theresa Villiers has already agreed to some closures, and that only financial negotiations with at least one operator -- London Midland -- remain to be concluded.
One of the internal messages also congratulated a DfT press spokesman for shifting the decision from the Department to train operators, although transport minister Norman Baker attributed the message to a 'junior' civil servant who had 'jumped the gun'.
Unions fear that closures of ticket offices at Category E stations and a reduction in opening hours at others could put 12,000 jobs at risk, particularly if other station staff reductions set out in last year's McNulty report are also carried out.
His report called for a review of the need for train despatchers, and also said that driver-only operation should become the default unless there were 'compelling' commercial or safety reasons to carry more staff on the train.
Although no decisions have been made officially, and consultations are under way, the Government's recent 'agenda-setting' Command Paper did not contradict the main McNulty findings.
Union insiders are now warning that the stage is set for a ballot for industrial action in protest at the threat to jobs.
TSSA general secretary Manuel Cortes said: "The DfT is getting the TOCs to do its dirty work for it.
"Ministers know full well that the House of Commons would never vote in favour of McNulty's plan to close all 675 Category E ticket offices, so it is simply by-passing Parliament and allowing the TOCs to close these stations through the franchise agreements. This is closure by stealth, without any democratic mandate at all."
RMT leader Bob Crow said: "These emails confirm that the Minister has already taken the decision to vandalise ticket offices across the London Midland routes and show that her department are trying to lay the blame on the train operators when in reality both the companies and the Government are blazing a trail for the decimation of ticketing services laid out in the McNulty rail review."
Meanwhile, MPs have heard calls for operators to be given more responsibility for their stations, and for more money to be invested in them.
At the moment, franchised operators have limited 'repairing leases' on the stations they manage, which oblige them to carry out essential maintenance, but Stevenage MP Stephen McPartland has called for a change in the rules.
During a Commons debate, he said: "Network Rail effectively owns and manages station improvements so, in reality, the money goes towards the big iconic category A projects, such as King's Cross, when local stations also need investment."
Reader Comments:
Views expressed in submitted comments are that of the author, and not necessarily shared by Railnews.
The only way for companies to ensure that all passengers pay for their journey is to have barriers at all stations. It is impossible to respect any business that overlooks the most basic business rule of collecting all due revenue.

Ticket machines are fine but its annoying when you miss your train while waiting for people to use the machine due to there only being one!

The simple issue is that the cost of maintaining ticket offices at an increasing number of stations is no longer cost effective.

Network Rail's numbers show that ticket purchases from ticket offices are in rapid decline, while purchases by other means are increasing. Meanwhile, the costs of maintaining ticket offices are constantly increasing, at the same time that the industry is coming under pressure to reduce costs.

Tickets can be purchased online and at ticket machines located at the stations. In addition, new ticketing technology will help fill the gaps, both in ticketing options, and in covering fares evasion.

In essence, ticketing is coming under the same pressures that apply to retail of CDs, book, and various other non-perishable goods, a reality that the RMT seems unable to embrace.

I think that IB has hit the nail on the head to perfection. The unions don't give a toss about the railways but just preserving (non) jobs.

The Royal Mail for as many years I can remember has been able to combine post office counters with general stores, so why can the railways not do the same?

As for "the unions won't allow it", I think that Crowe's mob in particular needs to go the way of the National Union of Miners and the print unions.

Criow does no service to the workpeople he claims to serve by his constant communistic hate, hate, hate rhetoric. However I have to say that Osborne's budget, as also the Ticket office closures, is typical Tory behaviour. But until we have a proper, fair, voting system, we shall have nothing except undiluted Tory or Labour on offer, for the current coalition is the product of an electoral accident, nothing less, and will not be repeated for a long time. And just think what a mess we should have been in had we had undiluted Tory government.

as a london midland employee who's job is at threat, i believe lm are being unrealistic believing that revenue will not be affected by the closures/reduced hours of stations, whilst some stations may struggle to justify their hours, i know that my station is seeing an increase in tickets issued and revenue taken, most weeks this is more than 12% than the previous year (after taking fare increases into account), people coming through our doors to enquire about journeys are increasing too, as due to the complicated nature of the railway ticketing system lots of customers come to us because they couldn't understand the options given to them online. We rarely see revenue protection officers on our section of the line despite highlighting problem trains due to them being based too far away in relation to their shift patterns so fare evasion is bound to increase. and if rail companies actually offered promotions at stations instead of them only being available online that might be an idea too, because its really frustrating to be told to promote the very things that are costing our jobs.

i am not part of a union, due to the RMTs reputation for striking at every opportunity, as its not something i believe in. but i will be supporting the RMT in their efforts to safeguard jobs, once lm get the green light i'm sure other TOCs will try the same thing with their station staff.

If Crow gave out less of the extreme rhetoric, there might be more sympathy for those that are going to loose there jobs, but in reality it is just another excuse to for another strike supported by only the minority of rail staff.

It is time for no-strike legislation to be introduced for transport workers so that we do not have to go through this month after month.

I can appreciate that the cost of maintaining a ticket office may exceed the revenue generated by that office. However, it seems to me that closing such facilities also increases opportunities for fare evasion. If there is no where to buy a ticket and no means of checking tickets have been bought until passengers are on the train, it is not impossible to conclude the less honest amongst us will exploit this phenomenon. Conductors only seem to bother collecting fares on trains that are less than fully occupied and never at all on overcrowded trains, suggesting the peak hours are the best time to avoid paying fares. For some reason, the TOC's in my area only provide ticket inspectors at fully manned stations like Manchester piccadilly and Victoria stations where there are fully manned ticket offices!

I suppose the reality is that more people are buying tickets online by phone especially wth the rise in advance tickets. Nonetheless there are many people who dont have internet access and might need advice or special/complex tickets not available at machines. In many cases a category E ticket office might be the only ticket office in a 30 mile radius.

This might be heresy here but I have some radical thoughts on this issue..
Nobody wants ticket office closures, but if asked the question less ticket offices or less services, I suspect many people would rather see more services run than have ticket office open at times when they hardly sell any tickets.

I think a sensible option for smaller stations would be to have a cafe/newsagent (in the affected stations) which also sells tickets. This is common in Germany and works well in my experience. These outlets would pay for themselves and secure their future by selling other things in addition to tickets. Sadly the unions here wont allow it and we'll have this polarised all or nothing argument for the next few years, and ticket offices will be closed in stations which have cafes and newsagents which could be selling tickets.