Posted 13th March 2012 | 5 Comments
Mayor reveals how Crossrail was almost axed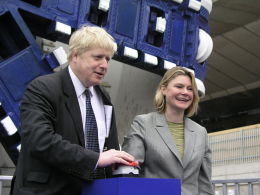 Boris Johnson and Justine Greening pressed a button to start tunnel machine 'Phyllis' rotating as a demonstration. Boring is to start this month.
THE TRANSPORT SECRETARY and Mayor of London have launched Crossrail tunnelling at a ceremony near Paddington today. The first two machines -- known as Ada and Phyllis -- will start work in the next few days, working their way eastwards from the portal at Royal Oak.
The German-built tunnel boring machines (or TBMs) weight 1,000 tonnes apiece and are 150 metres long.
A total of eight will be used to carve the bores for the 42km of 6.2m diameter tunnels needed for Crossrail. Two more machines will start from Docklands later this year, eventually meeting the Paddington pair at Farringdon, while others will be in use by the winter building the shorter tunnels in East London on the Shenfield and Abbey Wood routes.
Transport secretary Justine Greening said it was "exciting that we've reached this landmark".
The Mayor of London Boris Johnson added: "The sight of these mighty tunnelling machines primed for action is a significant step forward."
But he also revealed that the whole project, costing some £14.8 billion, had been in the balance after the May 2010 election, when the incoming Coalition Government had been seeking ways to reduce public spending.
The Mayor said: "I remember there was a period of appalling, nail-chewing suspense when the new government was trying to understand how to deal with the colossal mess they'd discovered the country was in, and one distinguished Cabinet Minister -- no names, no pack drill, I'll only say he wears Hush Puppies -- was heard to say that we'd save a lot of money by cancelling this project.
"I'm proud to say that I became one of the leading Crossrail bores, and we bored on, and made our case to Government."
Tunnelling will continue until 2014, and services are due to start in 2018.
Reader Comments:
Views expressed in submitted comments are that of the author, and not necessarily shared by Railnews.
Build TBM's in Britain? Are people so utterly clueless? We do not, by a long LONG way, have enough demand to justify building them in this country. To try would be a complete and utter waste of money.

What a pity the TBM's were not designed and built in the UK
If the Coalition Government wants to restart British Manufacturing then the TBM's. Thameslink and Crossrail trains should be made in the UK
The Network Rail electrification train for the GWML is being made in Germany. Brunel , Gooch, Collet , Churchward and the rest of the mighty GW CME's would be turning in their graves at the thought of foreign imports passing by the once mighty Swindon works
How about restarting locomotive and carriage production in the UK - the home of railways - Thats something useful the Coalition Government could do.

Hope all goes well in the building of this new route. The way forward for transport.


Yet more total piffal from Boris who is really saying "the incoming ministers were so incompetent that they did not know the difference between Capital Expenditure (investment ) and Revenue Expenditure!!

Besides which cancelling Crossrail would have left London with some vary large holes which would have stood as testamount to Tory incompetence.

And yet now they say that the annual spending on Crossrail will simply be moved to fund HS2!!!

No wonder the country is in such a mess and still flatlining!!

Flat Eric has become Flat Boris accompanied by Flat Dave and George, I reckon Eton should drop Latin and teach Economics instead!!

Wonder what would have happened at TCR where its new tube station and crossrail station needed to built as one for VFM.

I reckon ALL Mayoral candidates must be made to watch the BBC2 series "The Tube" with questions afterwards!!