Posted 27th February 2012 | 2 Comments
Olympics rail plans 'on final straight'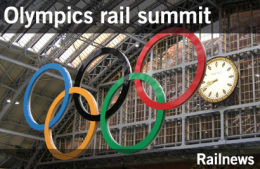 Transport for London and the National Rail operators in the London area have been meeting London Mayor Boris Johnson today, to discuss their final plans for this summer's Olympics.
Those attending the summit pledged that the close working that has been established between TfL, the train companies and other Games partners will 'continue and intensify in coming months to support world-class events this summer'.

Operators will be running thousands of extra services during the Games, using extra rolling stock and also extending operating hours so that there are suitable trains early and very late. In some cases, the extra trains have been made available by rescheduling periodic maintenance to avoid the peak Games period -- the two weeks bridging the end of July and the start of August.
Southeastern's High Speed trains from St Pancras, offically known as 'Javelins' while the Games are on, are expected to carry 25,000 passengers an hour to Stratford International, which is one of the main rail hubs serving the Olympic Park.
London Underground services will run about an hour later than usual, although a suggestion that some lines should run throughout the 24 hours was rejected.
Network Rail is suspending all 'disruptive' engineering works on rail routes serving Games venues and other suburban rail in London from the end of June to early September – covering both the Olympic and Paralympic Games. TfL and Network Rail are also suspending all planned weekend engineering closures on their networks for ten days before the Olympics until the end of the Paralympics.
Transport for London said planning is underway to manage busy Network Rail / London Underground Interchanges like London Bridge, Victoria, Charing Cross and elsewhere, and a public awareness campaign urging people to plan their journeys to 'get ahead of the Games' has now been launched.
The Mayor of London Boris Johnson said: "We are now entering the final straight of our preparations to ensure we put on the greatest show on earth this summer.
"Transport is a vital element and the required upgrades have been completed, lines extended, and plans put in place for extra services to meet surging Games-time demand. But we are not complacent and this gathering of key transport bodies is seeking to ensure unprecedented coordination is in place, that no stone has been left unturned or eventuality unprepared for."
Tom Smith, who chairs ATOC, said: "Transport will be key to a successful 2012 Games, and providing a world class service is very much a team effort. Train companies are committed to playing their part in ensuring that the capital's railways and passengers are fully prepared for the Olympics and Paralympics, helping spectators get to and from events while continuing to offer the services that keep millions of regular customers moving each day.
"In addition to our commitment to delivering first rate transport for the Games, today we have agreed on a range of measures to keep on improving services for Londoners across the board, making rail travel easier, quicker and more reliable."
Reader Comments:
Views expressed in submitted comments are that of the author, and not necessarily shared by Railnews.
We hear how South Eastern High Speed Services will be known as Javelins and transport spectators to Stratford and yet with only a few months to go Oyster is still not accepted on these services!!

So when will Oyster users be able to use Oyster and will Oyster + become more widely available given that not everyone going to the Olmpic site at Stratford will have Olmpic Tickets.

Anyway with or without the games Oyster PAYG should be already valid on HS1 even if at a primium rate.