Posted 12th December 2011 | 3 Comments
Thameslink delay 'not connected' with Eurozone crisis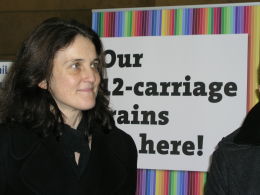 RAIL MINISTER Theresa Villiers has denied claims that the signing of the contract for more than 1,100 Thameslink vehicles has been delayed until next year because of the financial crisis in the Eurozone.
The contract had been due to be confirmed before Christmas after Siemens had been named as preferred bidder in June.
RMT general secretary Bob Crow alleged that it has slipped into 2012 because the Eurozone financial crisis was making it harder for Siemens to raise money to finance the Thameslink deal at a suitable rate.
But Ms Villiers, speaking exclusively to Railnews, said Mr Crow was mistaken.
She explained: "It's not the problems in the Eurozone. The delay has occurred because of problems in getting planning permission for depot extensions, particularly at Hornsey. I think those problems are just about solved now, but it has added to the time taken."
However, when pressed to name the date when the £1.4 billion contract will be signed, Ms Villiers would say only that it would be 'in the New Year', and declined to be more specific.
Ms Villiers was speaking during a visit to the new Farringdon ticket hall today, which opened at the same time as the first 12-car trains went into regular service on the Thameslink route across London between Brighton and Bedford.
First Capital Connect is now running six services with the longer trains in the morning and evening peaks, although there are no 12-car trains at weekends as yet.
The Moorgate branch had to be closed to allow the construction of 12-car platforms at Farringdon, where the southbound platform now extends across the site of the former junction.
Today also marked the opening of a modernised north bank entrance at Blackfriars station, to complement a new south bank entrance which opened earlier this month.
Reader Comments:
Views expressed in submitted comments are that of the author, and not necessarily shared by Railnews.
Is this the same Theresa Villiers that was too sacred to meet with the Derby Chamber of Commerce?/ thought so hope she has a rotten christmas and new year.

Cameron says he used his veto to protect Bankers and yet he cares not about awarding our biggest single train order to Germany instead of a Derby.

I suppose it surely cant be because he cant see his future career in building trains?

As Harold Wilson said "I'm backing Britain so Thameslink train order should also be back in Britain!".

One gremlin in Thameslink upgrade was that only 1 of the 4 lifts at West Hampstead Station was working yesterday and that was on the least used northbound platform!!

The others had out of service messages so look like they will soon be operational.

A more importent question RE West Hampstead is with Thameslink now step free and the Overground Station now authorirised is why the Underground has also not gone ahead?

In fact West Hampstead needs a bigger upgrade given that the Overground and Underground Stations are almost opposite and the Metropolitan and Chiltern lines also run trough what is needed is a new interchange station for ALL lines although space for extra platforms is a problems although less than the Local NIMBYS who started jumping up and down when former Mayor Ken Livingstone announced he was looking at options for West Hampstead.

I must say the new station at Farringdon already impresses and thats before the Crossrail bit has been added!!