Posted 7th July 2011 | 6 Comments
Quiet opening for Metrolink line delayed by IT bugs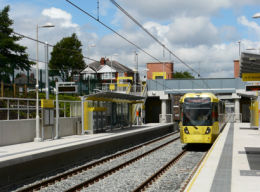 THE NEWEST Manchester Metrolink line opened without ceremony at 06.00 this morning, having been delayed by computer problems.
The route through Chorlton is the first section of a longer line which will reach Didsbury from 2013.
It had been hoped to open the line before the end of June. However, a new tram control system not only failed to work, but also crashed the existing system, leaving trams stranded in a queue at Piccadilly Gardens for a while at the start of last week.
The problems have now been solved, and trams are running every 12 minutes.
The journey time from St Werburgh's Road to St Peter's Square is approximately 15 minutes.
Councillor Andrew Fender, chair of the Transport for Greater Manchester Committee, said: "I am absolutely delighted to be able to announce the start of services on the Chorlton line.
"It is both an historic occasion and a sign of the exciting future in store for the network, as we continue our £1.4 billion expansion – the single biggest investment in public transport outside of London.
"Residents and businesses have been eagerly awaiting this news and I would like to thank them for their patience, understanding and continued support while we completed the essential testing and commissioning.
"I would also pass on my thanks and appreciation to all of our existing Metrolink passengers. Investment on this scale is bound to cause some disruption somewhere and I want to thank them for their patience too."
The new line forms part of a £1.4 billion investment in Metrolink, which will provide new lines and new trams for a network that will be three times the size it is now.
Further lines are being built through Oldham and on to Rochdale, to Ashton-under-Lyne via Droylsden, from the Chorlton line to East Didsbury, and to Manchester Airport via Wythenshawe. A second line across the city centre is also being developed.
Reader Comments:
Views expressed in submitted comments are that of the author, and not necessarily shared by Railnews.
There must have been new drivers in place to operate the new trams on the new line. Why were they not brought in to run a "ghost" service overnight on the whole of the system to test for just such problems? The trams were bought, the new drivers were being paid, the contractors were off site, so what was to stop it?

London doesn't have as great a need for new rapid transit systems as other cities, because it is well served by what is in situ. Greater Manchester has a requirement for improved transport, hence the investment in Metrolink expansion.

I had a trip on the line this afternoon. Not many passengers around and not even the staff present at the St. Werburgh's Road terminus knew until the last minute that it was opening.

It's hard to believe this was once the Midland main line and fortunate that the trackbed was not built over, as so many have been.

"No churns, no porter, no cat on a seat,
At Chorlton-cum-Hardy or Chester-le-Street."

There won't be any churns or porters but at least there are rails again at Chorlton.


Great news! This was the old Midland line that took fares from Manchester Central as far as Heysham for the boat train. The last time this cutting saw rolling stock was 1967 - steam. Beeching will be turning in his grave! Manchester - North Of England.

Well at least Manchester benefits from more tram lines while London has not had 1mm added by Boris since he became Mayor and with news that work has started on his Vanity Cable Car wont be much use on a foggy day in old London town!!