Posted 18th March 2011 | 1 Comment
Southeastern extension comes with more High Speed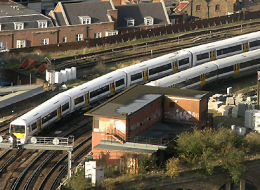 THE Southeastern franchise has been extended by two years, and will now expire at the end of March 2014.
The operator has been under fire after narrowly avoiding the compensation threshold recently, but will now introduce a 'delay repay' scheme. Meanwhile, rail users in West Kent are expected to welcome the introduction of High Speed trains to Maidstone.
There was controversy earlier this year, when Southeastern announced that it had scored 82.04 per cent punctuality in the last Passengers Charter period – just 0.04 above the trigger point for compensation.
The figure led to questions in Parliament, and demands for a breakdown of the calculations. But Southeastern stood by the result, pointing out that it complied in full with industry standards and had been independently audited.
The decision to offer the two-year extension, which was an option in the original contract, follows a period of review during which the Department for Transport had evaluated Southeastern's performance.
Southeastern is owned by Govia, the joint venture between Go-Ahead Group and Govia. Keith Ludeman, who is Group Chief Executive of Go-Ahead and Chairman of Govia, said: "In the first five years Southeastern has increased the number of services operated and customer satisfaction has risen. It has successfully introduced the UK's first domestic high speed service and independent research shows that passengers using this service are the most satisfied in the UK. More than £10m has been invested in employee training and development, £40m on improvements at stations and £174m on new High Speed trains.
"Our focus will be on continuing to further improve punctuality and reliability of our services. In the past four weeks Southeastern has delivered in excess of 90% punctuality. Southeastern is committed to increasing customer satisfaction, particularly through ensuring more effective passenger communication – especially in times of disruption. This continuation will allow us to further invest and improve performance."
Southeastern will introduce a 'delay repay' scheme this summer, so that passengers delayed by 30 minutes or more can claim compensation, as well as extending its High Speed services to West Kent in May.
Passenger Focus manager Tunde Olatunji welcomed the news about High Speed trains to Maidstone, but added: "Today's announcement will be received with mixed feelings by those passengers who have seen a deterioration in performance, sharp fare increases and little or no compensation for the delays.
"However, the silver lining is that the franchise extension has included a consultation on changing the compensation arrangement to 'delay repay'.
"This is something we had argued for in the original contract, so we are pleased that it has finally been accepted. It should mean that passengers will be able to apply for compensation immediately rather than having to wait to see whether Southeastern's year performance has breached the threshold for awarding compensation."
Reader Comments:
Views expressed in submitted comments are that of the author, and not necessarily shared by Railnews.