Posted 3rd December 2010 | No Comments
Rail disruption set to continue as temperatures fall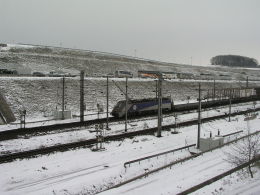 Many other European countries have also been affected, such as France, seen here
A NUMBER of train operating companies are running emergency timetables and some lines are closed altogether, as the cold snap continues. Forecasters are now predicting that temperatures are set to fall further, although the snow should ease.
Even so, ATOC has said that around 2 out of 3 trains have continued to run, and 58 per cent were reported 'on time' on Thursday.
The transport secretary Philip Hammond has rebuked train operators for not providing enough information, although many staff have worked hard to assist and advise travellers. In one case in Sussex, station staff brought in food and hot drinks from a nearby all-night filling station for passengers who had become stranded.

The government has asked David Quarmby to report on how well transport has reacted to the bad weather, and to make recommendations about possible improvements. However, Dr Quarmby has already pointed out that such conditions are comparactively rare in Britain, and that there could be a limit on how much investment is justified.

Today's problems include very limited services on Southeastern and Southern. Eurostar is also running a skeleton timetable, with speed restrictions in Kent and Northern France typically adding 30-45 minutes to journeys. Passengers are being asked not to make journeys unless they must, and no further bookings are being accepted for immediate travel.

Problems are continuing north of London as well, with particularly heavy snow in South Yorkshire hindering East Midlands Trains, Northern, and TransPennine Express, while bad weather in the north east has affected East Coast.

Many ScotRail routes are closed, from lines in the central belt to the Highlands. There are no services to Aberdeen or Inverness, and the west coast towns of Oban and Mallaig also have no trains. Local services in Strathclyde also continue to be badly disrupted.

Other European countries are also being affected, with disruption reported from France to Poland. Some trains in Denmark have also been cancelled.

Further falls of snow seem less likely in many areas today, but temperatures have stayed low. Forecasters say the situation could ease over the weekend, with snow in some places turning to rain or sleet.