Posted 30th November 2010 | 5 Comments
Travel problems spread as snow moves south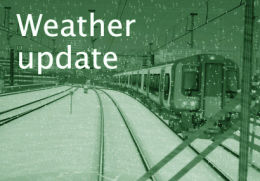 RAIL services in the southern half of England are now being disrupted by the worsening wintry weather, as problems continue in Scotland and the north east. Passengers were reported to have been stranded for about two hours on a stalled Southeastern train in Kent last night.

Southeastern is warning of delays to trains passing through Canterbury West this morning, after a cold and snowy night in the south east. There are also no trains between Tunbridge Wells and Tonbridge.

A late evening train from Victoria came to a stand in icy conditions between Borough Green and West Malling. The stalled unit was eventually moved by another train.

The weather is affecting London Overground between Watford Junction and London Euston, where delays are occurring. London Midland and Virgin services on the parallel main line are believed to be running normally.

East Coast is still operating an emergency timetable which includes a reduced service between London and Leeds and London and Newcastle, while Hull Trains is not calling at Howden or Selby. There are also no Northern trains between Middlesbrough and Whitby.

ScotRail is also warning of widespread delays and cancellations for the second day running, with the worst effects being seen in the central belt. There is no service on several routes, including those to Larkhall, Dalmuir and Milngavie. Replacement buses are running where possible.

Further snow is forecast for most parts of Britain today, with the heaviest outbreaks expected in the north east of England and Scotland, particularly in Lothian and the Borders. Temperatures are expected to rise only a degree or two above freezing at most.
Reader Comments:
Views expressed in submitted comments are that of the author, and not necessarily shared by Railnews.
Haven't Network Rail ever heard of the snow plough? Apparently it gets rid of snow on the tracks so that trains can run over it safely. There is one at Margam depot. Come on: no wonder that the railways are in such a shambles in the snow, NR are worried about the fuel bill of running these ploughs

My neighbour was stranded on a broken down train last night for several hours outside Battle. Eventually another train was connected to the stricken one and passengers had to walk through to the new train before being shuttled back to Robertsbridge where they then got put on buses/coaches

my wife stuck on a train at robertsbridge and trying to get info i wind up at a call centre in india with an operator that didnt have a clue. why do south eastern have a web site at all?...apart from to extol their own virtues about the wonderful service they purport to put on. its a disgusting service thats overpriced and overrated by themselves. if youre gonna put up prices for a service then meet that service. anything less is theft!!!

on no website this morning could i find up to date relevant information regarring train travel in the south east - after a 2 mile walk in snow, i arrived at the station to find there would be no trains running. i had checked with south eastern site before and after my journey to the station andit still said only delays expected. why can't the information given be honest.

Empty southeastern highspeed trains have continued operating and passing through East Kent stations of Sandwich, Deal and Walmer without stopping to allow passenegers to board even though mainline services have been cancelled.