Posted 31st August 2010 | 8 Comments
Urgent talks planned to save through Scottish trains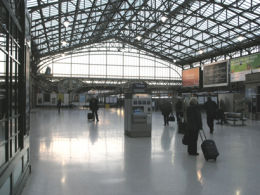 Aberdeen is one of the places which could lose its through London trains apart from overnight sleepers
THE SCOTTISH government is trying to intervene following suggestions that daytime through trains between London and stations north of Edinburgh could be axed.
Transport minister Stewart Stevenson is reported to be preparing to hold urgent talks with the DfT in London during September.
Concern has been growing in Scotland after it emerged that Sir Andrew Foster, in his review of the Intercity Express Programme, said that 'passenger-friendly' connections at Edinburgh for such destinations as Aberdeen and Inverness might be preferable, allowing through diesel services from London to be withdrawn.
However, East Coast diesels would still be necessary in England if through trains to Hull are to continue.
Mr Stevenson is not convinced that connections, however 'friendly', will be an adequate replacement for through services.
He said: "I shall be meeting Theresa Villiers, the UK rail minister, in the very near future. It is absolutely vital to us that we have direct routes to London."
Sir Andrew had said that connections from Edinburgh to the Highlands and the north east would be dedicated and guaranteed. But the regional transport partnership in the north east of Scotland, Nestrans, is also calling for through London-Aberdeen services to be maintained.
Joe Moore, who chairs the Highlands and Islands committee, and Duncan Skinner, chairman of the North East committee, have written to the transport secretary Philip Hammond in London, saying: 'The committees are fully aware of the pressure on transport spending.
'Members believe that investment in new infrastructure and services will be needed to enable our economies to achieve their potential, but that a high priority must be the maintenance of economically significant services including direct connectivity with London.
'East Coast trains are increasingly popular services for businesses and for visitors to the regions. Direct connectivity with the east of England and London is considered important by a range of industry sectors.
'Journey times to London are uncompetitive with air services and they are unsuitable for linking with international air routes via Heathrow, but East Coast services are reliable and offer facilities for working, such as Wi-Fi, which makes them a good option for some journeys.'
Reader Comments:
Views expressed in submitted comments are that of the author, and not necessarily shared by Railnews.
The biggest flaw in this plan is the amount of compensation East Coast will have to pay out for missed connections. With the way their performance has been for months now there will surely be many.

Stop blaming Beeching.
He was just the hired hatchet-man.

The real crook was Ernest Marples, who hired Beeching.

If this means finally getting rid of EC diesels it must be a good thing. The service forward to the highlands must be quality short HST's or 67/Mk3/DVT with all the same facilities as offered before plus the guaranteed cross platform connection. Through service can move further north with electrification.

If the short sections off the main line to Harrogate Hull and Skipton are not to be electrified/upgraded they should be maintained by open access operators using Class 180's until new bi-mode EMU's are procured.

Is anytbody really surprised by this? The government run the east coast services and are butchering them. First the Lincoln services, then the through Glasgow services, including 38 jobs, and now the through Highland services are being threatened.
They will not be happy until the only services they run are London to Leeds & Edinburgh. No doubt they will expect a private company to bid for the franchise and reintroduce the services they want to (and probably will) cut.
It appears the Tories have not learnt any lessons from the Dr Beeching years.

The solution is to replace the electric locomotive with a diesel locomotive from Edinburgh northwards and visa versa. It used to work very well !!

Of course the best thing to do would be to run the wires all the way, unless a hybrid loco could be used which could collect from the overhead and then complete the journey under electric battery power. However this would be heavy and costly and range issues could be a problem. The max range for electric cars is about 100 miles at present.

why not lift the rails N of Edinburgh and replace with roads?

who is this Andrew Foster (relative of Beeching? relative of Serpell?) what industry experience has he in judging such things - see no transport issues in his portifolio of beaureaucratic employment.

how can anyone consider changing to "local" services for all journeys North of Edinburgh - Aberdeen, Dundee, Inverness - are the lunatics running the asylum now?

Its good enough for the west of Scotland to have only one station with access to London so what is the complaint from those in the East? This will leave only two stations in Scotland with any sort of service to England,