Posted 11th March 2010 | 15 Comments
Adonis publishes plans for 540km 'y-shaped' High Speed network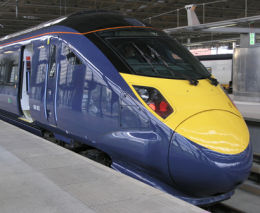 THE transport secretary Lord Adonis has published plans for a 540km High Speed network, linking London with the West and East Midlands, Manchester and Leeds, with 400km/h High Speed trains continuing 'from the outset' to Liverpool, Newcastle, Edinburgh and Glasgow.

The proposals follow the report on domestic High Speed rail which was prepared by the government company HS2 and send under wraps to the transport secretary at the end of 2009.

The plans, which form a White Paper, include an estimate that a 540km network would cost £30 billion.

Lord Adonis said there were six reasons for High Speed Rail, including relief for the congested West Coast Main Line, faster journey times between London and key centres elsewhere in Britain, and improved connectivity.

He added: "The London terminus for the high speed line would be Euston; the Birmingham City Centre station would be at Curzon Street; and there would be interchange stations with Crossrail west of Paddington and near Birmingham Airport. HS2 Ltd's recommended line of route between London and Birmingham is also published today; the Government endorses this route, subject to further work which I have commissioned on mitigation, and to subsequent public consultation. HS2 Ltd's recommended route would pass in tunnel from Euston to the Crossrail Interchange west of Paddington. It would leave London via the Ruislip area, making use of an existing rail corridor. It would then pass by Amersham in tunnel towards Aylesbury, before following the route of the A413 past Wendover.

"North of the Chilterns, the recommended route would follow in part the disused Great Central rail alignment before passing Brackley and entering Warwickshire. It would then skirt to the east of Birmingham, to enter the city via a short link, alongside an existing rail line, beginning in the Water Orton area, with the main line extending north to the West Coast Main Line near Lichfield."

He also said the case for an additional station at Heathrow Airport 'appears weak', and concluded: "High speed rail is a policy of huge strategic significance for the country. The time has come to create a credible plan, and for this to be a national cause."
Reader Comments:
Views expressed in submitted comments are that of the author, and not necessarily shared by Railnews.
hi
i wood like to add a alternative route for the high speed 2 rail link it is using the old disused midland railway line and go to st pancras london insted of london euston.
using the disused midland railway line from scotland carlisle settle leeds manchester mansfield buxton darbyshire peak direst using all midland railwayline the ones that open and ones that are closed all trains go to St pancras London
from peter jarai

Mostly very good. The business case for the East Midlands and West Yorkshire is far better than for Scotland.

The big question is: Why 250mph/400kph? Much more expensive to build and much more environmental impact than 300kph but with very little real time savings (about 8 mins London to Birmingham). Also makes intermediate stations impracticable (there should be a station at Calvert to serve Oxford, Milton Keynes and Aylesbury).

And I am not persuaded by the Euston terminus. Paddington a better option and without tunnelling. If Euston really necessary (for interchange with HS1), better to tunnel from the west with platforms at right angles to existing tracks.
Heathrow Branch (not a loop) need not be very expensive to build (low speeds on branch) and would have great benefits to the Thames Valley, not just the airport itself.

Better interchange at Birmingham International (HS2 line further west than planned) could eliminate need for Curzon St station.

Take out Old Oak Common station, long London tunnel, Euston terminus (a lot of demolition) and Curzon Street, and the super-high speed and you could get this project down to a much more reasonable price but with just as many benefits.

I think B minus.

The plan to to reach Birmingham lacks ambition and the real benefits are in reaching Scotland. They knew that in the 19th century why not now? With the shape of Britain a single line with Spurs would do it.

The spur to the East Mids and Yorkshire makes no sense. Leicester is an hour from London at the moment.

From what I've read so far, HS2 have done a good job, considering the remit and time available. But underlying it all is the assumption that high speed rail will first reach Scotland via the west coast and Carstairs. I just don't get it: can anybody explain why this is a better idea than going up the M1 and east coast?

Birmingham Airport/NEC is a bit too far west for the quickest east coast journey to Scotland. Wouldn't it make more sense for phase 1 of the HS2 'roll-out' to go only as far as Rugby, after which trains continue to Birmingham, the North-West, and the East Midlands on existing track? The first benefits would be realised sooner, revenue would start coming in sooner, and relief of WCML congestion would begin sooner.

The HS2 report is a big step in the right direction, but there still seems to be a bit of a vacuum where long-term strategic planning ought to be.

As the northern end of the initial section of High Speed 2 is at Lichfield, why not either a short connection to the ex LNWR line to Alrewas, alternatively a line of about 5 miles in length to join the ex MR line from Birmingham to Derby close to Central Rivers depot?

Either of these would give a reduction of about 30 minutes in journey time between London, Derby, Chesterfield and Sheffield, and would bring benefit as soon as the first section was completed; a completely new route, following the M42/A42 corridor as suggested by the initial plans, could then follow later. Moreover, such a new line could possibly follow a route more to the east, serving East Midlands Airport and the whole of the Derby/Nottingham conurbation (which has a total population of about 1m) by a station centrally placed for the whole area in the Erewash Valley at Toton, close to the M1/A52 intersection (this location is only about 15 minutes by express bus from either city centre).

WOULD IT BE A GOOD IDEA TO LINK WALES & SCOTLAND & DEVON & CORNWALL FROM LONDON & BIRMINGHAM & BRISTOL & READING & ALL MAJOR CITIES IN THE NORTHERN PART OF THE UK WITH THE SOUTH COAST BY BUILDING A NEW HIGH SPEED RAIL NETWORK & ALSO BUILDING A NEW HIGH SPEED STATION FOR TRAINS RUNNING TO WALES & SCOTLAND & THE CONTINENT IN THE NEAR FUTURE & ALSO ARRIVING FROM LARGE AREA'S OF THE CONTINENT AS WELL!!!
WOULD IT BE A GOOD IDEA TO START BUILDING A BRAND NEW LINE NOW RATHER THAN WAIT UNTIL 2017 AFTER THE SCOTTISH OLYMPICS HAVE TAKEN PLACE & ALSO ALL THE CONSULTATION & PLANNING!!!

So now Leeds, Newcastle and Edinburgh will leave from Euston. And commuter trains to Peterborough and Cambridge will use St Pancras when the Thameslink programme is complete.
... Why did we just start redeveloping Kings Cross?

The choice of Old Oak Common as the Heathrow Interchange is an inspired choice. The alternative approach proposed by Arup and the Conservatives makes no sense as a Heathrow station would still be a considerable distance from the airport - still requiring additional transit.

Instead an Old Oak Common interchange hits a number of objectives. Not only does a 400m station in this pivotal location provide a simple 10 minute transit to Heathrow (using Heathrow express and Crossrail), it also provides the following onward connections for High Speed Two:
Crossrail to the West End, City and Docklands, East and SE London;
Central line to NW, West and NE London;
Great Western Mainline to Reading, Didcot, Oxford and Newbury;
Overground to North London, Richmond for SW London and Clapham Junction for South and South West Lonodn, Sussex, Surrey and Hampshire.
Potentailly a new Overground line using the Dudding Hill branch to NW London, Cricklewood and North London and beyond.

It also provides an easier Heathrow interchange for all those services above.

As for Euston, it has to be re-built with Travelators from the eastern end of Euston Square and from St Pancras International.

As the French have proved an Interconnection from High Speed One to Two can be added at a later stage once demand justifies the business case.

It's a fantastic idea and very much long overdue in my opinion, it's just a shame that I'll be an old man when it's finally completed!

Fantastic news. It is the future. I'll believe it when I see it though. And, why wait so long?

But: "Not starting until 2017?
WHY NOT, for pity's sake.

START RIGHT NOW!

Overall I think the plans are practicable and will create plenty of project related jobs the length of the line and not just the London area. I have two observations however to make.

1. The rebuilding of Euston still does not include a better access to Euston Square tube station.

2. There has always been a need for direct train services between the provincial cities of the UK and the Continent such as Birmingham - Paris. There does not appear to be any provision for a direct line from the Old Oak Common tunnel to Stratford thus enabling Birmingham (and its Airport) trains to operate directly to Lille, Paris and Brussels. This I feel is imperative and its exclusion is very disappointing.

Up to now I've had a high opinion of Lord Adonis as a Transport Minister who actually cared about the future of railways in this country, but this is very disappointing. No definite plans beyond reaching Birmingham and connection to HS1 is an afterthought - if it happens at all. So tough if your rail journey isn't via London and people from the Midlands and the North will still have to fly to reach the nearer parts of the Continent in a reasonable time. But then, construction 'may' begin as soon as 2019, and that's at least three general elections away, so plenty of time for the whole thing to be 're-thought' under the carpet...

Well, about time too. Surely the target should be to finish London to Birmingham by 2020 - and work back from there in terms of consultation and the legal process? Then target HS to Scotland by 2030 at the latest.

One obvious, if minor point, is that surely Euston Square Underground Station should be linked into Euston main line station properly by having an entrance at the eastern end of Euston Square station - is there some reason why this would be difficult?

This route appears to make good sense and I'm so glad that the white elephant
(HEATHROW)has been dropped as dubious.Alot of extra expense for very little.