Posted 25th February 2010 | No Comments
More strikes predicted as Scottish DOO talks fail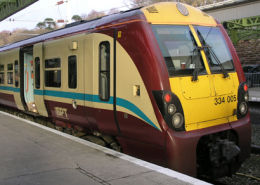 Class 334 units do not have conductors' door controls
MORE strikes lie ahead on ScotRail after the failure of talks to resolve the dispute with the RMT over driver-only operation on the Airdrie-Bathgate line, which is due to reopen in December.

ScotRail wants to run trains on the restored link between Glasgow and Edinburgh with a driver and ticket examiner, but the RMT says the second member of staff should be a conductor/guard, who would control the doors and be responsible for the safety of the train. One problem is that the Class 334 units which are to be cascaded to the route only have door controls in the driver's cab, and ScotRail said the addition of controls for conductors would cost £1.4 million. It also pointed out that the trains on some routes in Strathclyde have had ticket examiners, with the driver controlling the doors, for as long as 25 years.

A failure to resolve the dispute led to a strike ballot, and the first walkout occurred on 20 February. However, ScotRail said more than nine out of ten trains still ran, and is predicting a similar situation during the second strike, which is set for Monday 1 March. A third walkout has been arranged for 13 March, if the dispute remains unresolved.

RMT general secretary Bob Crow continues to maintain that safety is at the heart of the disagreement. He said: "Despite all the spin and hot air from ScotRail it remains the case that the dispute on their services, and the strike action this weekend, is simply about the company compromising safety by axeing guards in order to save money. The company is prepared to ride roughshod over the terms of the contract with the Scottish Government, rip up existing agreements with the unions and ignore the overwhelming safety case against Driver Only Operation simply to save £300,000."

ScotRail managing director Steve Montgomery, who was 'extremely disappointed' that a second strike is going ahead, said the savings would benefit the Scottish Government, not FirstGroup, and that the money would be available to support other rail services.

He added: "The new line will create 130 new jobs – and the trains are safe. They are the same as those which have operated in Scotland for 25 years. It is difficult to understand why the union will strike, inconveniencing our customers and possibly delaying the reopening of the rail link which is funded by Scottish taxpayers. Having already increased jobs by 25% since the start of the franchise, this line underpins growth in the railways. It is also about investing in the future and about bringing significant benefits."

He repeated that ScotRail remained willing to restart talks with the RMT at any time.

The dispute has also revealed a split between the RMT and the drivers' union ASLEF, which has agreed to ScotRail's proposals for the line.