Posted 2nd July 2008 | No Comments
Intercity Express Bid Looks To Environment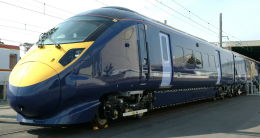 Class 395 Javelin train
AGILITY Trains Ltd, a consortium of Hitachi Rail Systems, Barclays Private Equity and John Laing Projects and Developments, has submitted its tender for the Intercity Express Programme to the Department for Transport.

The Hitachi Super Express Train design has been developed to deliver key DfT objectives of improved reliability and capacity, significant environmental benefits and lower energy consumption. It incorporates proven technology from the latest Japanese Shinkansen 'bullet train' and the 140 mph Class 395 'Javelins' due to enter CTRL service in Kent next year.

Agility Trains Ltd is competing on IEP with Express Rail Alliance, a consortium of Bombardier Transportation, Siemens, Angel Trains and Babcock and Brown.