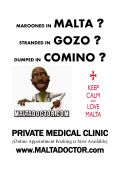 Malta Doctor - A Fully Licensed (and Comprehensively Insured) Private Medical Practitioner , currently based in the Sunny Maltese Islands of Malta , Gozo and Comino ; with Special Interests in Eclectic Health Tourism , Preventive Clinical Medicine , Political Healthcare Blogging and Holistic Informal Learning.
Online Appointments Booking. Open Daily. Full Sunday Service.

Highly Experienced in Wellness and Wellbeing.

Foreigners Are Very (Very) Welcome.