Posted 9th May 2011 | 8 Comments
Battersea Northern Line extension plans go on show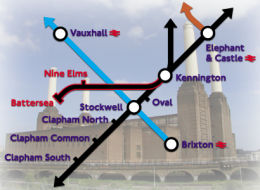 TRANSPORT FOR LONDON has launched a consultation today over plans to extend the Northern Line from Kennington to Nine Elms and Battersea. The privately-funded 3km line would provide an important link to a regeneration area in south London.
TfL said the new infrastructure, which could be complete by 2017, would support up to 25,000 jobs and 16,000 new homes in the major redevelopment area around the old power station as well as easing pressure on existing Underground and National Rail stations, particularly Vauxhall.
If the extension goes ahead two new stations would be created, one at Nine Elms and one at Battersea.
Around 40,000 leaflets are being sent to homes and offices in the surrounding area asking people for their views on the project, the location of stations and other infrastructure associated with the extension. Local people can also find out more about the proposals at exhibitions being held on several days in May and June.
The Mayor of London Boris Johnson gave the go-ahead for the redevelopment of Battersea Power Station last year. The construction of the extension will depend on funding from the developers Treasury Holdings, and the award of a Transport and Works Act Order by the Secretary of State.
In the first stage of the public consultation, in 2010, local residents were asked by Treasury Holdings to comment on four possible routes for the line, all from Kennington to Battersea. One included an interchange at Vauxhall, but the preferred option was a route via south Nine Elms.
London Mayor Boris Johnson said: "The iconic Battersea Power Station and its surrounding area have lain dormant too long but the incredible potential of the area could be realised by a privately funded extension of the Tube. I hope local people will visit the exhibitions and respond to the consultation as the plans have the potential to transform this part of London into a thriving new quarter, and deliver the first expansion of the Northern Line for around 70 years."
Rob Tincknell, who is managing director of Treasury Holdings, said: "The extension of the Northern Line is recognised as necessary for the full regeneration of the Nine Elms Opportunity Area. The project to make this happen is an excellent example of how the public and private sectors have come together to achieve a set of shared objectives, all aimed at integrating this area into the rest of Central London and bringing real benefits to everyone who lives in this part of London and beyond."
TfL and Treasury Holdings are hosting exhibitions on these dates:
Wednesday 18 May and Monday 6 June from 12.00 to 20.00 at the Acquire Arts Gallery, 155 Battersea Park Road, London SW8 4BU
Friday 20 and Saturday 21 May from 10.00 to 18.00 at The Long Room, The KIA Oval, Kennington, London SE11 5SS
Thursday 26 and Friday 27 May from 10.00 to 18.00 at Sainsbury's Nine Elms, 62 Wandsworth Road, London SW8 2LF
Reader Comments:
Views expressed in submitted comments are that of the author, and not necessarily shared by Railnews.
they should extend the Victoria line to Thornton heath or even Sutton

There are already existing rail tracks at Nine Elms and Battersea. Surely it would be cheaper and quicker to build connections to existing tracks at Nine Elms and to rebuild Battersea station which was closed after or during WW2. The real need in London is to reintroduce trams. Much of teh infrastructure to allow trams still remains from that time . For example the existing Kingsway tunnels built for trams still are useable and indeed much of the bridge and road widening required was undertaken when trams were last in use . Just reinstate the main routes .

The plans and consultation info are available from treasury holdings here: www.northernlineextension.com

Nine Elms is much closer to Vauxhall than this map makes out so why no interchange with the Victoria Line? (Editor's note: the graphic in this story is not a map but a diagram, as is the full Underground 'map'. No scale is implied.)

I also agree the extension should go to Clapham Junction.

An alternative to this scheme would be to build a new DLR type railway in this part of London which would have many more stations and which in due course be linked to the proposed DLR extension from Bank to Victoria which would simply be extended accrossthe river. I wonder how much a DLR from Clapham Junction to Victoria would cost and how many stations and communities it could serve far better?

Even more sense would be KEN LIVINSTONE's CROSS RIVER TRAM PROJECT to be given the GO-AHEAD.
All the extensive Pre-Planning had been carried-out at a cost of £19 Million, until early action by BORIS, as soon as he became Mayor, was to Cancel the Admirable Scheme:
Attractive, Frequent, high-passenger capacity, Modern on-street Trams, linking CAMDEN, Kings Cross, St Pancras International, EUSTON, Aldwych, WATERLOO, West to Lambeth, Brixton, CLAPHAM JUNCTION; SOUTH to Elephant & Castle and PECKHAM.

While they're at it can the Northern Line also be extended to Sutton using the so called Wimbledon Loop Line - pushing out from Morden terminus, then linking up with the nearby existing and underused (trains every 30 minutes if you're lucky) First Capital Connect line and track where there are already overground stations at Morden South, St Helier, Sutton Common and West Sutton, then finally Sutton.

This proposal would make even more sense if the southward Battersea extension continued on to Clapham Junction, relieving pressure on Waterloo and offering connectional opportunities for Victoria suburban passengers on to the Northern Line city loop.