Posted 24th March 2011 | 8 Comments
Surplus Edinburgh trams set to run in London instead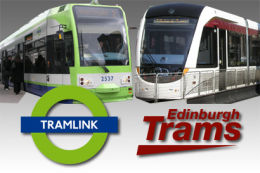 TEN trams which have been acquired by the City of Edinburgh may run in south London instead, because the project to develop a tram system in the Scottish capital has fallen so far behind schedule.
The council-owned tram development company TIE confirmed today that it has been shortlisted by Transport for London as one of three potential suppliers of additional trams for the lines which link Wimbledon with Croydon and other local destinations.
London Tramlink has become steadily more popular since trams returned to the capital just over ten years ago, with ridership up by almost 50 per cent. Now Transport for London wants to increase the size of its fleet from 24 to 34, so that more frequent services can be operated from early next year.
In Edinburgh, however, the plan to run trams from the airport through the city centre to Leith and Newhaven has continued to flounder.
Crisis mediation talks between the contractors and the development company broke up without agreement just over a week ago, and are not set to restart until the second week in April.
Railnews has also learnt that the first phase of the Edinburgh system, which is not expected to open before mid-2013, is now likely to serve only the section between Edinburgh Airport and Haymarket, which means that the cross-city centre corridor along Princes Street will not see trams for several years yet.
Beyond that lies the next section onwards to Leith, but no date has been given for services there, and until that happens no more than 17 trams will be needed by the city.
A spokesman for TIE said the ten surplus CAF-built trams could be provided on long-term loan, and no decision would be taken until the detailed tender documents had been received from Transport for London.
Reader Comments:
Views expressed in submitted comments are that of the author, and not necessarily shared by Railnews.
What ON EARTH is happening/has happened in Edinburgh? Surely some heads MUST roll? It is an utter farce and, sadly, the concept of the tramway will be blamed by many people, rather than the buffoons who are responsible for this disaster. In France it takes, on average, three years from conception to achievement for a new tramway scheme; in this benighted UK it takes 15 years!! (France has built over twenty totally new schemes in the past 25 years!) Edinburgh is going to surpass the UK's dismal record! WHY?

I never can understand the reason why "bendy buses" are so hated in London; they are used all over Europe!!!!! Is the problem with Londoners rather than the bendy buses? And if so what IS the problem - with Londoners that is? Perhaps Boris should invest in Psychologists for the capital! Certainly it is ludicrous to scrap relatively new buses because the populace cannot/will not get used to them.

Perhaps Boris should just convert surplus Bendy Buses into trams instead and save some of the millions of pounds he is wasteing in his de-bendification dogma!!

After all Pacers are only buses on rail wheels - Perhaps bendy buses could be used to replace pacers?

Odd thing about Tramlink is the lack of checking of tickets on the network and yet Boris praises this network although has failed to build any extensions that Mayor Ken planned.



One reason why Tramlink is so popular is the way its possible to evade paying fares on the system for while Boris cites this as a reson for wasting £80 million removing Artic buses Croydon trams have a driver that is totally separate from passengers and no one on board to check tickets. And he praises this system!!!

The real problem for Tramlink is unlike the DLR it is still the same size as when it opened with even the small extension to Crystal Palace to link up with the Overground still not built. While extensions to Bexley, bromley and other areas are still awaited.

The news on extra trams is welcolm and at least the stops are much better maintained since TFL took over but expansion of the network and extension north towards the Cross River Tram scheme are required and given the new governments enthusiasm for trams now is the time to plan ahead for trams to return to CENTRAL London!!

I just hope London Tramlink shops elsewhere for their extra vehicles as my experience with the CAF built trams in Velez Malaga left me totally unimpressed.

They are excrutiatingly slow and noisy, have to crawl through pointwork and curves, and have poor riding qualities. The ridership on the line between Velez and Torre del Mar has declined appallingly since the line opened which speaks volumes as to their unpopularity with passengers.

Tramlink would be better advised to look at better options than CAF vehicles.




To maintain a ten minute service to St Andrew Square Tie would need six tram and two spare. The seventeen trams are for th complete line from the Airport to Newhaven.

Very interesting comment on the line terminating at Haymarket, Tie have not until now put this on record!



You article has over stated the number of trams needed to run from the Airport and Haymarket Station. If as proposed there is a ten minute service then there are only three trams needed with two spare.

The reason there are twenty seven trams bought is that ties bought for line 1b which they subsequently abandoned due to lack of funds.

[Editor's note.–TIE told us that seventeen trams are being reserved for the service between the airport and St Andrew Square, although the section onwards from Haymarket through West End and Princes Street appears to have become Phase 2, with no opening date being quoted at present.]