Posted 12th November 2009 | No Comments
Tram contractors chase crucial Christmas deadline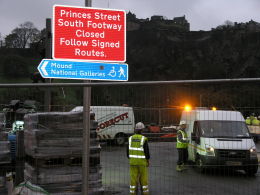 Pedestrians as well as traffic have had to give way to tram works
Tram contractors who have occupied Princes Street in Edinburgh for most of this year have been warned that the street must reopen to ordinary traffic from 28 November, because retailers along the street have insisted that work is suspended for the Christmas period.

The tram scheme is proceeding in spite of the fact that the incoming SNP government nearly scrapped it after coming to power in spring 2008 (writes our reporter in Edinburgh). Only a precarious balance of power at Holyrood made the SNP think again, although it went through with its plan to abandon construction of the Edinburgh Airport rail link.

But the Scottish Government has warned that the tram scheme will receive just £500 million, 'and not a penny more'. Edinburgh City Council is providing another £45 million. But fears of spending overruns continue, although the plans have been trimmed again and again.

The 'network' now being built has been reduced to a single line from Ocean Terminal in Leith to Edinburgh Airport, west of the city. The route runs via the city centre, including the high profile stretch along the centre of Princes Street, and will include important interchanges with rail services at Waverley, Haymarket and Edinburgh Park.

The 27 trams will be delivered from CAV over the coming twelve months, and test running with one vehicle on Tramlink in Croydon is also expected to begin in 2010.
But major retailers, including the flagship Edinburgh department store Jenners, will be watching closely to make sure that their street is unobstructed for the crucial Christmas period. 24-hour working has now been introduced on the site, as the tram contractors race to meet their deadline.

It will be an important, indeed vital, test of the project's reputation: any festive overrun will give fresh ammunition to those in the Scottish capital who have been steadfastly opposing the scheme. They have been particularly on the offensive since early this year, when Princes Street was closed to allow the work to start, only for work to be delayed after the contractors demanded higher fees. The scheme manager TIE, which is a council-owned company, said this week that most of those issues have now been resolved, although some detailed financial negotiations have yet to be completed.