Posted 12th October 2009 | 8 Comments
Light Rail is back on London Mayor's agenda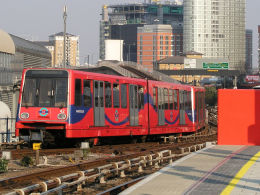 The latest draft Transport Strategy from the Mayor of London has reinstated proposals to extend the Docklands Light Railway to Dagenham Dock, and also to enlarge the tram network. The new stance indicates a u-turn from Boris Johnson's original preference for buses, although a new Routemaster is still being planned.

The revision now acknowledges the potential of a proposed extension of the DLR to Dagenham Dock, which featured in the agenda of the previous Mayor Ken Livingstone but was pushed on to the back burner on financial grounds after Boris Johnson was elected. Other DLR extensions could take light rail south of Lewisham or north of Stratford, and there is also an intriguing suggestion that the network could be extended west of Bank, possibly as far as Victoria.

Extensions to Tramlink are also back in favour: the strategy now not only envisages short extensions but also the possibility of longer new tram routes to improve orbital public transport links across outer south London.

Both Crossrail and the Thameslink Programme are acknowledged, and the proposal for a Chelsea-Hackney line, originally seen as an Underground project, is now being dubbed Crossrail 2.

The Underground itself could still be set to grow. The strategy mentions a possible extension of the Northern Line to Battersea, as well as greater separation, for operational purposes, of the two Northern Line branches via Charing Cross and Bank. Such separation, it suggests, would improve capacity.

The Croxley Link, long planned but always postponed, is becoming more likely too. This scheme would divert the present Watford branch of the Metropolitan line, connecting it with the former Croxley Green BR branch via a new bridge. Metropolitan Line trains would then be able to run through to Watford Junction, providing interchange opportunities with various National Rail services and also Overground trains on the Euston-Watford line.

One more rail proposal in the strategy is considerably older than the Mayor himself. This is a southbound extension of the Bakerloo to an unnamed terminus in southeast London. The last serious proposal to extend the Bakerloo beyond Elephant & Castle featured in London Transport plans soon after the Second World War, but lack of funding meant that the proposal to take the Bakerloo on to Camberwell had to be abandoned in 1950.

Reader Comments:
Views expressed in submitted comments are that of the author, and not necessarily shared by Railnews.
Crossrail and The capacity expansion for Thameslink will help passenger flow through central London.
Development of the Battersea Power Station area will require the Waterloo & City Line to be extended to the area and then to Clapham Junction. Just to improve the ridership for the Moorgate British rail line this can be connected to the Waterloo & City Line to create a new artery through central London.
As the London population increases the Chelsea Hackney Line will be built. New Thames Gateway urban developments could see the extension of the Jubilee Line from North Greenwich.

As mentioned above these projects are all good news, however who is going to build all of these new projects?
Once and if Crossrail gets going, all of your design and engineering resource will be directed toward building that scheme, who is going to build and design the rest?
I am not sure what other readers may have to say, but in the last two projects I have worked on, late design has been our biggest issue and in discussing this with other professionals within the sector they too are experiencing a similar problem. How is this going to improve when the level of projects is getting increasingly complex and larger?



I hope we get an extension of the Bakerloo or Northern Line to Walworth and Camberwell as it is sorely needed with traffic on Walworth Road increasingly delaying rush hour commutes.

A DLR route to Dagenham Dock was first proposed way back in the 1970s (with the original proposal for DLR).
Battersea seems an odd destination for the Northern Line which could more easily be extended towards Brixton and Streatham.
Splitting the two parts of the Northern Line should have been done ages ago. It will greatly improve reliability and capacity. We need to do the same with the Circle Line (a complete joke).
Good to see more Light Rail proposed. Conversion of Sutton - Wimbledon would free up a lot of rail capacity for Southern services to Epsom and beyond.

Well I think it is good idea, the extension, the only thing putting me off from using it is the fact that its driverless, in my opinion very danerouse, I just hope Have rail systems will always require drivers for decades to come and beyond that aswell, cos there is nothing better than th human mind, anyone will tell u that, cos computers have their own mind, and do not always do what u tell them to do.

The DLR extension to the Bank effectively blocked any extension of the W&C line beyond Bank. It would make sense to extend the DLR to Moorgate (The DLR tunnels at Bank already go most of the way) and then join up with the Moorgate to Finsbury Park line which it is reported will be closed when the Thameslink Newtork is completed. Moorgate will then be an interchange for Metropolitan line, Hammersmith and City line, Northern Line, Cross Rail and the DLR.

What about extending the Waterloo and City Line beyond Waterloo to Victoria Station and northwards towards Liverpool Street Station and possibly beyond to Canary Wharf. This would link Waterloo Mainline Station to Victoria and both directly to Liverpool Street plus alow commuters coming into Victoria to travel to Canary Wharf. I'm sure there any many thousands who would benefit from such a link and it would reduce congestion on the Jubilee Line into Canary Wharf. The disruption on the line would be minimal in that it could continue operation whilst either end is being extended. The only problem I can forsee is the depth of the tunnels at Waterloo which will obviously need to be deepened to enable it to get under the Thames

All these projects are good news and I hope they all get funded.
Such a pity other cities around the country don't also get more public transport links.We've been wasting years praising the " almighty motorcar"
when we should have spent our money on infrastructure projects.