Posted 1st April 2009 | 2 Comments
Hunt for trams in Europe as passenger numbers soar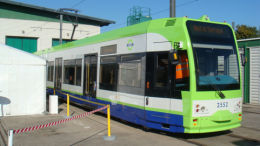 More trams are needed for Croydon to meet demand.
TRANSPORT for London has approached operators of light rail systems in European cities in a bid to hire in four extra two-car trams to relieve overcrowding on the Croydon Tramlink network during the next three years.

The move comes at a time when figures show that the system recorded a total of 27.2 million passenger journeys during 2007-8, 10.6 per cent up on the previous year.

Contact has been made with a number of cities, including Cologne and Saarbrucken in Germany, Berne in Switzerland and Istanbul in Turkey with a view to leasing any spare vehicles available as a short-term solution.

Discussions are continuing but, if no existing trams are available, TfL may focus on buying new ones from manufacturer Bombardier, which built the original fleet of 24 two-car units.

However, any new tram order is expected to have a long lead time and be expensive in terms of the small number required.

In parallel with negotiations for extra trams, TfL is also looking at double tracking single sections of the Tramlink network, also within the three year time frame.

Despite the Mayor of London's decision to axe funding for major projects in the capital such as the Cross River Tram and a Tramlink extension to Crystal Palace, money for improvements to Tramlink was set aside when TfL took over the system from Tram-track Croydon last June.
Reader Comments:
Views expressed in submitted comments are that of the author, and not necessarily shared by Railnews.
I just wish they would reduce fare prices. It's ridiculous how much the TfL think users should pay, especially as it's so completely out of proportion to the operator's costs.

The consensus seems to be that "Berne" was probably a misunderstanding for "Berlin" in the original story, and the error has been widely duplicated. Berne trams are metre gauge, so would be a bit bumpy running in Croydon :-))