Posted 11th January 2012 | No Comments
New look Railnews unveiled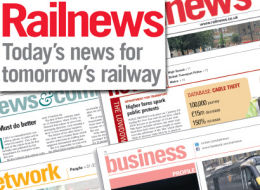 THE LAST edition of Railnews in its present style has been published: next month, it will be 'all change' – throughout the paper.
Our new look will be clean and up to date. It's designed to be easier to navigate, so that you can find the news and topics which matter to you more easily.
A printed monthly edition remains at the heart of what we do, but there is no doubt that the internet, including social media like Twitter, has transformed the way we get information over the past decade or so. So the new design will include clearer links to this website, which will be relaunched at the same time, with some exciting new features on line.
All the Railnews favourites will still be here. We will continue to have plenty of 'People' news, which has been a central part of Railnews ever since it was launched in 1963, as well as a What's On page. Your views will continue to get plenty of space, too, in the redesigned Platform section.
But we want to cater for more railway people, and by that we mean the tens of thousands who are employed on the supply side throughout Britain, in many hundreds of companies. There will be more news – of all kinds – about that side of the railway, as well as our traditional, detailed coverage of what the people and organisations in the 'core' industry are doing.
The really good news is that we are still the largest paid-for title in the rail sector, and the one with the lowest annual subscription.
So that's the new Railnews. Wider coverage, a modern, cleaner look and a relaunched package of on line services -- all for our traditional best-value price. Join us next month for the start of this exciting new journey.