Posted 23rd December 2011 | 11 Comments
eVoyager project costs still seen as too high by DfT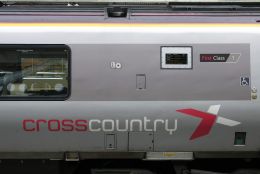 THE TRANSPORT SECRETARY Justine Greening has given qualified approval of a plan to insert an additional pantograph-carrying vehicle in CrossCountry Voyagers, but she has warned Bombardier that high costs are still an issue.
In a letter to Bombardier Transportation president Andre Navarri, Ms Greening tells him that "there will be parts of the CrossCountry network which will not be fully electrified in the medium term and where the eVoyager conversion proposition appears to be relevant and where a good case might be made...I have therefore asked my department to move to the next stage work, including the firm pricing for this option, so that a decision on this project can then be made as soon as practicable".
Ms Greening's proposal would create a bi-modal fleet, but industry observers are questioning the DfT's intention to consider the conversion of only '30-35 sets', partly because such a small order would be unlikely to be carried out in full at Bombardier Derby, where there is no steel production line. Instead, the additional bodies could be built, as were the original Voyagers, at Bruges in Belgium.
CrossCountry alone operates 57 Voyager sets, and when the Virgin and East Midlands Trains fleets of similar rolling stock are taken into account there are 104 sets in all, known either as Voyagers or Meridians. All are operated on routes which are already partly electrified.
The idea has been discussed for more than two years, but Ms Greening is still giving it only very qualified approval at this stage.
She tells M. Navarri: "I am enthusiastic about proceeding with the project, subject to ensuring that the commercial details secure taxpayer value for money, which I know that Bombardier and its partners are keen to demonstrate.
"I would encourage Bombardier Transportation and Voyager Leasing to look very carefully at reducing the capital costs and leasing rates, with a reasonable internal rate of return, as these proposals currently look very expensive."
Reader Comments:
Views expressed in submitted comments are that of the author, and not necessarily shared by Railnews.
If I am not mistaken all voyagers are diesel-electric. Which means there are electric motors under each carriage. So power would not be concentrated into one carriage. My only concern is that one carriage will not be powered by diesel as the engines that were made for the voyager family are no longer produced.

Firstly would Crosscountry sets also be equipped with shoe gear? Cross-country operates services over the third-rail network to Brighton and Bournemouth for example, which should be utilised rather than relying on diesel propulsion. Secondly, even though the bodyshells of additional cars may have to be constructed in Bruges, surely the vehicles could be assembled and completed in Derby, in close proximity to the Bombardier depot that maintains the fleet.

There are 34 4 car class 220 voyagers with crosscountry. Each additional carriage would provide approx 58 standard class seats (based on 174 standard seats on 4 car crosscountry voyager). 58 seats x 34 carriages = 1972 additional seats available per day - a considerable increase in capacity. The whole fleet of 220 and 221 trains would then all be 5 cars (except 1 221 train which is 4 cars).

Expanding the 221 fleet with the tilting technology could be a more expensive proposition (even though it is disabled with crosscountry I would expect it would still need to be provided to provide continuity with the rest of the fleet).

Most platforms crosscountry used around the country could probably take 10 carriages max. If the 221 were expanded to 6 carriages (from existing 5 carriages) they would likely only be able to be used in single formation (not double) reducing flexibility. There is the option of selective door openning.

On the question of adding capacity to the meridian fleet - if the midland mainline is electrified - surely a new electric fleet would be more applicable. The meridians would then be available to other operators - such as crosscountry to expand capacity in future (if needed).

Another question is whether a pantograph and any other modifications needed could be done to an existing voyager/meridian without the need of adding additional vehicles.

In conclusion - these thoughts may suugest the governments thinking of providing additional capacity to crosscounty to last them to the end of the current franchise; ie expanding the 220 fleet to 5 cars in as cost effective manner as possible with decisions on electrification for CP5 effecting decisions on capacity increases/ rolling stock redeployment made for that time.

Lutz,
Poppycock there is no difference in this proposal than the existing one of strengthening the Pendolinos by 2 coaches as the fleets are approximatley the same age.

Although the new car is the pantograph car, this is just the power receiver and the electricity received would power the current traction package which is distributed throughout the set with traction motors under every vehicle.

I llke the idea of this project - delivering extra capacity whilst providing a bi-mode train that can take advantage of a rolling programme of electrification.

To my mind the greatest drawback of the 22x stock is the body profile, required for 'tilt' operation on the minority of sets where this is fitted, which reduces the width sufficiently at shoulder level to impinge on customers - capacity of the overhead luggage racks is equally constrained. In an ideal world the body profile would be a trade off for faster journey times on routes where tilting trains could make a real difference, such as North Trans-Pennine, Manchester to Cardiff and Portsmouth to Cardiff, all of which are relatively sinuous.

Why not modify the Class 172 tooling with the passenger doors at the ends and use this as the Voyager pantograph coach? it may not be a 100% perfect match aesthetically but a much more viable financially.

Well, it is really obvious, except apparently to the civil servants and the DfT, that Project Thor should apply to ALL the Voyager class and sub-classes, which would instantly make the cost much more economic. Now we have to wait to see for how long the dialogue between DfT and Bombardier is protracted. The idea is totally excellent; let us hope that, for once, something positive AND SOON comes out of the DfT.

Would it not make more sense to build a new fleet of electric trains (capable of 200mph for use on the high speed lines should they be built) for the Birmingham > Edinburgh/Glasgow services to replace the Virgin Voyagers? These could then be redeployed to other routes where we seem to have a shortage of diesel trains.

In my own neck of the woods, I see Sprinters (150's) being used by First on long routes such as the Cardiff > Plymouth stopping service. ATW also often use 150's on the Cheltenham > Maesteg service and the Cardiff > Fishguard express service. Surely, such services should be Super Sprinters (158's)? I have even seen a 2 coach Pacer attached to a 3 coach 158 on the Cardiff > Portsmouth run. The ATW Coradias also seem to be coming under pressure regarding capacity. Last week, I saw one leaving Swansea (9.55 to Manchester) with practically every seat taken in the 2 coach train.

The Birmingham > Scotland run is all under the wires so it would be surely cost effective to have new electric trains on these services and the traction could be spread throughout the train rather than concentrated in one unit as it would be with Cross Country Voyager conversion.

A bit of a loose/loose situation - the existing sets will be near their booked mid-life by the time any modifications are ready for service. In addition, one of the key reasons for considering this was to appease political pressure from Derby supporters, but as is stated above, the work would still go abroad. The project is probably a waste of time and money.