Posted 23rd November 2011 | 8 Comments
Return of Adelantes to First Great Western confirmed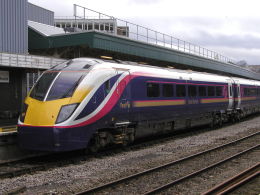 Class 180s were launched on First Great Western, after some delays, almost ten years ago. This set is seen at Bath Spa in March 2002.
ALSTOM-BUILT diesel trains which were rejected by First Great Western a few years ago because of reliability problems are returning to the west, as part of an increase in the size of the FGW fleet.
Class 180 five-car Adelantes were in service with FGW between 2001 and 2009, but then briefly became surplus before most of them were leased by two open access operators -- First Hull Trains and Grand Central.
However, five of the 14-strong fleet were to have been used by East Coast, but in a change of plan three of them have been sub-leased to Northern for a while.
As part of a further rolling stock shuffle, newly confirmed by the DfT and First Great Western, the five sets will now return to service in the west during the first six months of 2012, where they will be used to replace Turbo sets between London, Oxford and Worcester. The displaced Turbos will be used to strengthen FGW suburban services in the Thames Valley.
In other changes, FGW is gaining two three-car Class 150 diesel units for the Reading-Basingstoke line. Two more Class 150 vehicles will replace two single-coach Class 153s in the Bristol area, allowing the 153s to be moved to Devon and Cornwall. One will strengthen trains on the Barnstable-Exeter-Paignton/Exmouth lines, and the other will increase capacity on the Falmouth Docks branch, where trains have been overcrowded following the doubling of frequency to twice-hourly.
HSTs are also to be lengthened on the London to Bristol route, where seven-car sets are to be increased to eight by inserting former buffet cars. 15 of these are being converted by Wabtec into standard seated vehicles.
First Great Western has been coming under fire for overcrowding on various parts of its network, and FGW managing director Mark Hopwood said he was delighted.
"We've seen an ever increasing demand for travel on our services," he said.
"While that demand is gratifying in one respect, it can lead to overcrowding on peak services, which is why we've been working for some time to secure additional carriages.
"We have worked hard to put together an innovative deal that really maximises the benefit to customers from the rolling stock currently available. This investment – some £29 million – will deliver thousands of extra seats.
"I'm delighted we've been able to reach this deal with the Department for Transport, and I thank the Members of Parliament, local authorities and other key partners who supported our efforts."
Reader Comments:
Views expressed in submitted comments are that of the author, and not necessarily shared by Railnews.
I should have bought shares in a paint company some years ago, instead of Railtrack ones.....!

Mark 3 coaches are rusting away which have at least another 30 more years left in them.

At last an end is in sight to the use of embarrassingly-inadequate 3-car suburban turbos with cramped 3+2 seating on Paddington-Oxford expresses.

All this increases rolling stock variations and raises costs, which passengers pay for. Why not 'standard' stocks (er, like BR once did) and keep unique expenditure down. If 15x types can go anywhere, so can modern traction - 'horses for courses' just means paying more for my tickets.

Innovate eh? try telling that to the long suffering commuters wedged on FGW
services in and out of Ealing Broadway

To get even more capacity why not refurbish the ex West Coast BR Mark 111 coaches languishing at Long Marston couple them up to a pair of Class 67's
and get more extra immediate capacity for the Paddington - Reading - Oxford and Bristol - South Wales Commuter Trains ?

its good they are returning but its big time delayed isnt it ? i mean the first one was supposed to be relivered and in service by first week of december .