Posted 16th November 2011 | 11 Comments
Sleepers, through trains and alcohol all in the balance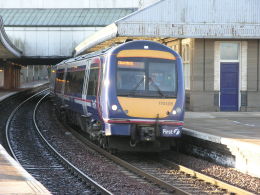 NEW PROPOSALS for ScotRail after the present franchise expires in 2014 include suggestions that trains from England should not travel further north than Edinburgh, and that alcohol should be banned on all trains. Some fares could rise, while sleeper services are also set to be reduced and possibly run by a separate franchise.
These and other ideas are set out in a consultation paper issued by Transport Scotland – the broad equivalent of the Westminster-based Department for Transport north of the border.
The Scottish Government is concerned about the proportion of railway income which comes from farepayers, some 26 per cent, and is examining ways of reducing the proportion of public funding which has to make up the balance.
The foreword, which is signed jointly by infrastructure and investment secretary Alex Neil and transport minister Keith Brown, says: 'Our ambition is to have a railway that offers value for money, ensures that the railway industry acts in a coordinated, integrated manner, and, most importantly, has passenger interests at its heart.'
Some of the ideas which follow are radical. Transport Scotland is concerned that trains from south of the border which continue to Aberdeen or Inverness are 'frequently considerably underutilised', and that their existence also reduces ScotRail's income.
As a result, all trains arriving from England via the East Coast Main Line could terminate at Edinburgh, which would become a 'rail hub' for onward travel.
Fare levels in general are in the melting pot, and as part of the changes regulated intercity fares could be scrapped. Transport Scotland suggests that the market on intercity routes is self-regulating because competition from other transport modes, particularly cars, provides its own restraint.
Although the report says Transport Scotland does not intend to reduce the size of the network or close stations, it goes on to point out that 16 of the country's 350 stations handle fewer than 500 passengers a year. It also questions whether multiple stations are needed in areas where they are less than 1500m apart, saying: 'We would welcome views on what locations may be more appropriate for stations and which current stations are no longer required'.
Sleepers, which have been a target for reform more than once in the past 20 years, are once again under critical scrutiny. The report says they cost £21 million a year to provide, and goes on to question whether the present service pattern is still necessary.
It considers the reduction or abolition of subsidies, but also speculates about the possibility of private sector investment in the sleeper fleet to bring it up to modern standards. Such an upgrade could include en suite facilities, but these would reduce the number of berths in each vehicle and also present 'technical challenges in power and water supply'.
The provision of sleepers could be separated from the main ScotRail franchise, and become a specialist operation, but even the main franchise could also be divided to some extent between commercial and subsidised services.
However, some form of franchise or franchises does appear to be inevitable, at least in the shorter term. The report concludes that United Kingdom law would not permit the Scottish Government to adopt a direct form of state control, but a management contract is not ruled out.
Such a contract could be similar to the concessions which have been awarded in various parts of England, mostly for light rail services, in which the operator provides a specified level of services in return for mainly fixed fees, with little commercial risk.
One further suggested reform seems likely to spark a lively debate, because a complete ban on alcohol on board Scottish trains could be part of the new regime from 2014.
The report has been published for consulation, and Transport Scotland is inviting responses to its proposals no later than 20 February.
Reader Comments:
Views expressed in submitted comments are that of the author, and not necessarily shared by Railnews.
put the car sleepers back york to inverness london to edinburgh sheffield to st. austell

Small point on John Harper's comment, St Pancras domestic cannot take 18 car trains. While St Pancras International can, on it's platforms you are technically in France, having (as a normal passenger) completed both British and French immigration checks.

His proposal would need some level of passport or immigration control in Scotland as separation of passengers into those travelling to Europe and those heading into London would not be easy.

The sleeper service is unviable and always will be but 2 things could be done to reduce its loses. First is to cut the Fort William section, replacing it with a tourist train / connection loco hauled from Edinburgh leaving 7:30 with full dining and First class service for Mallaig returning to connect with the Lowland sleeper. The hope is additional tourists would take the day trip. The other change would be to add an extra sleeping car to each set with 7 ensuite bedrooms with showers, plus 2 extra cars for the Aberdeen section from the discontinued Fort William service. The sets would combine in Edinburgh to form a 18 car Lowland sleeper and 18 car Highland sleeper to run via the ECML to St Pancras with onward connections to Europe.

As for through trains to Aberdeen and Inverness I suspect East Coast will apply as an open access provider to stop others such as Alliance / Grand Central doing the same thing. With the potential damage in revenue abstraction from the core route.

As for alcohol ban the solution is to ban carry on alcohol but permit on-board sales to those who are fit to buy as per regulations in public houses.

The comments about alcohol on Saturday evenings are not logical as those drunk people did not get into that state on the train but before hand at home or in bars.
A logical policy of selective alcohol free trains (i.e. inner suburban or intercity when timing matches football matches) makes more sense.

Also remember food and drink on board should be seen as a revenue oppourtunity for the operator.

Any service has to be justified and sustainable, common sense improvements are needed to encourage sleeper and day time passengers onto the trains.

As a crew leader on board, I would really welcome a ban on passengers bringing their own drink onto a train. Why is this something that so many believe is a divine right? If people behaved then fine, but they don't. My Crew and other passengers are put at risk when it turns nasty, individuals, football fans and hen/stag parties become horrendous to manage and all create an uncomfortable atmosphere on board + a risk around platforms. The TOC should be allowed to sell alcohol, with controls like any other retailer ie. Challenge 25, limited complimentry offer, BTP support, etc just like an airline. Where's the difference? It's not rocket science .....

I have travelled from KX to Kirkcaldy and return many times on the HST125 train to Aberdeen. For long distances, the HST is THE train to travel on. It is the rail equivalent of the Douglas DC3 or Boeing 747. Design classics which will go on forever.

ahhh thus blows the cold wind of change (progress?) today...
How busy will Waverley become?
No "nightcap" on the sleeper... no SLEEPER!!!
P'Ah!

I agree with banning alcohol from trains. I work as a Train Driver, working DOO, and see the consequences of Saturday night drunken bums, sick on the seats, urinating off the platforms and in the carriages, even excrement if the toilets are out of order (and they're usually only out of order because another bunch of idiots have damaged them previously). It is no use a few middle class blinkered plonkers whinging that THEY don't smash the carriages up, and that they 'ave me yuman rites innit' so therefore alcohol on trains is ok, because the sensible ones seem overwhelmingly outnumbered by the yobs.
And if only the yobs are 'targeted', that means that people like myself or the Police have to continuously deal with them. No sooner have the Police thrown off one idiot, the train travels a few more stops, then they have to come back for ANOTHER idiot. And so it goes on. What a waste of time, and for what, just so Sir Montegue can have a port & lemon on the 23.45 and feel smug with himself?

Children also do not like people drinking alcohol, it frightens them.

Banning alcohol would be following the same principle as banning smoking.
The smoking ban has worked (GOOD, why should I have to get cancer because of the selfish few), and an alcohol ban would work the same.

And what is it with Scottish people and alcohol. They can't ALL be alcoholics surely?


I hope they leave both the sleepers and the London to Inverness/Aberdeen services well alone. As a past user of London KX to Inverness services and the Euston to Inverness sleepers, I'm happy to say that they are excellent services. I've had to travel between Inverness and Edinburgh on a local train before to catch an Intercity service back to England and the service between them was crap. Removing these through train services would be a step backwards. Scottish nationalism first with common sense and passenger convenience taking a distant second place.

I have used the Scottish Sleepers in the past but now, unfortunately, I fly especially when going past Edinburgh. The sleeper train stopped at signals so many times waking me every time it did. Using Sleepers is an acquired habit I feel. I often have one drink at the bar on trains, and always with a meal when there has been a restaurant car. But travelling has been made intolerable by Football and Rugby Groups drunk out of their minds. So I welcome the alcohol free zone.

Ending the through trains from England to points north of Edinburgh would be a good thing as it will have the effect of killing the requirement for bi-mode trains on the ECML. No doubt a further effect would be to render the business case for these ill-conceived trains unaffordable and thus stimulate the electrification of Cardiff to Swansea.