Posted 20th September 2011 | 6 Comments
Transport secretary rebuked for 'rich man's toy' remark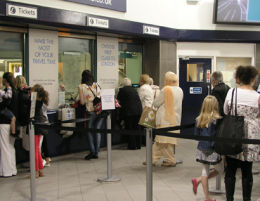 THE train operators' association ATOC has hit back at transport secretary Philip Hammond after he told a committee of MPs that railways are a 'rich man's toy'.
ATOC chief Michael Roberts has urged Mr Hammond to pay more attention to his brief.
Mr Hammond's comments came while he was being questioned on 13 September by the House of Commons transport committee about the proposals for HS2.
When the discussion turned to the likely level of fares, Labour MP Julie Hilling wondered whether the new High Speed line between London, Birmingham and the north would become a 'rich person's toy', which would not be available to 'people of low or moderate means', to which he replied: "Uncomfortable fact number one is that the railway is already relatively a rich man's toy.
"People who use the railway on average have significantly higher incomes than the population as a whole – simple fact."
He added that it was assumed that travelling on High Speed 2 would cost about the same as the West Coast Main Line, "which I have said before ranges from eye-wateringly expensive to really quite reasonable, if you dig around and use the advance purchase ticket options that are available".
Mr Hammond later admitted that he might have dealt with the question 'slightly flippantly', but he has been the target of industry criticism for making the remarks at all.
Stephen Joseph of the pressure group Campaign for Better Transport responded that railways are also "vital for many of those on more moderate incomes who need to get to work, and the government will price many off the railways if it carries on with its plan to increases rail fares at three per cent above inflation".
The Association of Train Operating Companies had defended fare increases as a way of raising additional money needed for railway investment, but now it has joined the fray.
Its chief executive Michael Roberts told a fringe meeting at the Liberal Democrat Party Conference that 30 per cent of season ticket holders were on average incomes, while others, such as pensioners, young people and members of the armed forces, were all getting significant discounts on their travel.
Mr Roberts said: "Philip Hammond needs to read his brief a bit more closely before making these kind of comments. I think it is a fantastic deal for the amount of money we put in. We need to make that deal better and get our costs down."
Meanwhile, LibDem transport minister Norman Baker has told a meeting in Birmingham that he wants to see fares fall. "I don't like fares going up. As soon as we can get off RPI plus the better," he said.
Fares are set to rise by an average of RPI + 3 per cent in the first week of January, which will mean a general increase of 8 per cent. The rises may be greater or lower on some routes, so long as railway companies maintain an average of 8 per cent for their 'regulated' fares. These include most season tickets.
Reader Comments:
Views expressed in submitted comments are that of the author, and not necessarily shared by Railnews.
Fares - one, how far in advance do you know you'll be travelling, and two - do you have online access? Even if you can use the Net, the cheap(est) fares are mostly on trains with unsocial timings, often with poor transport facilities at start or end of the travel. We may only feel we're priced off the trains but perception is reality in the end. When we have acceptable walk-up or over-the-counter fares, then we have a universal railway.

This comment also made by Richard Crossland decades ago and proven wrong though my records do not stretch this far back now.
I think Hammod was trying to make a different point that rail fares are to expensive but worded it wrongly and was picked up and SPUN by the ANTI rail press and particularly HS2 opponents. Hammond should have known better.

I do not see many 'rich' on the trains I travel on most are in their 4x4 Porsche and Jaguars and purchase new model annualy. Most 'poor' who are lucky if we can renew our 5 year old bangers are forced to change out for 6 year old model or do not have a car of any sort.



It all goes to show how unsafe the railways are in the hands of Conservative politicians! Well, if they were serious about improving the railways, there should be massive public investment to add the capacity to the network capable of meeting the required demand, then turning off investment in the road network and reducing the cost of using trains to little or preferably free.

But we have to be realistic. ATOC is an organisation designed to protect the interests of its members, and they would say lots of people are not priced off the network. Well, it's a hard case to crack - rail fares are rising as fast as petrol prices so the government is on to a winner either way. So we are confused about the prices we pay for rail travel? Don't worry about it - just be computer literate, have an internet connection and printer at home, and of course a credit or debit card, and you can do just fine (!).

Not sure how popular pacers would be with rich men? - Perhaps we could switch some to South West Trains and let Northern have their 158/9 stock!!

its fine to say that they are not "rich men's toys" however I am already priced off "public transport"

Michael Roberts needs to ask who is able to pay that much for a fare; of course the profit margins of his organisations members show that train travel is profitable for them.

Airline style pricing makes the matters worse.