Posted 19th July 2011 | 7 Comments
Major demonstration planned over Derby job cuts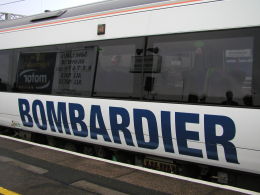 A MAJOR demonstration opposing the government's plan to award the Thameslink rolling stock contract to Siemens is set to go ahead in Derby on Saturday, with organisers predicting that thousands of people will take part.
A separate row has ignited after an invitation to Bombardier's UK chief to accompany the prime minister on a trade visit to South Africa was withdrawn.
The protest in Derby is being led by four unions – RMT, UNITE, TSSA and GMB – who are calling for a rethink over the government's decision to have some 1,200 vehicles for the Thameslink Programme built in Germany.
Bombardier had been planning to make its works at Litchurch Lane in Derby 'a global centre of excellence' for the construction of aluminium-bodied rolling stock had it won the Thameslink order, which is believed to be worth at least £1.4 billion.
As things stand, the award may have doomed the last train-building plant in Britain, and supporters of Bombardier are arguing that although the decision to choose Siemens may create up to 2,000 jobs, mainly in the north east of England, it is also likely to endanger up to 20,000 jobs at Bombardier and its related supply chain in the East Midlands.
The transport secretary Philip Hammond has maintained that the terms of the competition had been decided by the previous government, and under those terms of reference there had been no choice but to choose Siemens.
Bombardier has already announced that it is to shed just over 1,400 jobs at Litchurch Lane, although the debate has been complicated by claims that the company was planning some reductions in any case. However, these would have apparently affected only temporary contract staff, but the cuts actually announced also envisage the loss of more than 400 permanent staff, whose skills may now be lost to the rail engineering industry.
A delegation from Derby has already visited the global HQ of Bombardier Transportation in Berlin, and is now expecting to have an early meeting with the prime minister, who is currently in Africa but is cutting short his visit because of the News International phone hacking crisis.
One casualty of this timetable change has been the abandonment of plans to show him Gautrains running in South Africa. These Electrostar-based trains were fabricated and partly built in Derby. Bombardier's UK chief Colin Walton had been expected to accompany Mr Cameron, but was told just before the official party's departure that his invitation had been withdrawn.
This has attracted fresh criticism of the government, with Mark Young of UNITE saying: "Cameron stabbed Bombardier's UK workforce in the back. Now it looks like he's trying to avoid the embarrassment of being seen with their boss."
Ironically, the Bombardier plant is very busy at the moment, but most of its current construction contracts will be completed soon. The only work outstanding after this year will be the construction of the rest of the S-stock subsurface trains for London Underground, but even this major order will be completed by 2014, after which Litchurch Lane currently has no further work at all.
The company has started a 90-day consultation period over the job losses.
Reader Comments:
Views expressed in submitted comments are that of the author, and not necessarily shared by Railnews.
"Protectionism is not the way to go"

Unfortunately, it's the way things are in France, Germany, Spain, Japan, USA.......

The Colonel, nothing wrong with free trade at all accept that in the railway industry there isn't, as numerous people have made the point virtually all the trains running in Germany are made in Germany, same in France, Itlay etc. whereas in the UK we have numerous examples of locomotives, wagons, and passenger trains running that where not made in the UK. So when UK manufactured rolling stock is exported into these markets without any bias shown by the national govts/state railways then we have free trade. The UK is systematically destroying its manufacturing capacity and even now its service sector on the mantra of open markets and free trade whilst other countries are not so short term or as stupid. As for all the extra jobs being created by Siemens that's a load of BS. These jobs are all in the train maintenance depots which Bombardier would have created as part of its bid as well. Incidentally if these trains had been made in the UK by Siemens then most people wouldn't have had an issue with this.

All this crap about the ownership of the company is just a distraction. It doesn't matter who owns who, the fact of the matter which is of vital importance is that this ridiculous decision by Cameron is going to kill train making off in the uk forever. Also, even if some reply's say 10000 families with their bread winners on the dole is tedious I don't and a lot of the population care enough about others not to think so either.

What nobody seems to talk about is that Siemens is as British as Bombardier. The Siemens contract is supposed to create thousands of jobs in Britain so the issue is NOT British jobs, rather it is to favour one foreign company over another foreign company. Siemens is a company that has won rail contracts from China to the USA this year and they have a fantastic track record.Protectionism means less competition and less quality assurance and more expensive products and more cost to tax payer regardless of how many jobs it creates.

Fair and square eh? Convince the 15,000 to 20,000 BRITISH workers who will lose jobs eventually through this half baked decision. Siemens build good trains as do Bombardier but the tendering playing field is just not level !!
If this had happened in reverse the German workers would not have taken this lying down. 51,000 signatures in three weeks proves your theory wrong. The fight is on to look after our own workers.

This is becoming increasingly tedious. Bombardier lost out in the bidding process, fair and square. Protectionism is not the way to go; if they're building the best trains at the best prices and in the most timely, reliable manner then they have every chance of winning tenders. If someone else is offering a better deal, then fair play.
A wider issue is the lack of other new orders coming through; this is something that the Government and the DfT could address but for the delays they're experiencing (or creating?) in re-tendering new franchise agreements.
If Bombardier can sharpen their pencils, sort out certain cost, quality and supply chain issues then they have a chance to survive and even thrive going forward.