Posted 17th May 2011 | 8 Comments
Plans to replace West Coast franchise disintegrate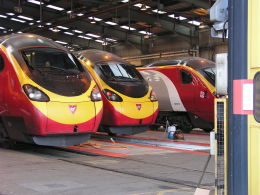 THE RELETTING of the key West Coast franchise appears to have fallen into disarray, with the planned start date for the next contract now set to be postponed by at least ten months.
The replacement franchise had been intended to begin on 1 April 2012, and run for 14 years.
The Department for Transport is declining to comment on a report that the government's operator of last resort, Directly Operated Railways, is the official favourite to take over the franchise from Virgin next March, and run it until at least January 2013.
The alternative would be to extend the present Virgin West Coast franchise, which began in 1997 but had to be renegotiated after the West Coast Main Line upgrade became a victim of soaring costs, unachievable targets and missed deadlines.
Negotiations with Virgin over a possible franchise extension beyond next March are believed to be in progress, but the Department for Transport will only say that 'an announcement will be made in due course'. Virgin has also refused to comment.
Signs of current problems with reletting the West Coast franchise emerged a few days ago, when the Department failed to issue the Invitation to Tender, due on 10 May, to the shortlisted West Coast bidders. They are Abellio, FirstGroup, Keolis/SNCF and Virgin Trains.
Since then, Virgin has unexpectedly agreed to operate the first of four new Pendolinos from July, having earlier refused to take the additional trains unless its franchise was extended by two years to 2014, which the DfT refused.
Industry observers are also suggesting that the franchise reletting process has ground to a halt until after the McNulty report on railway Value for Money is published on Thursday.
After the collapse of Railtrack, which had been responsible for the faltering West Coast Main Line upgrade, Virgin ran West Coast on a management contract basis on behalf of the Strategic Rail Authority between July 2002 and December 2006.
When Virgin and its partner Stagecoach, which owns 49 per cent, took over full control again after agreeing revised terms, the premiums of some £1.2 billion which would have been payable between 2002 and 2012 had become subsidies worth about the same amount. This effectively cost the taxpayer a total of almost £2.5 billion.
Reader Comments:
Views expressed in submitted comments are that of the author, and not necessarily shared by Railnews.
Lets look at who is up for this contract. They are Abellio, FirstGroup, Keolis/SNCF and Virgin Trains. Abellio is owned by a Dutch Company, SNCF is owned by the French Government! What state are the BRITISH railways at if companies owned by governments in other countries are looking to take over, I think this is shambolic. Virgin have done a great job on the West Coast contract, and if anything should be looked up to as a TOC, as they have ran a very difficult contract very well. These decisions should be based upon what the customer wants, NOT what the big bosses think is in 'our best interests'. In my opinion Virgin Should keep west Coast, I have nothing against First, It's just they seem to be taking over everywhere.

If people are worried that if BR was brought back, then unions would have more power, then simply deny the unions more power through legislation!
The Conservatives got rid of the 'closed shop' (ie a worker had to be in the union in order to have the job), and the world didn't fall apart. What they need to do this time is:
(i) Bring in the current proposed legislation by some backbench MPs, that a union needs 51% of those ELIGIBLE TO VOTE in order to have a strike, (rather than the present arrangment of only needing 51% of those WHO ACTUALLY DO VOTE).
(ii) The trade union laws (TULRcA 1993) allow a union to throw out or not allow in, anyone of a political party that the union doesn't like. This means that if a Conservative party member wished to stand for office of a union, the union could throw out that individual SOLELY BECAUSE OF HIS POLITICAL MEMBERSHIP. This is how the union leaders manage to continue their self perpetuating Marxist racket. It is disgusting in this day and age that someone could be thrown out/disbarred from joining a union, JUST because some communist crank doesn't like an individual's political allegiance.

The public shouldn't have to stand for endless nonsense from the champagne socialists, who ponce money from the union coffers to spend on themselves. It's time the long suffering travelling public agitated for change.

Not surprising given the bunch of amertures now playing at "government ministers" one only has to hear to recent response to a request to elctrify the Gospal Oak to Barking line that "the line uses new trains" to see how this minister is not boverred!! While the BML2 project is rejected because it does not serve Gatwick Airport!!!

Personally I reckon Richard Branson should concentrate on airlines and say the railways are not for him given the level of interference in what is meant to be a privitised industry!!!

Pity he did not start up his own rolling stock business then he could have taken his trains with him!!!

Dont suppose Connex might be interested in a comeback?

Dont bring back BR! While BR was cheaper it also delivered very little and had no teeth in Whitehall.

Private companies are making profits, too much in my opinion but with out them moving in we would not have had the new rolling stock that so many of us now enjoy and as these companies are looking to make money, they are constanlty looking for new services to run to increase revenue. Trouble is they will look to close services that are not profitable.

BR did not work, the only reason the unions want it back is that it will give them more power as everyone can act as one. Franchise works but is costly and as Virgin, First and National Express have demonstrated, they will only act in their own best interest.

There is no easy answer for this.

There is only one sensible option and that is BR! It won't happen though sadly. Ridiculous to pay these TOC's subsidies while they're creaming off the profits from passengers.





What a mess! Why on earth would DOR take over? Why not just let Virgin carry on (if they want to)? Why didn't DOR get the short East Anglia extension franchise?

It all seems a bit shambolic!

Just hope that at the end of it, we see something much simpler, better for passengers and not so expensive. I won't hold my breath!

If we carry on like this, DOR could own all of the TOCs........Maybe a name change.....BR! (In our dreams!)

Is it just me or does the whole privatised rail industry concept seem to be faultering? First it was National Express pulling out of the East Coast route because it wasn't profitable enough, then First opting not to extend their franchise and avoid paying millions to the DfT, now we have the DfT no issuing contracts to bidders for the West Coast franchise. In light of the current problems, it is hard to justify these operators claims that a longer franchise will allow them to invest and provide a better service when two of the existing companies have both opted to not extend their existing franchise.