Posted 1st March 2011 | 24 Comments
Great Western electrification and IEP to go ahead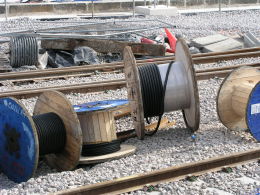 THE GREAT Western Main Line is to be electrified to Cardiff and Bristol.

A full business case for electrifying the Valley Lines is also to be prepared.

The Intercity Express Programme is going ahead, and bi-modal Hitachi trains will run on the Great Western and East Coast Main Lines.

An IEP assembly plant has been confirmed for County Durham, which the transport secretary said could create thousands of jobs.

New bimodal Hitachi trains will run on the Great Western and also the East Coast Main Line, switching to diesel mode beyond Cardiff or Edinburgh.

In a detailed statement to the House of Commons, transport secretary Philip Hammond said: "I am resuming the IEP procurement and proceeding with the proposal that Agility Trains have put forward as preferred bidder.
"Hitachi is today confirming its plans to locate its European train manufacturing and assembly centre at Newton Aycliffe in County Durham. This investment is expected to create at least five hundred direct permanent jobs as well as hundreds of temporary construction jobs. Thousands more job opportunities will be created in the UK manufacturing and service supply chains.

"We will now work with Agility Trains with a view to reaching financial close by the end of this year. This is, of course, subject to the Government continuing to be satisfied that the proposal offers value for money as the commercial negotiations are concluded and that the final arrangements are compliant with the United Kingdom's EU obligations."
Mr Hammond said he would asking Network Rail to add Didcot–Bristol Parkway–Cardiff to its electrification programme immediately. In response to a question, he confirmed that Swindon–Bath Spa–Bristol Temple Meads and Bristol Parkway–Bristol Temple Meads would be included.

He has already announced that the GWML is to be electrified from Airport Junction, near Paddington, to Oxford and Newbury.

Journey times on the GWML will be reduced, bringing the time from London to Cardiff down to 1h42, and reducing the time to Bristol by 22 minutes.

Mr Hammond added that a case also appeared to exist for electrification of local lines in the south Wales valleys, and a full business case would now be prepared, in conjunction with the Welsh Assembly Government, for the routes to Treherbert, Aberdare, Merthyr Tydfil, Coryton, Rhymney, Penarth and Barry Island.

However, Mr Hammond said the case for electrification onwards from Cardiff to Swansea had not been established. The present hourly service did not appear to justify electrification, and the physical characteristics of the route beyond Cardiff meant that journey times would not be reduced further.

But Swansea would stay under review, and in any case the city would benefit from the acceleration following electrification between London and Cardiff, reducing the London-Swansea journey time to 2h39.

First reactions to the announcement have included one from the watchdog Passenger Focus, which said it welcomed the news about IEP and GWML electrification, even if supporters for the Swansea section would be disappointed. It hoped that more electrification could be approved as the economy recovered, and called for mock-ups of the new IEP trains to be built as soon as possible.

Meanwhile, Whitehall sources have indicated that an announcement about the Thameslink fleet can be expected in May.

The surviving bidders to build some 1,200 new vehicles for Thameslink are Bombardier and Siemens, and although Mr Hammond would not be drawn in the outcome, he did say he believed that Bombardier has a 'bright future' in the UK rail industry.
Reader Comments:
Views expressed in submitted comments are that of the author, and not necessarily shared by Railnews.
Hitachi state that the site in the North east will be their base for building trains for europe. I Don't think so, because the loading gauge of european railways is larger than the restrictive UK loading gauge. This would mean any train for France, Germany etc would have too be transported by road until it reached HS1.



Further to my comment above, that the Welsh Government can now go ahead and electrify from Cardiff to Swansea itself, I have now found out that this is not possible as they do not have the powers to do so independently - though Scotland, be it noted, DOES have such powers and is busily electrifying from Edinburgh to Glasgow and good luck to them!! This underlines the disgraceful and unacceptable disparity between the devolution settlement with Edinburgh compared with that with Cardiff - the two settlements should be identical! All we can do is to be thankful that apparently the case for Cardiff-Swansea wires is to "be kept under review - though it is bound to be from a Westminster perspective rather than a Cardiff one! Quite iniquitous.

The speed up to South Wales could be at the expense of stopping at Bristol Parkway This stop gives connections for those living west of Cardiff to Birmingham and the North and to Bristol and the South WestThers are no longer through trains from Swansea to the South West and to Birmingham , York and Edinburgh. We need these half hourly connections at Bristol Parkway. The stops to be removed should be Swindon and Dicot with connectionsat Parkway to an all stations service from Bristol

IEP BI-MODE will be 15%-20% MORE EXPENSIVE to run than an existing 2+8 HST. Some of that is dragging all that extra weight around while on electric power (diesels under the wires, this is almost as bad) but the fuel economy (or lack of it) on diesel power will, like the Voyagers, be frightful. The current diesel trains on Great Western are more sluggish than Voyagers but it means they use a fair amount less fuel. If the wires extended to Swansea we could have an all ELECTRIC train that is 8% CHEAPER to run than the same HST. The hollow excuses the government give for not doing the last few miles are pathetic:

1. The journey time savings are not great between Swansea and Cardiff - maybe, but the those time savings are publicity grabbing rubbish. The real reason to electrify our rail network is to reduce costs and pollution. Journey time savings are just a little extra bonus.

2. There's only 1 train per hour. Ridiculus. The Swanline (Swansea - Cardiff stopping service) is crying out for a doubling in frequency to 1 train per hour, which gives you 2 trains per hour already. Ebbw Vale and Maesteg electrifications (which WAG should pay for) would add even more electric services.

Yet they can scrape together enough money for a fuel tax cut and planning HighSpeed2. Really, is seems that what the government really want to do is commit enviromental suicide. I think the existing diesel trains should be retained on all Great Western routes except those getting electrified, as they are more fuel efficent than the new bi-modes will be on diesel power. Once the anounced sections are done, the electrification should continue onto Swansea, then the route from Newport to Swindon via Cheltenham, providing the divertionary route for the Severn Tunnel and converting another train every hour to electric power.

Would someone please tell me whether the Welsh Assembly Government, as at post-referendum, has/will, on its own, have the powers to initiate further electrification west of Cardiff should it so wish? I cannot quite see why Mr Hammond has to get involved in either Valleys or Swansea electrification - though he states loftily that his dept. will "co-operate" with the WAG to assess the position. Does not his responsibility end at the River Severn nowadays? (In which case thanks for the wires from the River Severn to Cardiff!) I thought that the WAG had responsibility for Transport within Wales?

And we can have HS2 as well if only the moaners and wailers would shut up.



And we can have HS2 as well if only the moaners and wailers would shut up.

To get wires as far as Cardiff in the current cut, cut, cut climate is some achievement. And with the successful referendum result in Wales the Welsh Government can now proceed to electrify onwards to Swansea itself without going cap-in-hand to Westminster. As to carrying those under-carriage diesel engines miles under the wires, that is light years better than the current ludicrous and absurd practice of running London to Aberdeen HSTs 400 miles to Edinburgh under the wires. The thing which is now desperately needed is to convert the Voyager and Meridian diesel-electric units to bi-mode by fitting them with a pantograph car.

To fail a business case on the PRESENT 'hourly service' is short-sighted and defers the inevitable. Electrification brings new traffic, which requires more trains, which increases frequencies and (beyond Cardiff - Swansea) offers new connection opportunities.

Usual old story - save the capital spend for this year's 'bottom line' and someone else picks up the revenue spend to put it right later.

Electrification of existing lines makes hugh sense in a small country such as the UK rather than spend billions on a high speed line that will benefit only a few and then only marginally. The projected GWR electrification will prove money well invested.
The Manchester-London capacity problem could also be more cost effectively solved by re-instating the short section of track between Buxton and Matlock together with electrification of the whole Midland Main line providing a fast direct service into St Pancras to connect directly with HS1. This would also of course be of tremendous benefit to the people of the East Midlands and Yorkshire.

"...Japan; a country which does not allow the European railway manufacturers to supply to them."

The fact is, there are no European builders that are willing to commit to the reliability standards demanded by Japanese customers, which include on-site maintenance staff who can speak Japanese. Companies that do make the commitment, such as Plasser-Theurer, however, do thrive.

Firstly congratulations to another great decision to modernise our railways! It is long overdue and it is time to bring a fresh face into what is becoming a monopoly by Bombardier and Siemens on the UK rolling stock market.

Secondly there are some facts that has not been pointed out by our pro-Bombardier supporters, if I recall correctly, it is a joint Bombardier Transportation - Siemens bid. Apart from the bogie design which will be done in Derby and possibly the assembly, what else will be done in Derby, had the Bombardier-Siemens joint bid went ahead?

I distantly recall that all the Chinese and Indian projects Bombardier has been working in the past few years we're designed in Henningsdorf, Germany. The first few cars were built in Germany and the rest were done locally in China and India. Especially the Chinese contracts which were built with the local partners in a joint venture. Somehow, I do not seem to see how this benefits the UK nor is it any different than a Hitachi built train bound for an Asian country made in Japan.


If Hitachi is prepared to build trains for the European market, this would be in our benefit since all the manufacturing work would be done here. You can deny as much as you like but you will need a team of engineers to support the engineering defects on site as well as PI, quality and project managers. That is a lot of skilled worker required locally in county Durham by the sounds of it. On the contrary, Bombardier Derby's number of engineers has been constantly shrinking since the Thameslink wait has begun. It no longer build trains for mainland Europe, since SNCF prefers their trains from Bombardier Crespin and so does DB from the 4 main German sites.

What is rather scandalous and ironic is the fact that the fourth car additional order from London Overground (379 NLR ) were built in Bombardier Hennigsdorf Germany in 2010 and exported back to the UK. Oh and where were the interiors for the 379s made? So much for the 'whole package' in the UK!

What we should lookahead is a healthy competition between two multinational companies competing to build trains in the UK. At the very least they will be hiring a UK workforce and making a positive impact on the local economy. It is also in our national interest to buy the best and distribute jobs around the country. After all, we are all British... aren't we?


To quote from Philip Hammond's announcement yesterday: - "Bringing electrification to Cardiff will mean that we are linking, for the first time, the capital cities of England, Scotland and Wales by electrified rail."

One way of interpreting that is that a route such as Newport to Crewe via Shrewsbury and/or Bristol - Birmingham will also be wired to complete Mr. Hammond's proposed electrified link between Cardiff and Edinburgh, rather than the long way round via London.

If that is the case, as others have indicated, as well as local services in the South Wales corridor, the West Wales - Manchester services would also run a significant distance under the wires, especially if they were to be installed as far west as Swansea.

It would also weaken the case for bi-modal IEP's somewhat.

2 hours 39 to Swansea? Funny but when I lived there in the late 70's that was the fastest journey by the then new Inter-City 125 service. That, of course, was via the old inefficient days of British Rail, whereas by the bright shiny privatised service you would be lucky to do it in 3 hours.

And what does the Right Honourable Member have to say regarding the Midland Main Line? The line with a far, far better business case for electrification, and probably the most run down of all the country's main lines!

The IEP project has been a farce from start to finish, and is sadly nothing but a political tool to appease the people of the North East at a time of savage government cuts.

A few facts about the IEP project.

The technical specification has been continually changing, it is running much later than originally planned, and the DfT have lavished over £27million on consultants to get this far - before a stone has even been laid on the new 'train building factory' or a single component has been procured. Regardless of the result, is this not a national scandal, worthy of MOD procurement failures?

Rob from Derby is right - these trains may be assembled in the UK but all the design work, the Engineering, i.e. the value-added stuff, will be done in Japan; a country which does not allow the European railway manufacturers to supply to them. Talk of a UK 'R&D' centre is probably just fluff. The intellectual property will remain outside of the UK for the foreseeable future.

By contrast, Bombardier Transportation in Derby, which was bidding for the original contract, before Hitachi was named as the preferred bidder and the spec changed out of all recognition (this will hopefully be the subject of a legal challenge), can and already does the 'whole package' here in the UK. We have been designing, building and testing trains here ever since a factory was set up in the 1870s by the Midland Railway.

Letting Hitachi win a train-building order over here is already unfair because of the limitations on bi-lateral trade as previously outlined. But anyone who thinks this will lead to a long-term future for train building in the North East could be sorely disappointed. Hitachi have long said that they want to break into the European market for rolling stock, and that a factory in the UK is their way in, but the European market for rolling stock, let alone the UK market, is very flat, and does not look likely to grow much in the long term. Major growth is in India and China. Does anybody really think that, after IEP, Hitachi will continue to subsidise a plant on the other side of the world, employing high-cost UK labour, paying a premium to ship its products to Asia? I don't think so.

Finally, to everyone who is celebrating this announcement, just a thought: whilst it may be a temporary boost for jobs in the North East, think what it means for jobs elsewhere in the UK, and in particular, here in Derby. In this country, and possibly in Europe, I believe there simply isn't enough work to sustain more than one UK train builder, and this announcement could cost us existing jobs.

Finally, many rolling stock experts think the whole technical concept is flawed. I won't go into this, just pick up a few past copies of Modern Railways.

In short; this project has been and will continue to be a scandolous example of DfT procurement. And I believe that all talk of a 'long-term future for train building in the UK' is nothing but naivety on the part of the government, and deliberately misleading on the part of Hitachi. Time will tell!

Most of the Bombardier software work or TCMS...is done in conjunction between BT Derby and BT Vasteras in Sweden!

The electrical design team at Litchurch is tiny and most only deal with placement of cable trays.

Yes we did do some good research on steel aluminium carbody interface but then again our IEP bid is shared with Siemens. We are only doing the bogies and a few other bits. So at the end of the day most of the mechanical engineering work would have been done at Siemens Krefeld ...which is in Germany???? And the BT bogie manufacturing is in Siegen Germany!

As usual we will just be an assembly site with very little real engineering work. On the bright side, Hitachi is doing the same to another region in the UK, so at least we are spreading the knowledge. Moreover, they will be building continental trains in the UK and exporting it accross the channel. In Derby we only do UK trains. BT has several sites on the mainland...oh and we import trams from Bautzen Germany as well!

Journey times to Swansea from London will be reduced and there will be new through trains so not a complete disaster really.

The valleys need to be electrified and new rolling stock procured ASAP. The class 142/143 Pacer trains currently in use were awful when they were new in the mid 80's.

Also re-double the Coryton line and join it up to Radyr then the City line as mooted in the past. This will create a decent suburban Metro service for Cardiff. Throw in late evening and Sunday services for good measure!

I quite agree with Michael Mc Cabe. It seems crazy to have to lug diesel engines & fuel under the coaches for the 155 miles journey to Cardiff because the government don't want to shell out for the final 45 miles to Swansea.

Phillip Hammond (& his advisors) have got it totally wrong as demonstrated in his statement:> "Services between London & Swansea currently operate at a frequency of only one train per hour off peak. There is no evidence of a pattern of demand that would be likely to lead imminently to an increase in this frequency". Now, what he has said is strictly speaking, true. However, what he fails to take account of is the other services that operate on this line. For instance, we have a Cardiff > Swansea stopping services that could also be electrified. Then, if the valley lines are electrified, we could have the hourly Maesteg service electric - which uses the main line between Bridgend and Cardiff (& beyond). This would only leave the Manchester to west Wales hourly services as diesel powered under the wires between Newport and Swansea.The present Maesteg services run to Cheltenham but with Valley line electrification, these could run to Ebbw Vale instead. The Cheltenham > Cardiff all stops services could remain diesel powered for the time being and perhaps go via Barry & Rhoose to terminate at Bridgend (rather than go on the main line to Maesteg). So, with 1 London train, an all stops service plus the Maesteg service (as far as Bridgend), we have a much greater business case for electrifying the line from Cardiff to Swansea.

Cardiff's valley services must have some of the poorest quality trains of any advanced western city. Despite this, demand for travel on these commuter lines has increased enormously. To not electrify and replace them with new diesels would be complete madness. (It would also continue to subject passengers to breathing in obnoxious diesel fumes).

No mention has been made of providing a Heathrow Express service linking Reading with the Airport. Such a shuttle would have massive benefits for people from the west and save them the time of having to go into London. This is all the more important due to the shambolic airport policy regarding the Cardiff > Bristol area. (Neither airport has direct motorway or rail access). One new airport serving the whole region would have been ideal at either Filton or Llanwern but the government of the day blew these chances.

Let us hope that the new trains are designed as long distance units and not mere Thames Valley commuter services with cramped seats similar to "Chav Class" on airlines. Let us hope that they do not have narrow bodies like those awful Voyagers - why, they couldn't even get the seats aligned with the windows. Who wants to look at a pillar on their journey?

Speaking of the Voyagers, it is completely crazy to have these diesel trains running all the way under the wires from Birmingham to Edinburgh/ Glasgow. Would it not make sense to build some new electric trains for these services and then put these Voyagers to work on the Paddington > Oxford > Worcester > Hereford and Paddington > Stroud > Gloucester > Cheltenham routes until such time as money is found to also electrify these lines from the present proposed last points under the wires at Oxford & Swindon?

Would it also make sense to electrify the north Wales coast line? Again, we have Voyagers running all the way from Euston to Crewe under the wires in order to complete the final stretch to Holyhead. The Manchester area is also under the wires so the Manchester > north Wales trains could also be electric.

Strange choice of photogragh to accompany this story!

While it's a shame that the government have simply gone back to Hitachi's SET design, I can't imagine that Bombardier won't get the Thameslink contract. To give that to someone else would be political suicide by the government.

This is fantastic news - it has certainly made my day! Disappointing about not including Swansea but this is understandable if the investment is not justified for only an hourly service.

I'm looking forward to seeing what these new IEP trains will look like!

Does anyone know what the timescales for these projects are?

Well, it's good that it's back on, we need a replacement. And it's goo for the people of County Durham, there will be some fitters jobs going.

Shame we didn't get some of it in Derby though. The engineering design will be done entirly in Japan, the software, the circuits, everything.

The first seven or eight trains could be made entirely in Japan, with the shells of the remaining coaches shipped to the UK for fitting out.

I think that's very sad that we are unable to design these things ourselves.



I am very disappointed about the lack of electrification to Swansea. Carrying a dead weight diesel engine from Cardiff to London seems not to make sense. Maintanance wise on long term basis it cannot be cost effective.

How long before all passengers going west of Cardiff must always change platforms?

In mainland Europe Swansea would easily have been included in this project.

If the Valleys lines can be electrified where does this leave Swansea? A second city designated not to exist by the ministers in London. There is a perception that the civil servants who advised on this project from the UK government never ventured west of Cardiff. They have no idea of how the infrastructure works west of Cardiff. At a time when jobs will be lost in the thousands from the public sector in Swansea how does the current UK government think that private sector jobs will come to Swansea when all effective transport links finish in Cardiff?