Posted 24th January 2011 | 9 Comments
Network Rail warns of 'tough' Welsh reopening plan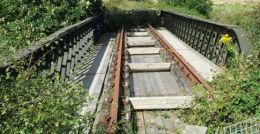 A FEASIBILITY study into the prospect of restoring passenger services on part of a disused branch line on the Isle of Anglesey starts this week, but Network Rail has warned that bringing trains back will be 'tough'.
The branch from Gaerwen Junction on the Holyhead line to Amlwch was closed to passenger traffic in December 1964, but remained in use for chemical freight from an Octel plant at Amlwch until 1993, when lorries replaced the trains. A final passenger charter ran at about the same time, but then the line was mothballed.
The new proposal is to restore the line from the main line junction at Gaerwen as far as Llangefni – a distance of some 7km.
Network Rail said it is working in partnership with the Welsh Assembly Government, which has commissioned the study, as well as the Isle of Anglesey County Council.

The line has become heavily overgrown in the past couple of decades, and some of this vegetation will be removed as part of the new study. Ecologists will then assess the natural environment which has developed along the route, so that any rare species can be identified and protected.
Meanwhile, engineers will be examining the track, 31 bridges and culverts and associated earthworks, and considering the feasibility of refurbishing the station building and platform at Llangefni.
Mike Gallop, who is the principal programme sponsor for Network Rail, said: "The Amlwch line has been disused for nearly two decades and bringing it back to passenger use will be tough. Today we are taking that first step, working together with the Welsh Assembly Government and the council, to see if it is possible to meet the aspiration of restoring services the line.
"For passenger trains to run on the line again, we may need to modernise the existing signalling system, repair and replace the disused track, bridges and culverts, which are no longer fit for purpose. The study will be vital to help us examine the feasibility and identify a cost-effective solution."
The thinking behind the plan is to improve communications between the north eastern parts of Anglesey and the mainland, reducing the pressure on the road bridge across the Menai Strait.
Reader Comments:
Views expressed in submitted comments are that of the author, and not necessarily shared by Railnews.
I'm part of a team that has just reinstated 8 miles of mothballed railway that has been disused since 1989. If we can do it, then so can they. It took us less than 9 months, and it was mainly done with manpower.

Twenty wasted years... and most of it due to prevarication by Anglesey County Council. The unhelpful stance by the council over the years, including support of the madbrain idea of conversion to a cycle track, not only lost an opportunity to keep the line clear of vegetation (perhaps by volunteers), but also jeopardised a return of limited services to the line.
Heritage Railways are limited to 25mph, with a less stringent (though still safe) track requirement. By letting the line go almost 20 years without traffic, and through indecision and stupidity, the council has made it far more difficult to re-open the line than it ever needed to be.
Passenger traffic, tourism and freight can co-exist on a branch line, and tourists can bring money to an economically depressed area. The notion that tourists or locals wanting to travel to Bangor are going to do it by bike is plainly absurd.
As for all this Planning Permission stuff, the line is a railway, and it is owned by Network Rail. If they wished to re-open it for traffic, you can rest assured that no planning permission would be required. A Transport and Works order would see to that.
I fear that NR are being asked to do the surveys by the Welsh Assembly Government, and NR will say it will cost £xm/mile to reinstate, nobody will want to pay, and so it will go back to a dream. A branch line supported only by commuter fares is clearly not going to pay it's way, any more than it did in the past.
What is actually required is a heritage railway, maintained and supported by volunteers by fundraising and grants, leading to a community and tourist service to and from Amlwch with a connection to Gaerwen station, but not necessarily crossing onto the NR mainline.
Many other heritage railways run successful branch lines, but can only do so when supported by everyone in the community, including their local councils. The West Somerset Railway attracted over 210,000 visitors last year, albeit they have been running the line for 35 years... It shows what can be done when everyone is pulling in the same direction.



It appears that from comments made by Network Rail they have already made there decision.Shame really maybe one day thay might do something positive.

In my opinion the reopening of a small and quite insignificant line through a sparsely populated region is more exciting than the entire HS2 project. Perhaps its success (and I am quite certain that its reinstatement will be a success) may set a precedent for further such reopening schemes across the rest of the country, which will be of huge benefit to everyone.

There's nothing "tough" about this reopening. In fact, it's probably as easy as they come. What's "tough" will be dragging the various NR consultants and hangers on away from the trough to allow the money to be spent on the railway.

The Spa Valley Railway spent £300,000 reinstating the 5-mile line between Tunbridge Wells and Eridge, which gives some idea about how much these things should cost. In any event, the total amount should be less than £3 million, i.e. less than 0.01% of what is being wasted on HS2, and for a line which will reconnect a community to the railway, rather than duplicate an existing line as HS2 does.

What is TOUGH about reopening an Existing Railway with Rails insitu ??

When you think how the Victorians built the Railway Lines from bare earth with not much else but muscle power in next to no time it beggars belief that a NR Manager with all the available modern day plant and machines cannot just get on with the job and reopen a usable branch line very quickly

The Great Victorian Railway Engineers would just laugh at this NR Ineptitude and No Can Do Attitude !

This project/feasibility study will provide some valuable background information relevant to the HS2 debate.

Anti-HS2 campaigners continually claim that the enormous HS2 budget would be better spent on reversing many of the Beeching era rail closures and/or upgrading existing classic lines. Of course this strategy might sound appealing (even populist) but these matters are never as simple/straightforward as they seem.

The projected cost/benefit analysis for Gaerwen Junction to Amlwch will make interesting reading because if the data can be extrapolated on to a National model it will give us a good idea of just how effective (or not), in terms of value for money, reallocation of HS2's projected budget might be.

Restoring 4.5 miles of track to passenger use doesn't seem too big a job, especially when one considers what Scotland has achieved in recent years. But I suppose it depends on the commitment of NR to the proposal and as always, how much money the Welsh Assembly Gov are prepared to pay for the job. Im not sure what Mike Gallop means when he talks about modernising the signalling system. Presumably he means the signalling system on the main line, which I think is still Absolute block. Surely, the simplest option would be to operate the branch to Llangefni as a long siding and operate it with a single train staff to Gaerwen. However, 4.5 miles doesn't seem too far to track circuit if a a more frequent train service is envisaged. Its a great proposal and deseves to succeed, its been a long time in coming.

If Network Rail are doing the study it would be interesting to have an independent study done for comparison.