Posted 13th December 2010 | 5 Comments
Domestic High Speed 'attracts 1m new passengers'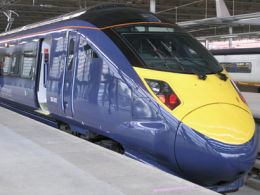 THE first anniversary of the launch of High Speed domestic services between London and Kent has been marked with news that the 225km/h trains have provided over a million journeys for passengers who had not used trains before.

Southeastern's High Speed services, which were launched exactly a year ago using Hitach-built Class 395 units on the the High Speed One route from London St Pancras International, are now carrying 6.5 million passengers a million a year – and customer satisfaction is reported to be the highest anywhere on the National Rail network.
Sixteen per cent of journeys – more than a million – have been made by passengers who had not used the train before, the operator Southeastern said today.
Southeastern has also disclosed that tickets to travel on High Speed services have been bought at 1,800 stations around the country, in other words at more than two out of three.
High Speed services have proved particularly attractive to people in East Kent, and the percentage of all journeys to London using High Speed trains in the past month have been: Ashford (66), Broadstairs (47), Canterbury all stations (47), Dover (64), Folkestone (66), Ramsgate (55), Strood (41).
The last survey undertaken by the watchdog group Passenger Focus showed 95 per cent of passengers thought the new service was 'good' or 'very good'.
Southeastern managing director Charles Horton said: "The first year has been very encouraging and we are looking forward to more and more people discovering the benefits of travelling by High Speed."

One group opposing the building of High Speed Two from London to Birmingham and then on to Leeds and Manchester alleged recently that 'half the trains on High Speed One are mothballed', but this has been denied by Southeastern, which said that its fleet of Class 395 trains is all in use, and that only two or three of the 29 units stay out of service on any day, which is normal so that maintenance can be carried out.

Eurostar has also denied the 'mothball' claim, saying that its fleet is fully utilised. The company is planning to buy ten more trains to extend its network to more European cities from 2014.
Reader Comments:
Views expressed in submitted comments are that of the author, and not necessarily shared by Railnews.
Some of the claims made by the opponents of HS2 are crimes of omission and commission. In many cases they simply do not understand, in others they intend to mislead, and with others they are simply economic with the voracity with the intention to 'scare' the ill informed.

A few examples.

Antis -Speed on curves will make g forces so great special requirements will necessary.
– the HS2 specification lays down max g force at less than 5% hardly uncomfortable.

Antis - Bridge is 10m high
- Bridge is 6m high

Antis- Growth in rail passengers is 2.4%per annum and HS2 uses 5.3% per annum
-ORR quotes 5% (9% last year) HS2 report uses 3.3 % used with no growth assumed after 2033'.

Antis-Electricity drawn from electricity grid will be to great for grid to meet demand!!!!
-yes electricity feeds will be required though I doubt HS2 will provide a serious problem to the electricity grid. At the voltages it is taken from the grid.

Antis-A B'ham pendolino service with double length pendolinos would be just 10mins slower than HS2 and require Very little expenditure on track required
-Possible but very expensive and disruptive. Double length pendolinos 400m long carry fewer passengers than HS2. Lengths 50m longer than longest platforms at Euston New St. 100m longer than Bm international, 20m longer than Coventry, 100m longer than Milton Keynes. All sorts of technical solutions are possible but then what commuter gives a damn for technology. Result delays poor punctuality reduced track capacity.Imagine Double length Pendolino arrives at New St Coaches A B are outside platform 80 passengers are trying to board via coach C in 2mins.

Anti-Over 80% of HS2 line in Solihull is at ground level or above
-50% is below existing ground level i.e. in cuttings of various depths.

Anti- HS2 'doers not follow existing transport corridors' because 'it (HS2) crossed the WCML, the A452 (twice) the M42, the M6 and something called 'etc'.
- Their most bizarre claim) M42 provides a link between M5 and Nottingham HS2 could not do other than cross WCML. M6 crosses WCML 16 times between B'ham and Carlisle by Anti definition M6/WCML are not in the same transport corridor

Antis-B'ham to Euston takes 49mins not HS2 supporters claim of 31min.
-Here the Antis use selective data to suggest ProHS2 use false data. I have never seen claim of 31mins though no one is perfect - except an Anti.
The 49mins is with 2 stops and diversion via Old Oak compared with initial High Speed proposals. Even so 220mph and losing the two intermediate stops saves 12mins from day1
Speed increase to 250mph line max should pare 3mins off the journey time a 31min journey time is already achievable. Railway planners are over cautious and once the system has bedded in and with technology advances over the next decade even shorter timings are possible.




All peak tickets from Deal in Kent will go up by 12.8% even though our services have been cut and journey times to London have actually increased. A year after the introduction of the highspeed service Deal a major Kent town has still not been included into the highspeed timetable even though Southeastern are operating empty highspeed trains through the station.


but those opposed to hs2 will say anything - whether it is factual or not doesn\'t matter they just want to create the illusion. no doubt there will be negative comments about oh only 1 million new users !

interestingly, the case for hs2 is made stronger by the fact that it would make hs1 have even more users, particularly with through domestic and international services.

it would be interesting to know the modal shift ie were people taking their cars or a coach or were they making journeys they might not otherwise have made.

When you get people who oppose high speed especially to mainland europe via tunell and high speed is a sign that the opponents to HS2 are still fighting the second world war, i.e. they don't like foreigner. High speed works bring faster journeys and brings people together thats good and it also makes economic sense.