Posted 25th November 2010 | 13 Comments
GW electrification and Thameslink fleet approved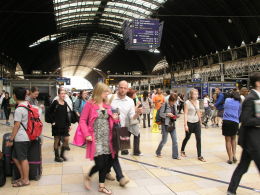 Electric trains were already due to run from Paddington as far as Maidenhead, as part of Crossrail. Now they'll reach Reading, Newbury and Oxford.
THE government has announced that 2,100 new vehicles are to be ordered for the National Rail network, including 1,200 for Thameslink, as part of an £8 billion investment.

Other train operators will receive 300 of the new vehicles, although no details have been given of which TOCs will benefit, because the allocation will now depend on 'commercial negotiations'. The rest of the new rolling stock will be for Crossrail.

Bombardier and Siemens have been shortlisted to build the Thameslink fleet, and the preferred bidder will be announced in the spring.

Electrification is to be extended on the Great Western Main Line to Oxford and Newbury, and it's also been revealed that the options for Intercity Express have been narrowed down to just two.

These are a revised bid from Agility Trains, the consortium led by Hitachi, and an alternative for a fleet of all-electric trains which could be hauled by new diesel locomotives on non-electrified sections. A similar strategy has been used by Virgin in recent years, which for a while hauled Pendolinos to Holyhead using Class 57 locomotives from Crewe.

The 1,200 new Thameslink vehicles which have been confirmed today will allow the existing Thameslink Class 319 fleet to be cascaded to Great Western as well as newly-electrified lines in the north west, which had already been included in the Chancellor's Comprehensive Spending Review, but the new Thameslink fleet will not be delivered in full until 2019.

Watchdog Passenger Focus welcomed the announcement, with some reservations.

Chief executive Anthony Smith said: "Passengers using crowded trains today and soon paying more for the privilege will want to understand what this means for their train service. This is just what rail passengers want to see – long term, sustained investment. It also gives passengers a clue where some of their fare rise money will be going. However, for those passengers who are not going to benefit from these new investments the industry is going to have to continue to work hard to deliver a value for money service."

The announcement will cause disappointment in the East Midlands, where there had been hopes that the Midland Main Line would be electrified between Bedford and Sheffield, but the forthcoming contracts will provide opportunities for many of the railway industry suppliers in Derbyshire.

Network Rail has also announced a rise in profits, but its debt has risen as well.
Reader Comments:
Views expressed in submitted comments are that of the author, and not necessarily shared by Railnews.
I read of pleas for lateral thinking, for common sense, etc. All excellent. But, my friends, you are dealing with British politicians, ( and civil servants,) here. So a lack of vision, drive and lateral thinking is par for the course. We have all been here before so often!
Now one imaginative thing which is desperately needed is to convert those diesel Voyagers/Meridians to bi-mode so that, for example, trains from Birmingham to Scotland are electrically operated instead of that absurd, non-intellectual running of diesels under the wires. (Aren't we just ludicrous?)
The possibility of such a conversion is being investigated currently, (though there's another thing which we British do endlessly without any further forward progress.) But then the investigation has to go to, yes, you've guessed it, the Westminster glue factory. where everything gets clogged up. We shall see just how long, or if ever, it takes for this really necessary idea to be approved, and how many thousand years before it is acted upon.

Problems with the Eurostars are :-
1) They are far too long for most routes.
2) It is not easy to remove coaches as the whole unit is articulated. If coaches were removed they would be useless for any other purpose unless bespoke end coaches were built.
3) Eurostars are very rough on the overhead catenery in the UK and cause too much damage (the East Coast Mainline was electrified cheaply).

We should NEVER be in a position to build more diesel trains/locomotives. We should only build electric trains and make sure these are as comfortable as the Mark3 coach of the midf 70s. The modern pendolinos have poor windows and noisy aircondictioning. Electrifying the busiest parts of the network should cause there to be enough diesel trains to satisfy the need for more trains on diesel lines. Where an electric train needs to continue beyond the electrification a diesel locomotive can be waiting to move the train to/from its final destination. This was done at Bournemouth for trains going West of there. This was done at Crewe for trains to Holyhead. We do not need to build any diesel locomotives - there is a surplus of 67s (110mph). Bear in mind this is only a stopgap solution so does not have to be perfect.

At least the Government has decided to continue to invest in railways. With some of the half-measures announced, with electrification stopping short of logical termini, there are however penalties such asw the need for diesel haulage of electric trains, The French did this for a while in southern Britanny (diesels hauling TGVs!) but eventually got smart and electrified the affected line extension. Now in Great Britain, here's the question : Is half a loaf better than none?

We really ought to be angry as tax-payers about the continued 'piece-meal' nature of our railway electrification plan; (if there is one).

As other contibutors here have said, there ought to be a continuous rolling programme of electrification, using the sets of 'factory electrification trains' now becoming available; allowing slow, steady wiring overnight and without interruption to daytime schedules.

A 20 year rolling programme with around 200 wholly employed electrification engineers in two or three teams, would be significantly cheaper to the taxpayer, by not having to let seperate contracts, with seperate planning teams.

But then, since when has taxpayer value ever been a governmental consideration ?


Buying old Eurostar sets has some merit, they can run on the ECML already as GNER proved when they run the white rose service. With refitted Eurostars running on the ECML surely the class 91 sets and mk4 carriages could be transfered to the GW which should be electrified as far as Swansea and Weston-Super-Mare. The old ECML units could then be used on the GW until the government finally bites the bullet and invests in a new all electric HST. Electrification of the GWML should be comprehensive and not a piecemeal mess that the idiotic ConDem government are proposing here because electrifying bits and pieces ups the total cost of the finished artical and creates alot more disruption over a greater time period. Electrification of all the country's main lines should have been done in the late sixties, early seventies with the death of steam. This story is proof that the tories still haven't learnt there lessions from previous mistakes.

Why stay with fossil fuels?


Surely, what is needed is a rolling programme of electrification of the whole system. If, for instance, the GWML only has wires as far as Cardiff, would this not be a foolish decision as the trains would need diesel engines to complete the 43 miles or so to Swansea. This would surely add to the cost (& weight) of the new fleet? (Small back up motors would be needed in the event of a power breakdown to work the air-con/doors etc & limp to the nearest station on all trains).

What is surely needed immediately is the building of new electric trains to replace the Voyagers between Birmingham & Glasgow/Edinburgh. These Voyagers could then be cascaded to overcrowded routes that are not "under the wires". For example, 3 coach Turbostars seem to have insufficient capacity on the Cardiff-Nottingham route. The Cardiff>Portsmouth route is also often under pressure due to the use of 3 coach 158's.

I do not think it is a good idea to build new diesel locomotives to haul electric trains when "beyond the wires". Being as the HST's have relatively new engines, could these not be used to haul new electric trains when not under the wires? Then, with time & money, the wires gradually get extended so that the full benefit of electrification reaches the furthest points of the main lines. (Infill electrification also takes place such as Birmingham to Bristol Parkway/Severn-Tunnel Junction). As things progress, the use of these HST power units diminishes and they are withdrawn. This is surely a far better idea than purchasing new diesel locos now to haul electrics when off wire or building the more expensive dual purpose trains?

The idea of getting the Eurostar trains also deserves further investigation.

Local networks like the south Wales Valleys are also in desperate need of electrification. Currently, most trains are Pacers (more like 3rd world units) with some 150's.

The Government wants people off the roads. The rise in rail passengers has proved that people are prepared to use the trains. It really is a no brainer to invest in the railways and to ensure that the preferred motive power is electric rather than diesel.

So this will allow a cascade of GW commuter vehicles, probably sometime between 2015 and 2019. Where will they go, and what are the numbers involved?

As a Hungerford user I'm concerned that the hourly service we enjoy from Paddington may now need a change at Newbury. Would this not lead to longer journey times?

Where does freight come into this, it always seems to be behind the scenes, its a shame

Why only electrify to Newbury?
Trains currently run from Paddington and Reading through Newbury to Bedwyn, which is just 3 stops away, where they terminate then run back. This means that Diesel units will still be required beyond Newbury as per the current situation.
This just does not add up.

Reading Driver.

"Bombardier and Siemens have been shortlisted to build the Thameslink fleet, and the preferred bidder will be announced in the spring."

If they want new trains, they need to place an order. I know this sounds obvious, but they have been talking about it for years.



One way to increase the numbers of locomotives and coaches on the network is to cut a deal with Eurostar.

Eurostar trains were built to British standards(limitations) with a narrower gauge and a dual traction system so they could run on the third rail DC system into Waterloo. Since these limitations no longer exist on HS1 into St.Pancras, Eurostar will be thinking about replacements for the stock. If the UK government were willing to pay a fair price for the stock (which is only about 15 years old) Eurostar might be persuaded to bring forward its replacement programme so as to have more modern, more comfortable and a more standardised fleet. This would be of special importance if DB is to be allowed to run trains into St.Pancras with underfloor traction units and not the end traction units used at present on Eurostar trains.

The UK government would benefit by obtaining a large number of traction units of dual standard together with a large number of coaches which can be used on any long distance line, all at a knock-down price. The timetable, for introduction of the vehicles on to the UK network, might even be quicker.

The dual standard locomotives are what Thameslink needs and will need for trains on the differing systems both north and south of the Thames. They might not be appropriate for stopping commuter services but certainly would work for fast limited stop services. The future network envisaged for Thameslink would run from Peterborough and Kings Lynn, as well as Bedford, to various destinations on or near the south coast. The locomotives might also be useful for both passenger and freight traffic on the Southampton to Birminghan corridor. This would especially be the case if the GWML were electrified from Reading to Oxford. This could then be connected to HS2 and so open the rest of the electrified network - especially the WCML.

The number of coaches for these services might be more than needed which opens the possibility of cascading them to other lines.

What we need is some lateral thinking on the whole question of fleet renewal. This idea could be quicker and cheaper than alternatives.