Posted 20th October 2010 | 6 Comments
Transport keeps biggest share of funds, after defence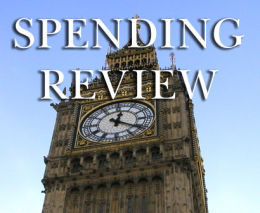 THE Chancellor has told the House of Commons that a number of major railway upgrades have survived the government's spending review.

Crossrail is to go ahead, as expected, but electrification will also be carried out between Manchester, Liverpool and Preston.

Other rail projects surviving the axe include the expansion of Midland Metro, the modernisation of Tyne & Wear Metro, and upgrades on London Underground, which will be 'protected'.

However, plans to increase rail fares more sharply from 2012 are already coming under fire.

On railways, the Chancellor said: "Mr Speaker, after our defence requirements are met, the Department for Transport will receive the largest capital settlement. Over the next four years we will invest over £30 billion in transport projects, more than was invested during the past four years. £14 billion of that will fund maintenance and investment on our railways.
"The cap on regulated rail fares will rise to RPI +3% for the three years from 2012, but that will help this country afford new rolling stock as well and improve passenger conditions. The Secretary of State will set out how more of the transport money will be allocated next week.
"But I want to tell the House today about some of the projects that will go ahead. For let's remember that even after these tough spending settlements the country is still going to be spending over £700 billion a year.
"So in Yorkshire and Humber, £90 million will be spent to improve rail platforms across various towns and cities and we will also improve line speeds across the Pennines.
"In the North East, £500 million will be spent refurbishing the Tyne & Wear metro. In the North West, we will invest in rail electrification between Manchester, Liverpool, Preston and Blackpool. Rail and roads are devolved to the Scottish executive, as are roads in Wales – but I can tell the House that major rail investments around Cardiff, Barry and Newport will go ahead.
"In the West Midlands, we will extend the Midland Metro and completely redevelop Birmingham New Street station.
"In London, on top of the Olympics, a major investment in our capital city's transport infrastructure will take place. Crossrail will go ahead and key Tube lines will be upgraded for the twenty first century."

However, nothing was said about main line electrification, despite rumours that the Midland Main Line was poised to replace the Great Western Main Line at the top of the list. Neither has the reference to new rolling stock yet been explained in any detail, leaving the prospects for the Thameslink Programme and Intercity Express still uncertain for now.

The Chancellor said he had only announced some of the projects, and that more details would follow.
Reader Comments:
Views expressed in submitted comments are that of the author, and not necessarily shared by Railnews.
No new capital projects in Wales. The Cardiff/Newport improvements are already included in NRs CP4 plans - so yesterday was just confirmation they would not be cancelled. What Wales/SW England need is a clear decision and commitment to press ahead with the electrification of the GWML.

Didn't Railnews recently report that a study had shown that it would be more expensive NOT to electrify the Midland Main Line? Why are we still waiting when questionable schemes such as Crossrail and HS2 get the green light.

Arising from the CSR yesterday, I understand Hammond is to make a Commons statement next week (probably Wednesday 27th) on their "Major Infrastructure Plan".

Hopefully this will tell us whether the HS1 / HS2 and Heathrow links will be revised from Adonis's March proposal, which assumed a new R3 at Heathrow.

According to HS2 Ltd "Newsletter 11" published 6th October, they submitted alterative routes to Hammond some weeks ago; all we are waiting for is a government statement on the final HSR proposals due to go public consultation early next year.

As I read the statement and the DfT site statement All electrification (England) is on hold awaiting the SEP statement.
Road capital spending the statement is to include ADDITIONAL road schemes amongst the transport spend in the CSR.
The good news in that some rail schemes will proceed but the devil is in the ommission of Electrification of GWML and/or EMML except as wrapped up in the IEP decision to be announced later.

The delay over the ordering of new rolling stock for Thameslink is absurd. The physical work is under way, thank goodness after all this time, so why no announcement about trains? The workings of the minds of British politicians and civil servants are utterly arcane and ridiculous.
[The Chancellor has referred to new rolling stock, but it appears that we will have to wait until next week for more details, when the transport secretary is due to make an announcement of his own.—Editor]