Posted 20th April 2010 | 7 Comments
New 'not for profit' rail operator unveils plans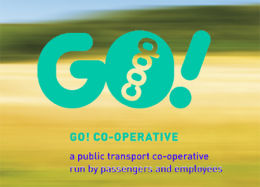 A NEW open access operator is revealing its plans to run trains between Yeovil and the Midlands from next year. This operator is a pioneer, because it has no shareholders hoping for a profit, but would be run on mutual interest principles.

Go! Co-operative describes itself as a 'a multi-stakeholder transport co-operative', and is setting out ambitious plans to run not only trains but also sponsor National Rail feeder routes using buses and light rail, and encourage car clubs.

So far, some £50,000 has been raised from 'early stage investors', but Go! hopes to attract further investment of £100,000 by the end of June.

The first service proposed on the National Rail network is from Yeovil Junction to Birmingham Moor Street via Westbury, Chippenham and Oxford, with a possible weekday extension southwards to Weymouth. Sunday trains would run from the outset between Weymouth and Birmingham. The draft timetable sets out four daily round trips between Yeovil and Oxford, with three of these extended to Birmingham.

Rolling stock would probably consist of Mk2 or Mk3 vehicles on a push-pull basis, similar to that used by Wrexham & Shropshire. In the longer term new diesel multiple units are possible, but Go! says that as yet there is no financial case for them.

Light rail is being investigated for the Andover--Ludgershall branch, with a possible extension to Tidworth. This line is being evaluated by Pre Metro Operations, which is an associate company of Parry People Movers, the source of ultra light rail vehicles for the Stourbridge Town branch. Although the Ludgershall branch is still open for Ministry of Defence movements, Go! says traffic along the line is 'sparse', and that it should be possible to accommodate a light rail shuttle.

Other light rail lines being considered by Go! include Medstead to Alton, the Dudley area and Radstock to Kilmersdon.

However, Go! concedes that operating main line open access services is an 'enormous challenge'. Preliminary negotiations have started with Network Rail and the Office of Rail Regulation, and Go! expects that it will take about nine months to achieve the vital Track Access Certificate.

Beyond that, acquiring rolling stock and premises are further hurdles that will have to be overcome before the service can start next year.

Meanwhile, the Labour Party has included a pledge to open up rail franchise applications to mutual, co-operative groups in its manifesto for the forthcoming General Election.
Reader Comments:
Views expressed in submitted comments are that of the author, and not necessarily shared by Railnews.
Evan as a planned co-operatve, the initial funding and investment seems rather light! £50,000 now, maybe rising to £100K might mean they'll have to stick to Hornby!
Seriously though, good luck to them.

Interesting news. We definately need a train from Yeovil up to Birmingham.
Fingers crossed it works out :)

Or better still maybe, get to Oxford and then on to Milton Keynes instead, along a re-opened Bicester-Bletchley line. Maybe do this as a joint venture with Chiltern? That would allow direct connection in to the West Coast Main Line.

How long before FGW introduce a competing service?

TOCs won't snore while others take their suppers. Think when First North Western ran to Euston against Virgin (Tamworth had never had so many trains to and from London - briefly...), when Arriva tried to match Wrexham Rail, when Hull Trains found GNER being un-passive... Only a co-ordinated public railway works - otherwise this fragmented railway will crumble further and through fares will become history.

Excellent idea! Hope there is sufficient line capacity to be able to handle these extra trains.

Thi is, I think, very interesting news. I recall a couple of years' ago, citizens and passengers were asked whether they considered it right for private for-profit firms to run the railway network. The response was overwhelming: most people thought the railways were a public asset and should be owned and run by publicly owned enterprises. The TOCs were, in short, illegitimate and have never fostered affection or loyalty among railway users. Well, Go! is not publicly owned, of course, but a co-operatively managed open access train operator will at least give users and commentators something tangible by way of a comparison and it will, if successful, put the wind up both DfT civil servants (who have been trained not to concern themselves with issues of ownership) and the privately owned TOCs themselves. I await with real interest the results of ASLEF's deliberations regarding a similar community co-op proposal for the East Coast mainline franchise.