Posted 12th February 2010 | 28 Comments
First sweeps the board at Rail Business Awards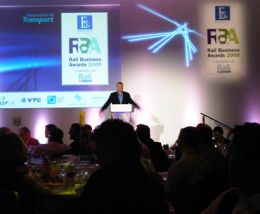 FIRSTGROUP came out ahead of the competition at last night's Eversholt Rail Business Awards, held in London. First was named Business of the Year, and awards in individual categories also went to First Capital Connect, First Transpennine Express and First Great Western.

First's Business of the Year award was presented to the head of First's Rail Group, Mary Grant. She conceded that FCC has been hit by major difficulties over the winter, but said everyone was working hard to overcome them. She also pointed out that First Great Western had staged a major recovery from its performance and rolling stock problems three years ago, which led to a fares strike by commuters in the Bristol area.

When asked if First planned to bid for future franchises, she said only: "That's what we're about".

Winners

IRO Young Professional
Daniel Williams, First Capital Connect

Supplier Excellence of the Year
Associated British Ports

Railnews Internal Communications Excellence of the Year
First Capital Connect

PR Campaign of The Year
Northern

Rail Professional Marketing Campaign of the Year
London Midland

Information Technology of the Year
Southern

Dept of Transport Station Excellence of the Year
Joint: Wood Lane, London Underground and Three Bridges, J Murphy Access for All Project

ATOC Integrated Transport Excellence
Kent Highway Services, Ashford's Future, Stagecoach and Sustrans

Rolling Stock Excellence of the Year
Hitachi Rail Europe

VTG Railfreight Excellence of the Year
Lafarge Cement UK

Safety & Security Excellence of the Year
London Underground

Environmental Innovation of the Year
First Transpennine Express

Engineering Excellence of the Year
Bombardier Transportation

ATA Rail Business Manager of the Year
Lee Jones, Tube Lines

SSP Train Operator of the Year
First Great Western

Interfleet Technology Rail Business of the Year
FirstGroup

Reader Comments:
Views expressed in submitted comments are that of the author, and not necessarily shared by Railnews.
clearly the gap between the perceived reality of the First Group award submission writers and actual customer experience is not taken into account by the judges - how can this be?

FGW first - are all the other operators even worse? I cannot tell if this is a spoof or serious. How an operator which refurbishes VERY old rolling stock essentialy putting in many more seats in standards class, installing toilets that don't flush and heating that fails even in 1st class is beyond me. The trains break down repeatedly and the fares are nothing short of rip off. If only there was some competition.

What a useless shower FCC are, completely incapable of running trains to time and having the proper number of carriages per train. Can only presume these awards originate in a parallel universe.

What a sick joke!
How dare they get an award for anything.
Almost too angry to write anything here.
I've had staff in my office in tears because they've been so badly let down by FCC.
A disgrace.

How hilariously navel-gazing these awards are and it is just a sad reflection of the bubble that these companies are living in; their criteria for success obviously has absolutely nothing to do with the humble commuter... funny, but in a sad, pathetic way.

It seems First Group is like an off shoot of the Goverment Transport in itself.

The awards, contracts, etc all STINK!

I have the misfortune to have to commute using First Crapital Connect's Thameslink 'service'. Like others, I am shocked and appalled that First won any awards given the terrible service that it provides.

This must be a joke, just like FCC's service!



presumably the awards were half finished.

How on earth could FCC win anything given the atrocious level of service it has been delivering? There is an e-Petition with over 5000 signatures calling for the end of the FCC franchise....

And I thought you had to turn the tv on watch comedy. No No No! Just read the
hilarious 'Rail Business Awards' in order to escape reality? I think it's a question of numpties voting for themselves.

What a joke!

'Railnews Internal Communications Excellence of the Year' - goes to............

A company that for the past 2 years has struggled to offer 2 trains on time in a single day on my commute route!

Even worse on 28th April 2009 a Midland Mainline train caught fire in the Luton area at about 8pm.

I was travelling from Farringdon heading northbound. FCC 'claimed' all will be fine. Cut a long story short 5 hours after been stranded on a train we arrived at St.Albans where passengers were provided with a coach service.

After leaving St.Albans I realised the driver was heading in the wrong direction even though he was using a SatNav! Not surprisely I was angry and asked the driver if he knew where he was going. I had to inform him we want LUTON not hatfield! He then did a U turn somewhere along the Hatfield road and from this point I filmed the event. You will hear me ask the driver to pull over as he was struggling to programme his SatNav and driver.

After reprogramming his SatNav we still ended up by the Hatfield Uni roundabout. Again he took the wrong turning and at that point I instructed him to head back towards St.Albans. We ended up on the M1. We arrived at Luton station at about 1.30am

I sent a complaint to FCC and they offered me £20 compensation.

This video can be found on Facebook group - I HATE FIRST CAPITAL CONNECT

The panel who makes decisions of who is deemed worthy of the prize to FCC must have fished the names out of a hat! They should first read what the local community i.e. service users think of them and take an informed decision before bestowing such a honour.

Facebook group \'I Hate First Capital Connect\' now have over 2,400 members.
The \'Meet the Managers\' meeting in St Albans was extremely well presented with Roberto Perrone from BBC Three Counties Radio in attendance trasmitting his \'live\' Drivetime\' programme.

Commuters have been outraged about FFC services. They feel entirely let down so much so that London commuters have been hassled by their employers due to their employees arriving late for work on a regular basis.

First Capital Connect\'s franchise has been under discussion in Westminster Hall on 3 February, tabled by Anne Main MP (St Albans) .

FCC have put into place a discount scheme for those affected by the drivers work to rule from 27 October to 15 January which is not deemed adequate by commuters, or MPs yet FCC state that this discount has been approved by DfT, but there\'s no proof of this.

FCC are an absolute disgrace and to take the biscuit First Group have been awarded the contract for Olympic buses



Where they late onto the stage to collect their rewards?

Way to award incompetence. Three cheers all 'round.

Ask the First Capital Connect staff at Hitchin and Sandy what they think of FCC's internal communication strategy - especially when there are delays and they are not being told about them. Either those staff are liars (doubtful) or FCC's internal comms is about as effective as a chocolate teapot (more likely).
Shame on the judges for this award. How can they hold their heads high awarding failure when there are other, better, operators out there.

Is it April 1st already?

How time flies when you travel by FCC...
Or not, as anyone who has ever had to suffer this joke of a company will attest to.

I presume this is some kind of sick joke. They are beyond useless.

What an absolute disgrace, these people should hang their heads in shame. The fact that FCC and First Group won anything at all demonstrates how out of touch the rail management industry in this country is.

This is a disgrace. FCC are so bad that I now use Southern to get home from work every night, as they are much more reliable.

Haha this is just hilarious... The Head of Customer Service Delivery Daniel Williams from FCC winning an award? Clearly, the actual customers have had nothing to do with this prize, or else the prize would be named more aptly IRO Young Un-Professional with Absolutely No Clue.

Great going for FCC for winning the Internal Communications award. How come the staff members then never know what is happening around them? Maybe FCC should concentrate more on improving its external communications.

Let's be quite clear, the prizes awarded to FirstGroup and in particular those given to First Capital Connect, are a blatant insult to the fare-paying passenger who has had to put up with so much rubbish not just for the last three months, but the last four years.

Awards going to First Capital Connect ??????? Is this some kind of sick joke???

Good grief - is this a joke? Clearly the people who have garlanded the risible First Capital Connect with honours have never had to use this hopeless 'service'. They should thank their lucky stars. Unbelievable!

Congratulations to FirstGroup from all at: www.firstcrapitalconnect.co.uk

As as FCC customer, I am absolutely horrified by this. Where is the award for Consistently Failing to Deliver? or Worst Customer Service of the Year? Most Likely to Mismanage Customer Expectations? As for Daniel Williams's individual award, I would have been more impressed if he'd actually followed up on any of the glib promises made at the various Meet the Managers events.

FCC should be embarrased that their performance has driven its customers to take such thorough and well publicised efforts to strip them of their franchise. And as for bidding for more franchises - heaven help us all.

Laughable.
1) Railnews Internal Communications Excellence of the Year - First Capital Connect ..........but do not worry about the commuters they do not need to know anything
2) Engineering Excellence of the Year, Bombardier Transportation.... yes build trains (377s for FCC routes) where the average miles before breakdown is 6000 which is round about 40 journeys - unreliable internal cctv cameras meaning no stopping at unmanned stations
3) Business of the Year award was presented to the head of First's Rail Group, Mary Grant. ....... Have you seen the campaign on the no 10 petition website to disenfranchise FCC - the commuters do not agree

So Worst Late Western and Worst Group get prizes for first dragging down their franchises into the mire and then getting a Pat on the Back for (1) Recovery Measures ( 2) Turning a comfortable 125 High Speed Train into a Sardine Can ( 3 ) Jacking up their fares way above comparable operators ( 4) a prize for FCC ??- This just beggars belief !!!