Posted 3rd February 2010 | 10 Comments
'No guarantees' over major rail schemes if Tories win election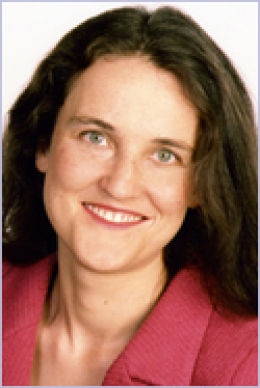 RAILNEWS EXCLUSIVE
If the Conservatives win the General Election, many railway projects and plans will come under review.
That's the warning from the party's shadow transport secretary, Theresa Villiers. She believes commitments made by the present government may not be affordable.
She told Railnews: "Take electrification. It is easy to make promises, and I am certainly a supporter of railway electrification in principle. I can also see a good case for choosing the routes which the government has named – the Great Western Main Line to Swansea, Oxford and Newbury and several in the north west. They are all very strong candidates.
"But the real issue is affordability, and I cannot give a guarantee that any scheme would go ahead under a Conservative government until we have applied the Value for Money test. The government certainly sounds committed to these plans, but the real question will be whether it will be able to come through on its promises."
She is also reluctant to give any commitment on such major procurements as the Thameslink Programme fleet and Intercity Express.

"The benefits of new rolling stock are understood. But whether the fleets can be ordered as they have been described is another matter. I am not transport secretary. If, speaking hypothetically, I were to be transport secretary after the election then I would be able to scrutinise the proposed contracts. At the moment, I can't. We are also waiting for the government's delayed Rolling Stock Plan. Until we see the components in that Plan it is very difficult to say what we might do.
"The main problem, of course, is the general financial position that we will inherit. The government has created substantial debts, and it can't go on writing cheques forever. So any project will have to come under review after the election. I would say the Crossrail project will be included in that review as well. But Crossrail would bring important benefits, so the test will be one of affordability."
The transport secretary Andrew Adonis told Railnews in autumn 2009 that he was seeking a cross-party consensus on High Speed Rail, at least in general terms, and from what Ms Villiers says it does seem that he might have achieved it.
However, Ms Villiers' vision is slightly different from that of the Government. She said: "We've prepared a detailed model and business case for a High Speed Line from London, serving Heathrow as well, and then going north to Birmingham, Manchester and Leeds. A route has not yet been decided, but those are the places which will be served first.

"It is essential that we do start building a High Speed network, and the places I have mentioned will form the first stage. After that we would go on from Leeds to Newcastle, and then on to Scotland. But we would see this project being developed, built and opened in several stages in any case. That's been the typical pattern in other countries.
"As for costings, we reckon London/Birmingham/Manchester/Leeds will need £20 billion. Under our plans, just over three quarters of that investment would come from the taxpayer, and £4.3 billion from the private sector. Fares would be comparable with intercity generally. I'm not ruling out premium fares altogether, but our business model does not assume them."
The timescale for the Conservative High Speed network would not see construction start before 2015, with completion of the first stage twelve years later."We are confident of our figures," says Ms Villiers, "because we have done extensive modelling as part of our business case."
(c) Railnews Ltd 2010
Reader Comments:
Views expressed in submitted comments are that of the author, and not necessarily shared by Railnews.
When David Cameron was elected Leader of the Conservative Party in 2005, his victory announcement included a commitment to "a massive road-building programme" (Google those words if you want). Although the bankers have changed the economic outlook in the meantime, Theresa Villiers' comments should be read in that light.

Value for Money test?
Oh no! Not more prolonged and expensive consultations where the price of a feasibility study could buy rolling stock or track renewals.
Does anyone know if motorways and ordinary highways make a profit?
So why are we still spending taxpayers money on roads when it could be used on decent integrated public transport.

So considering that new trains will be needed anyway, and the ROSCOs have been quoted as stating they won't take the long term risk of ordering new diesel trains it does make you wonder when Ms Villiers will engage her brain before making any more crass comments. The GWML is overdue an infrastructure revamp, along with resignalling - it make far more sense to carry out electrification at the same time, and with the HSTs unlikely to gain another life-extension to take them beyond 2017 what is Ms Villiers planning??? As for this slashing Government spending - it would be Network Rail money, the Government contributing only a couple of million a year towards it. New diesel trains - if the ROSCOs aren't interested - that would cost the Government far more!! Doh!!

Swansea Jack 'Yma o Hyd'

Here we go again!
Incoming Conservative governments have historically been more dangerous to railways than even Labour.
When money is tight the answer is to prioritise funding between the competitors for funding. Historically far too much has been spent on roads and the railways are still very much in catch up . Villiers should be committing to slashing the roads construction budgets in the DfT to safeguard railway
funding instead of hinting at the opposite

You just wait, if you get the tories you will get virtually no investment and deep cuts to future rail projects. Remember how Mrs Thatcher had an aversion to the railways, and John Major landed us with rail model. Oh how i don't want to return to incompetent Railtrack? Labour biggest failing is only latterly that they have become enlightened towards the benefits of the railways, by appointing the first decent transport secretary in the last Forty years!!

Well in a way it is a good thing, because the goverment needs to clear off the Uk's dept, but I do have concern that the railways might deteriate like they did in the 1980's, were passenger numbers were at a low, although that might not be the case this centuary because concern over the enviroment is driving people onto the railways and the fact it is more convenient and cheaper, I wouldnt like to see the railways suffer due to a change of goverment, I think it is would be a good change if the tories got elected but as for cutting spending on the transport sector, it doesent seem make sence, because the transport sector provides the goverment with a very high sum of money each year, It would be a great disapointment if this did happen, I just hope that they will invest in the railways more after clearing off the Uk Dept.

Here we go again! Deja vu!

I'm not surprised most schemes will get the chop when the conservatives win the next election but under the tories there will be a business case for crossrail.
As for HS2 if they are going via Heathrow I hope we don't build it.


How short-term can you get? Rail improvement is an investment in national well-being and environmental future. Look at the longer-term positive returns (like trains built here, construction jobs, growth of skills and expertise, export potential), not the outlay.