Posted 15th October 2009 | 2 Comments
Eurostar reports signs of recovery, while Brown predicts expansion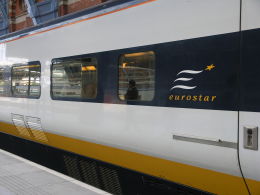 New figures from Eurostar suggest that the worst effects of the economic downturn on its business may be over. Although the totals for 2009 so far are still lower than 2008, the business market is showing early signs of recovery.

Eurostar said sales revenue in quarter 3 of 2009 was up 6.8% on the same period a year ago. This improvement is being attributed in part to the effects of the fire in the Channel Tunnel in September 2008 which depressed the results for that quarter, but there has also been growth in the leisure market and a halt in the decline of business sales.

This last indicator is watched particularly carefully by Eurostar, which is keen to maintain its position as Number One in the business market for travel between London and the near continent.

Eurostar CEO Richard Brown said a recovery in business travel appeared to be on the horizon. 'In recent weeks a number of our major corporate clients have eased their business travel restrictions. Although it is early days, this may be a sign of an upturn,' he said.

Ticket sales between January and September 2009 totalled £504.9m, and since the beginning of the year Eurostar has carried 6.9m travellers. Although this is down 0.9% on 2008, the volume of passengers travelling in Q3 2009 went up to 2.6m, from 2.4m in 2008.

Meanwhile Mr Brown, who is to become Chairman of Eurostar in January, told a meeting of the Railway Study Association that the next phase of expansion for Eurostar was expected to include Rotterdam and Amsterdam, although the present fleet is not suitable for the new High Speed line in the Netherlands because the trains would need to be equipped for both ERTMS and NS domestic signalling.

The 125km Dutch High Speed line (HSL Zuid), which runs from the Belgian border to a point near Amsterdam Schiphol Airport, opened on 7 September this year after prolonged delays caused by technical problems, particularly with signalling. It will be used by Thalys High Speed services from December.

Mr Brown also speculated that further expansion in Britain could be reviewed once High Speed domestic lines were operating, providing cities such as Birmingham and Manchester with international trains. The original plans for 'Regional' Eurostars were abandoned along with sleeper services in 1999, after a consultants' report said the business case was weak. At that time, Eurostars would have been restricted to 'classic' routes beyond London.

Reader Comments:
Views expressed in submitted comments are that of the author, and not necessarily shared by Railnews.
It seems to me that a lot has changed in the rail travel market since 1999:
- Passenger numbers growing at a rate unseen for 50 years.
- Improved wcml signalling and capacity;
It's about time the report which squashed regional eurostar is binned and rewritten. After all, the rolling stock (TGV to eurotunnel spec) for regional eurostar was already built in the 90s and is currently in use by SNCF for domestic TGV routes out of Gare du Nord, routes which could be served by any tgv vehicles.

Eurostar should add a trial regional service as soon as they can - I think they'd be surprised how popular they are. Birmingham to Paris, followed by Brussels would be a good start.